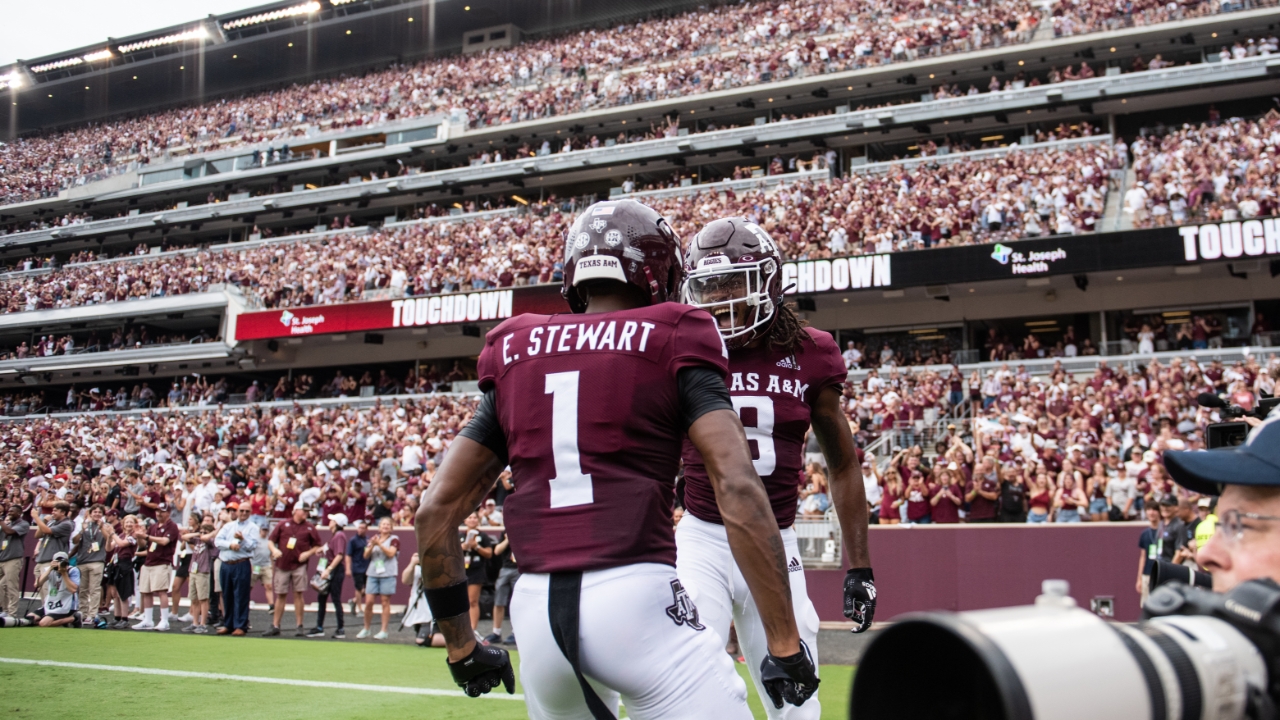 Photo by Jamie Maury, TexAgs
Texas A&M Football
Post Game Review: No. 6 Texas A&M 31, Sam Houston 0
---
Fightin' Texas Aggie football is back.
After a long-awaited offseason and nearly three-hour halftime weather delay, the Aggies returned to Kyle Field and shut out the 2020 FCS national champion Sam Houston Bearkats, 31-0.
To start, A&M's highly-anticipated defense took the field and forced a trio of consecutive three-and-outs, with returning and new talent applying pressure.
The 12th Man saw the first explosive moment of the 2022 season as Haynes King aired out a 66-yard bullet to Yulkeith Brown to put the Aggies up 7-0 in the first quarter. The pass marked the third-longest pass play during the Jimbo Fisher era.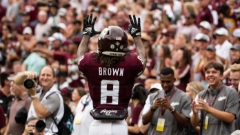 Jamie Maury, TexAgs
Fans at Kyle Field saw glimpses of the long-awaited 2022 freshmen class finally hit the field. Running with the ones, Evan Stewart snagged a 13-yard toe-dragger — his first catch as an Aggie.
Walter Nolen and Denver Harris also got some action in the first quarter in their Maroon & White debuts.
The second quarter kicked off with another bright moment for the Aggies' defense. Jardin Gilbert picked off his first career interception which resulted in a punted-away drive. On the next drive, Haynes King threw his first interception of the season. In what was supposed to be a down-the-field bomb to Stewart, the ball was snatched away by Sam Houston's B.J. Foster.
The second quarter proceeded with a 23-yard grab by Stewart. Three plays later, another standout freshman Chris Marshall connected on a 10-yard catch to put Caden Davis in range to nail a 40-yard field goal. A&M's defense kept applying pressure, holding the Bearkats' offense to only 109 yards in the first half.
Right before the half, Ainias Smith housed a career-long 63-yard pass from King to give the Aggies a 17-point lead heading into the locker room. In just two quarters, Smith totaled 101 receiving yards, which is more than any A&M wideout had in a full game last season.
After the abnormally long halftime, the Aggies returned to action with a steady amount of carries for Devon Achane, ending the drive with a one-yard touchdown run up the middle. The Aggie's defense, once again, shut down the Bearkats and placed the ball back in the hands of King.
The signal-caller dropped off the ball to a handful of talented wideouts in Smith, Stewart and Marshall before he threw his second interception of the day to Sam Houston's Kameryn Alexander.
Like clockwork, A&M's defense took care of business, forcing yet another three-and-out.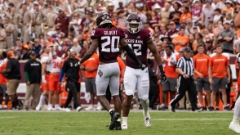 Jamie Maury, TexAgs
The receiving corps was the sun on a rainy Saturday. On the first drive of the fourth quarter, Marshall and Smith made promising catches to advance the drive. King capped it off with a 43-yard touchdown to Smith and would return to the sideline with a 364-yard performance under his belt.
Haynes completed 20-for-34 attempts, and not a single pass was completed to a tight end.
Then came in Max Johnson. The LSU transfer took the field with seven minutes remaining in the final stanza. Max's second completion as an Aggie was one worth waiting for, a dump-off to his little brother, Jake Johnson.
The clock ticked away, and the Aggies' dominant defense was displayed on the scoreboard. The Aggies are now 1-0 as they move on to next week's opponent in Appalachian State.
RUMBLED: The thunder. Just kidding, in actuality, the freshmen. Pick a name. So many youngsters saw the field in the season-opener, giving us a taste of the future of Aggie football. Evan Stewart and Chris Marshall were all over the field. Jacoby Matthews recovered a fumble. Walter Nolen tallied three tackles and QB hurry. Studs.
STUMBLED: Weathermen around College Station predicting a second-half kickoff time. Joking again. The offensive line in the first half struggled without the guidance of Bryce Foster, who was out due to sickness. Achane had a hard time running behind them in the first half, only running for eight yards on eight carries.
UNSUNG HERO: The Aggies' new defensive coordinator D.J. Durkin showed his stripes in the shutout. The Aggies allowed a singular third-down conversation and held the Bearkats to under 200 yards of offense. It was A&M's first shutout since blanking New Mexico last season 34-0, and it was the first season-opening shutout since 1993 when the Ags held LSU scoreless, 24-0.
TURNING POINT: The minute the Aggies ran onto Kyle Field because the 2022 season had officially begun. Honorable mention: When they ran back on the field after the half because the weather delay was finally over.
KEY STAT: King's pair of 60-plus yard touchdown passes marked the first time an Aggie has recorded multiple scoring passes of 60-yards or more since 2011, dating back to Ryan Tannehill's pair of 68-yard touchdowns against Baylor, both of which were completed to Ryan Swope.
Scoring Summary
First-quarter
A&M: 03:47 - Haynes King 66-yard touchdown pass to Yulkeith Brown. Drive: 5 plays, 77 yards. TOP: 1:55. Texas A&M 7, Sam Houston 0
Second-quarter
A&M: 05:03 - Caden Davis 40-yard field goal. Drive: 6 plays, 36 yards. TOP: 2:05. Texas A&M 10, Sam Houston 0
A&M: 00:58 - Haynes King 63-yard touchdown pass to Ainias Smith. Drive: 3 plays, 67 yards. TOP: 1:07. Texas A&M 17, Sam Houston 0
Third-quarter
A&M: 08:56 - Devon Achane 1-yard rushing touchdown. Drive: 12 plays, 71 yards. TOP: 6:00. Texas A&M 24, Sam Houston 0
Fourth-quarter
A&M: 11:16 - Haynes King 43-yard touchdown pass to Ainias Smith. Drive: 10 plays, 89 yards. TOP: 4:41. Texas A&M 31, Sam Houston 0
Never miss the latest news from TexAgs!
Join our free email list