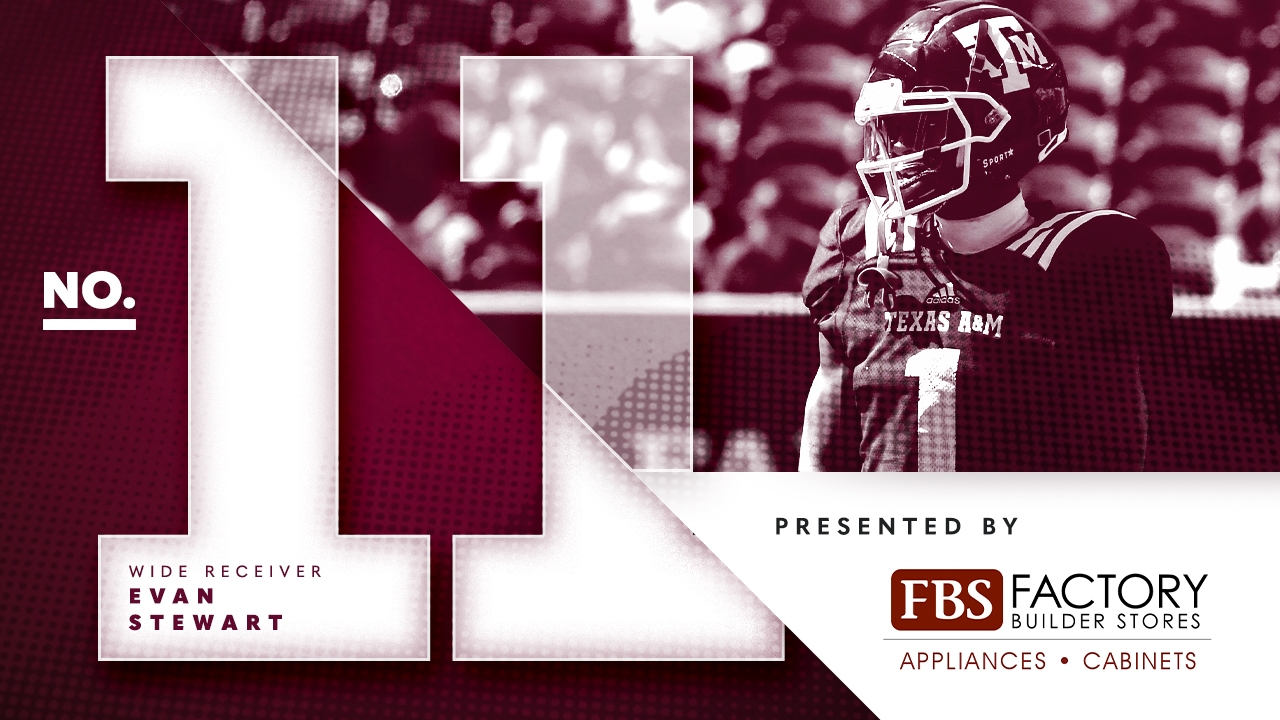 Photo by Jamie Maury, TexAgs
Texas A&M Football
22 Players in 22 Days: #11 Evan Stewart
---
Position: Wide Reciever
Classification: Freshman
Hometown: Frisco, TX
Listed Height: 5'11"
Listed Weight: 170 lbs.
---

Key notes from Liucci's thoughts on Stewart
That's likely to be our worst pick putting Evan Stewart at #11. I think he'll be one of the top-five guys ultimately, but you have to especially on a veteran team like the Aggies have because there are proven SEC guys. Before long, you are going to question that we had him at #11.

Stewart is special and will make an instant impact. Jimbo has seen someone pick it up like him before. Have I seen guys ready to make a day one impact? Yeah. Christian Kirk and Myles Garrett were first-round picks. That's what Evan Stewart is going to be.

He has insane physical gifts. He is not the fastest or biggest receiver. It's the way he plays. He's more quick than he is fast. He's got an uncoachable gift yet he's very coachable. He's a quick learner. That's one of the five-stars that you think, "That's what we thought we were getting," and then some.

Stewart is comfortable with his team and what is being asked of him. He built different and cut from different cloth. Jimbo Fisher has not had a weapon even close to this since he's been at A&M. That's why he was a big deal in the recruiting class. That was something they needed — an elite receiving haul. Evan has a little more polish. Chris Marshall is special, and Noah Thomas is the most underrated guy A&M signed this year outside of Mark Nabou. They needed a game changer at that position.

First, Stewart can finish the play. Second, the concern was if he can get off the ball. Guys have to do that properly. He knows how to get off the ball. You've got the speed to sustain and scare the hell out of somebody. It gives the illusion he's going downfield. That opens things up in terms of backing up safeties.

These people around the country dont really know what Devon Achane really does as a receiver. Go watch him out wide against LSU. Ainias Smith, Evan, Yulkeith Brown, if the quarterback is Haynes King as a 4.45 guy, this is a very fast, very explosive, field position group. They have a bunch of veteran receivers too. It starts with Achane, Evan and Ainias. I think people underestimate them.
Never miss the latest news from TexAgs!
Join our free email list
PRESENTED BY