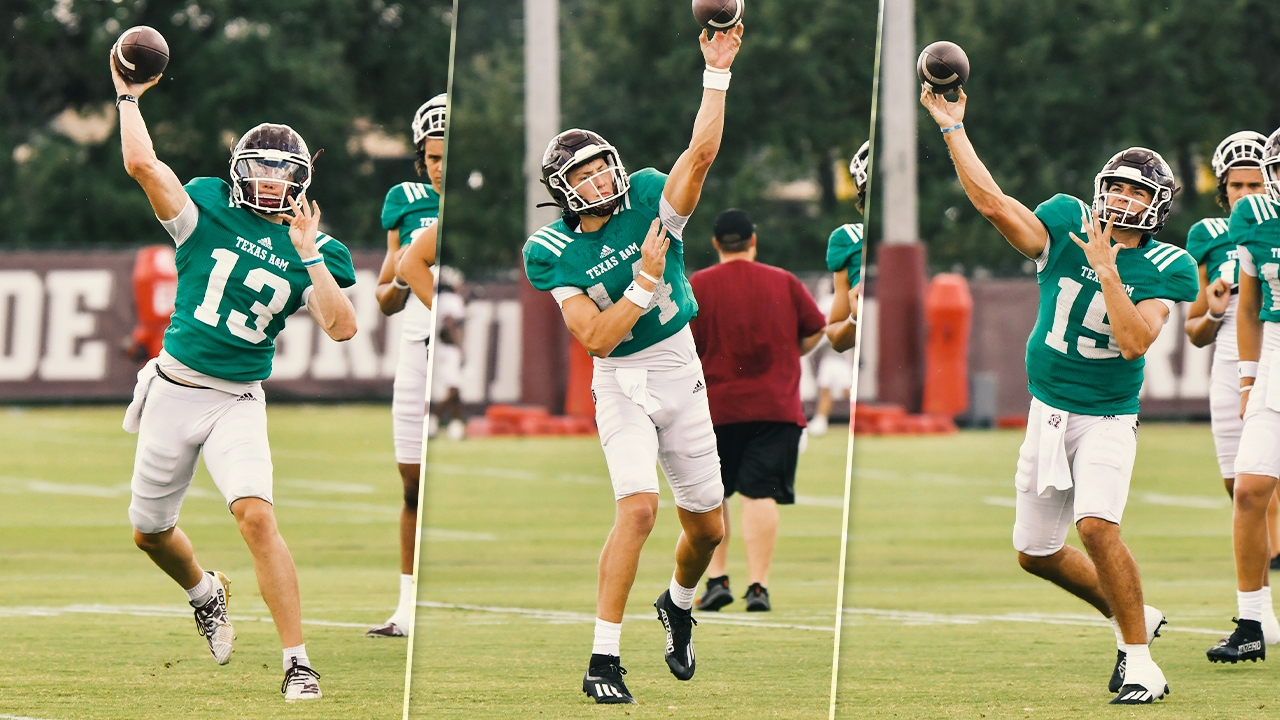 Photo by Jamie Maury, TexAgs
Texas A&M Football
'Reliability' a crucial component in Texas A&M's on-going QB battle
---
There's nothing like picking the right horse.
In 1913, Donerail was a 91-1 long shot at winning the Kentucky Derby. He won. The payoff was $185. That would be equivalent to about $5,200 today.
Making the right pick in a horse race can pay off big. The same can be said for a quarterback race.
That's well known at Texas A&M.
Ten years ago, Johnny Manziel was the pick in a quarterback competition with Jameill Showers.
Manziel won the Heisman Trophy, and the Aggies finished 11-2. They likely would have lost a couple more games if Manziel had not been chosen.
Here we are with another quarterback competition in College Station, and with the season beginning in 25 days, nobody seems to know who to pick.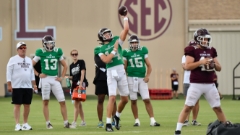 Jamie Maury, TexAgs
Will head coach Jimbo Fisher choose Haynes King, who has three years of experience in the Aggie offense? Will he choose LSU transfer Max Johnson, who has the most playing experience? Will he choose five-star freshman Conner Weigman, who may be the most talented of the three?
Even coaches seemingly don't know.
"The quarterback race is a very competitive battle," co-offensive coordinator Darrell Dickey said last Sunday. "One guy has SEC experience — Max Johnson — but is learning this offense. We're very different on offense (than LSU).
"In the spring, actually, Haynes had obviously a little more experience in this offense, which is as important as playing in games. He doesn't have a whole lot of game experience, but he's been on the field in this offense, and he has the most snaps in this offense.
"Conner is just an extremely talented guy. From what I've seen, he's figuring it out. In the spring, he was just learning the system, still making great plays, and he's doing the same thing now. "
The winner of the competition figures to be the candidate who makes the most plays. Maybe it should be the guy who makes the fewest mistakes.
Who is that?
Johnson threw just seven interceptions in two seasons at LSU. King threw three interceptions in last year's season-opening victory over Kent State, though Fisher has said receivers were responsible for two of them.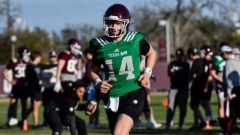 TexAgs
Unfortunately, A&M has a recent history of turnover-prone quarterbacks. A decrease in turnovers at that position likely results in an increase in victories.
Last season, quarterback Zach Calzada committed 10 turnovers (nine interceptions, one fumble). The Aggies finished 8-4. Interceptions were major factors in losses to Arkansas and Ole Miss.
In 2019 Kellen Mond committed 12 turnovers (nine interceptions, three fumbles). The Aggies finished 8-5.
Mond and Nick Starkel combined for 14 interceptions and five fumbles when the Aggies were 7-6 in 2017.
In 2018, Mond was responsible for 12 turnovers (nine interceptions, three fumbles). The Aggies finished the regular season 8-4 but won their bowl game to go 9-4.
Compare that to the 10-game schedule of 2020. That year Mond committed just five turnovers (three interceptions, two fumbles). The Aggies finished 9-1 and ranked fourth in the nation.
Unfortunately, A&M's turnover issues at quarterback were not limited to Mond and Calzada.
Trevor Knight had 10 turnovers (7-3) in 2016. Kyle Allen had nine turnovers (7-2) in 2015. Allen and Kenny Hill combined for 15 (13-2) in 2014.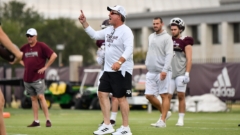 Jamie Maury, TexAgs
That's not an earth-shattering revelation. Successful teams typically have quarterbacks who limit their mistakes.
Sixteen of the 20 teams to make the College Football Playoff in the last five years had quarterbacks who threw seven or fewer interceptions.
That would indicate that a quarterback with fewer mistakes is more valuable than a quarterback who makes more big plays.
Of course, there are exceptions.
Manziel threw nine interceptions and lost two fumbles in the Aggies' 11-2 campaign of 2012. He had 14 turnovers in 2013.
If an elite quarterback emerges with the ability to make plays on the scale on which Manziel did, more turnovers can be tolerated.
Maybe an elite quarterback will emerge for A&M. If not, a reliable one may suffice.
Never miss the latest news from TexAgs!
Join our free email list
PRESENTED BY