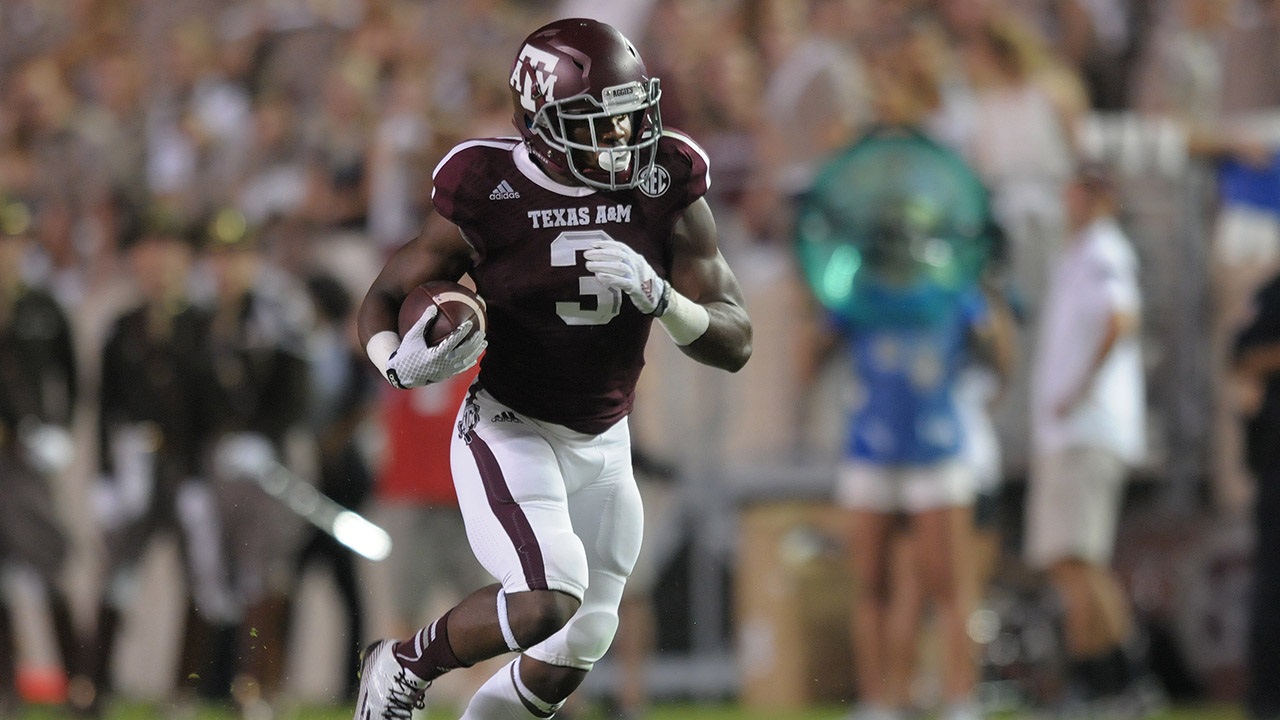 Photo by Brandon Jones, TexAgs
Texas A&M Football
Former A&M running back Trey Williams to appear on America's Got Talent
---
Ahead of his upcoming appearance on America's Got Talent, former Texas A&M running back Trey Williams joined Monday's edition of TexAgs Radio to discuss his new career path, his thoughts on the Aggies and more.
---

Key notes from Trey Williams interview
I'm doing pretty good, man. I'm thankful for the day, and I'm still at it!

It's pretty exciting. I'm having a great time out here in Los Angeles. I'm in this deal called the Players Choir, and it's a bunch of former NFL players that got together to create a sound. We're about to go do America's Got Talent tomorrow, and I'm excited about it.

This is the second time the Players Choir has been out there, and it has been a fun journey. We've been practicing and working hard. It correlates to football.

I'm one of the lead singers. Those guys can all sing, and they're all talented. It's surreal to be part of this. These guys have similar journeys, and for us to be here, harmonizing together as men, is priceless. You don't get something like this too much.

There might be some names you will recognize. Cameron Newton is with us, but he's not the quarterback Cam Newton. I'd say Brian McKinney might be a name that people might recognize. He was a Pro Bowler.

We're still working hard, and hopefully, you can vote for us when we get up here so we can perform some more and have fun.

The link to vote should be on the show, and I'll post things for people to vote for us. We would truly greatly appreciate it.

I'm new to the Players Choir. I performed with them at LeBron James' Uninterrupted thing, which was pretty cool. They go around the country. One of my loves is singing, and this is pretty fun. This has been a cool journey.

We sang happy birthday to Terry Crews when we got up here, and that was pretty cool. He has a real understanding of what we've been through and the journey it took to even get him. Shoutout to him, and it's cool that he's now one of the hosts for AGT.

Being out here is like football. They have a set schedule for things you have to do. There is a lot of practice and rehearsing. I take the football approach and mentality towards this, and it's to attack. It's about going out there and doing it, being consistent in what it takes to get your voice ready.

I was the second-leading rusher in the USFL. It was a really fun season, and I enjoyed my team. That was a season that I needed for my career because a lot of the other leagues I was in had folded. I was excited to show my talents and get to play. It was a fun experience and a fun time. I would recommend it if guys don't get their big shot in the NFL.

I don't plan on stopping my football career anytime soon. I'm already trying to get ready for next season.

It's exciting at Texas A&M right now. The recruiting is impressive. I saw we have more than 40 guys on the team from the greater Houston area. I'm excited about that. I'm definitely going to be at a few games this fall to see those Aggies, and I feel like this could possibly be the season right here. Hopefully, we can get that championship.
Never miss the latest news from TexAgs!
Join our free email list