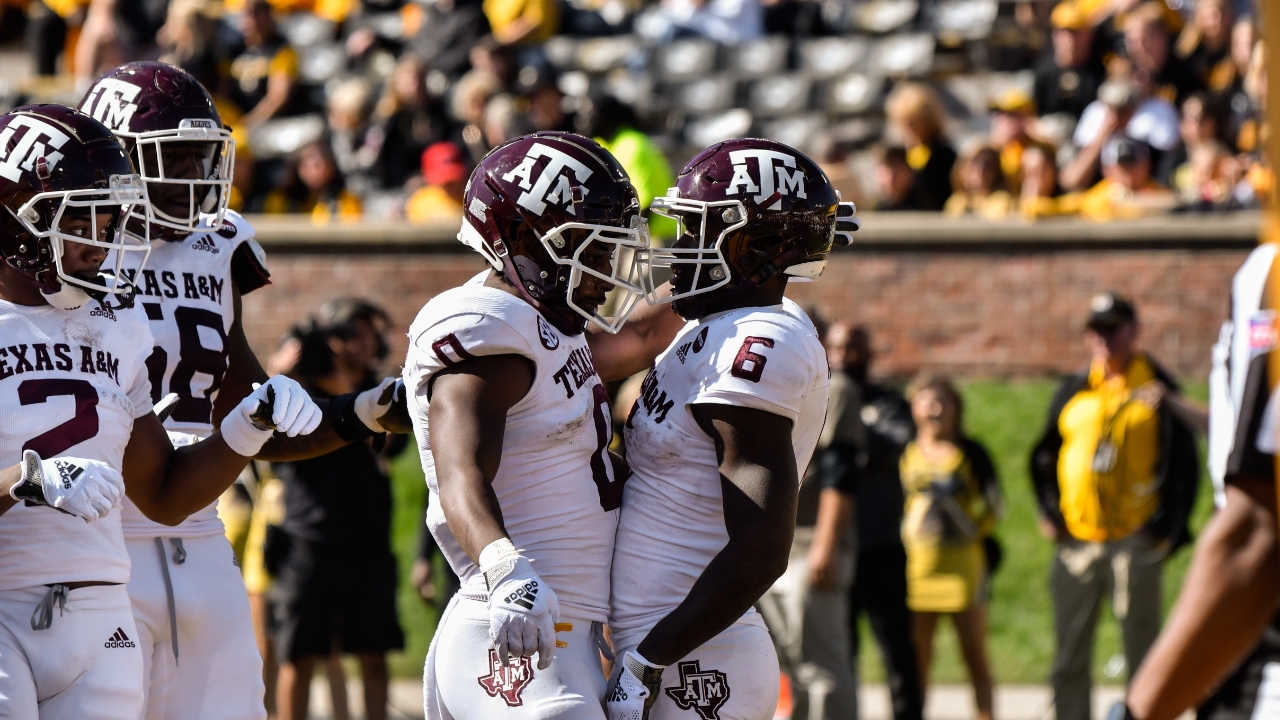 Photo by Jamie Maury, TexAgs
Texas A&M Football
Explosive Aggies: A&M's offense figures to make more big plays in 2022
---
Axes, saws and shovels can be effective for clearing a path.
But dynamite works so much faster.
Therefore, A&M is looking to add some TNT to clear paths to the end zone. The Aggies begin the football season on Sept. 3 against Sam Houston State at Kyle Field.
Since spring drills started, there has been discussion that a more explosive Texas A&M offense is to be detonated in 2022.
Those discussions were repeated again in a Sunday morning press conference that included several A&M coaches and players.
"We have more guys at the skill positions that, even though they don't have a lot of experience, they are dynamic playmakers," co-offensive coordinator Darrell Dickey said. "They may be young guys, but we have guys that can run, that can catch the ball make a guy miss and go the length of the field."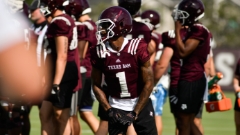 Jamie Maury, TexAgs
At least one of those guys is speedy freshman receiver Evan Stewart, a five-star prospect who is projected to add the deep threat the Aggies have been missing.
"His speed is there. The defensive backs feel it," co-offensive coordinator and receivers coach James Coley said. "He's explosive. He's fast in short areas. He's fast with long speed. That all helps route runners get open when you can be as explosive as he is.
"He's also very bright. He's extremely intelligent. He brings a really good package to that room. He's a prideful kid who takes a lot of pride in being prepared and having his toolbox of skill set ready to go."
Stewart showed a glimpse of that skill during Sunday's open practice, making a tough catch for a 30-yard gain with Brian George in close coverage
The Aggies were too often boxed in while struggling to an 8-4 finish in 2021.
A&M posted only 34 pass plays of 20 yards or more. Only lowly Vanderbilt (26) had fewer.
Consequently, opponents did not fear A&M's passing game and frequently put eight, nine and even 10 defenders in the box within 10 yards of the line of scrimmage.
That contributed to A&M's average-to-good-but-not-great 183 yards per game.
This year promises to be different. Running back Devon Achane and receiver Ainias Smith are already proven big-play threats.
The Aggies' offensive line should be improved with three returning starters. Quarterback play was erratic last season but figures to be better with Haynes King back from injury and Max Johnson transferring in from LSU.
The tight end position has minimal experience but maximum potential with highly-touted freshmen Jake Johnson, Donovan Green and Theo Melin Öhrström on hand.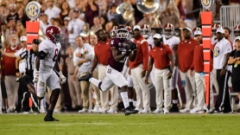 Jamie Maury, TexAgs
Achane in particular figures to benefit with more big-play threats on the field. Overall, A&M had 56 plays (running and passing) of 20 yards or more last season. Despite playing a backup role, Achane accounted for 18 of them.
He figures to produce even more big plays when defenses cannot focus on just containing him.
"It just makes our team a whole lot better," said Achane, who rushed for 910 yards last season. "We can score at every position. It just makes it easier for me and everybody to do our job.
"I know if Evan is out there or Chris (Marshall) or whoever is out there doing their job and I'm doing my job, it's hard to stop us at every position."
A&M gave a glimpse of its upcoming plans in the spring game. The Aggies threw deep on at least 10 plays.
However, Coley is quick to remind us that a 30 or 40-yard pass play doesn't necessarily mean there was a 30 or 40-yard pass. Long gains can come on short passes.
"Those are yards you steal because of leverage the defense may give you because of who you have in the backfield (Achane)," Coley said. "(Defenses) want to be stingy in the box. You're throwing the bubble out there to a guy who has speed. He could be the fastest guy on the team or could be a guy who's long and fast and strong and is hard to tackle. That adds an element to your game being explosive along with going deep."
Don't get the wrong idea, though. The Aggies aren't likely to adopt a wide-open passing game that throws deep without conscious.
The running game will remain a focus of the offense. A&M relied heavily on the run in 2018 when running back Trayveon Williams led the Southeastern Conference with 1,760 rushing yards in 2018.
Coincidentally, the Aggies also had 56 pass plays of 20 yards or more — the third-highest total in the SEC that year.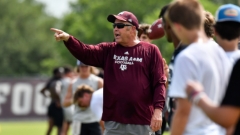 Jamie Maury, TexAgs
They also averaged 36 points to rank fourth in the SEC. That's A&M's highest point output in coach Jimbo Fisher's four seasons.
"This year, we'll pick and choose our times to get the ball to our playmakers in space," Dickey said. "We're expecting and anticipating a lot more big plays. I think the reason is just the pure, dynamic athletic ability of the guys we have that will be playing the quarterback, running back, tight end and wide receiver positions.
"And I say that with all due respect to some great players that were here. (Running back) Trayveon Williams had one of the greatest years in Texas A&M history our first year here, but again, I think we have more overall speed, more overall ability at all the skill positions.
"Hopefully, you expect them to put them in positions where they can score a lot of points, make a lot of big plays and be able to match other teams in those big shootout games."
---
Notes
• On Sunday, Fisher mentioned several players who were showing signs of providing leadership, an important quality on winning teams. Among those Fisher mentioned are senior safety Demani Richardson, senior receiver Ainias Smith, junior guard Layden Robinson, junior defensive back Antonio Johnson, defensive end Fadil Diggs, cornerback Myles Jones, linebacker Edgerrin Cooper and defensive tackle Isaiah Raikes.
He also mentioned quarterbacks Haynes King and Max Johnson as well: "They're very natural in what they do," Fisher said.
• Junior defensive tackle McKinnley Jackson, who played most of last season with a torn labrum, also drew praise.
"McKinnley Jackson has really taken steps forward," Fisher said. "He's healthy now and knowing he's a junior been in that third year. He's jumped out there at me."
Never miss the latest news from TexAgs!
Join our free email list