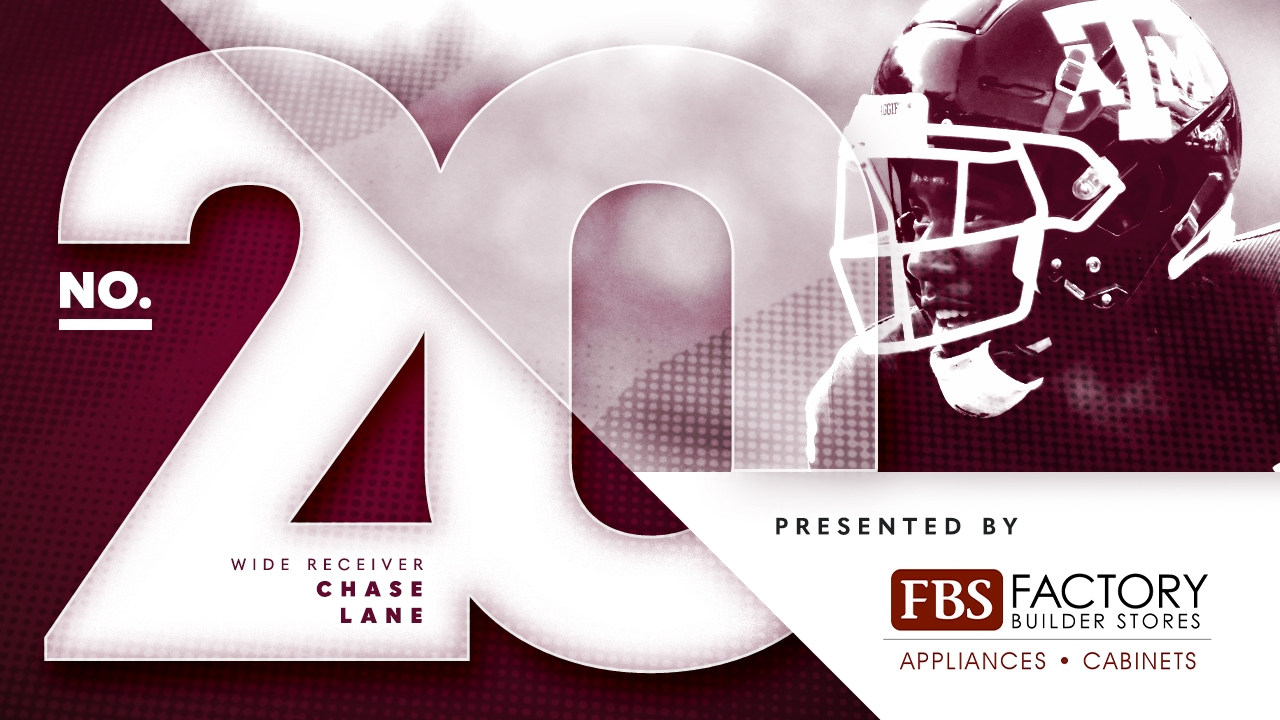 Texas A&M Football
22 Players in 22 Days: #20 Chase Lane
---
Position: Wide Receiver
Classification: Redshirt Junior
Hometown: Houston, TX
Listed Height: 6'0"
Listed Weight: 190 lbs.
---
Key notes from Liucci's thoughts on Lane
I've said 16,000 times that I think Chase Lane is a guy that people don't appreciate what he brings to the table. I go all the way back to after the Florida game, there was a lot of frustration in Bright because Caleb Chapman had emerged as an outside threat, and he went down. Injuries were a theme for him. That forced Chase outside. Ainias Smith couldn't do as much running back cause Chase had to go outside. That changed so much. Chase had a touchdown to start the game to start that 17-18 play drive against Florida. He had that massive catch. It was quite possibly a game-winning catch.

Chase caught a pass against Mississippi State and outran their entire defense to the endzone. A good defense. The catch against Auburn in the fourth-quarter drive where A&M needed a touchdown. He made some huge plays.

He was hurt last year and became not really a factor. Now, you got a guy that's more muscled up. We saw him in the spring, and I'm going, "Is that Chase?" In pads, he looked great. He had a good spring. He's fully back and going to be a key part of the receiver rotation.

Now, I think Evan Stewart is going to be a day one starter. We keep hearing about Noah Thomas. Chris Marshall as well. You got guys like Moose Muhammad that finish the season really strong. It is a crowded group.

If anyone believes that Chase isn't going to come up with big catches this year and help A&M win football games, you don't know what people in Bright, in the locker room and the quarterbacks think about him. He runs great routes. We talk to the quarterbacks all the time. It's big when the quarterback trusts that you will read the coverage right. I don't think A&M will have a receiver better at that than Chase. If it's not him, it's Ainias. I think Chase may be the best in that department. There's real value there in being reliable.

Let's not forget that this dude can flat-out go. Sumlin said he had long speed and quickness in the slot, and he filled out a lot more than I thought he would. He's going to be a big part of it this year. You would love to have three first-round draft picks at receiver, but that's not really how the deal works. A lot of receivers will have a big impact this year. I have the most confidence in doing that is Chase Lane. I think he's way more reliable and polished than people give him credit for. That receiver position will be fascinating.
Never miss the latest news from TexAgs!
Join our free email list
PRESENTED BY