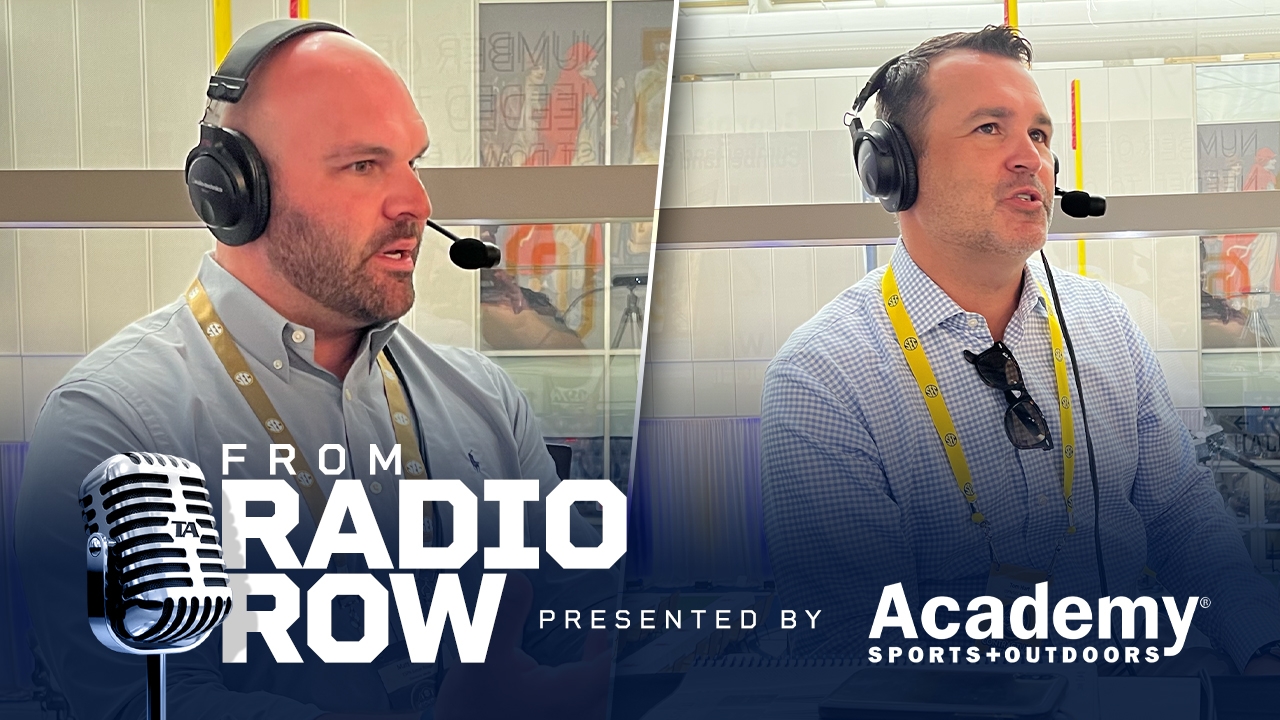 Matt Moscona Q&A
Tom Hart Q&A
Ross Dellenger Q&A
Texas A&M Football
From Radio Row, Day 1: Matt Moscona, Tom Hart and Ross Dellenger
---
Monday morning's edition of TexAgs Radio emanated live from the College Football Hall of Fame in Atlanta, GA, the site of SEC Media Days 2022. Today's special guests included Tom Hart, Matt Moscona and Ross Dellenger.
---
Key notes from Matt Moscona interview
Brian Kelly got hired. That was massive news. Will Wade got fired. LSU was hiring a new women's basketball coach, the first season of Kim Mulkey. Paul Mainieri retired. People were interested in year one of baseball coach Jay Johnson. We do Saints coverage, and Sean Payton was gone. We never had a low this spring.

The accent and dancing thing got played a lot nationally but locally, nobody really cared. From an LSU perspective, people just want to win again. In the last 20 years, LSU won three national titles, and the program has never had that much continued elite success. When you have back-to-back .500 seasons, it's unsettling. You get comfortable with the 9-3,10-2 seasons, and it's a reality check.

They are better than .500 team. I don't think they can compete in the SEC West. They resemble Michigan State last year. Kelly went and got a lot of transfers out of necessity. He came in and supplemented this roster with 15 experienced transfers. The question is if they can come together.

I like Max Johnson a lot. He's a big dude, son of a quarterback, really smart, has all the training, looks good technically and has a lot of intangibles. You have to look at what Max Johnson came into at LSU. He went through a lot and had three different coordinators. I would be surprised if he didn't win the job at A&M. I don't know that he is Bryce Young or a top-15 pick in the NFL draft.

The quarterback battle is between Myles Brennan, a sixth-year guy, a great story, Garrett Nussmeier, the fun new toy that everyone is curious to see, and Jayden Daniels who has started 30 games elsewhere. He physically has the tools that Kelly likes in a quarterback. I think Daniels will be the quarterback for this LSU team.
Key notes from Tom Hart interview
Greg Sankey is a master at delivering his message and no more. The SEC does not have enough teams to have its own playoff. What's next is the biggest question and will affect other conferences, like the Big 12 and Pac-12. I think the Pac-12 is going away, but it's all recency bias.

What is on paper says it would cost North Carolina, Clemson or Florida State $500 million to get out of the contracts. We're not lawyers, and we don't know how they can manipulate it. If there's a crack, lawyers will find it. If not, who is there to add? Why add a family member to the table if they aren't bringing more to the table than what's already there?

Arizona and Arizona State make sense if you want to collect schools. We are getting to the point where you buy subscriptions. Are there enough people that would buy subscriptions to watch Arizona State football? I don't think that answer is yes right now. But then again, nobody knows. Look at USC and UCLA.

I would not be surprised in Texas and Oklahoma are in the SEC next year. From a business perspective, you don't stay in a relationship that has capped growth. I think it makes sense for everybody, and anything is possible when you cut a check.

A fascinating question is who is going to be the third-best team in the SEC this year. My first inclination is to go Texas A&M. Outside of Georgia and Alabama, there are a lot of questions about a lot of different schools. Do they miss Isaiah Spiller, can they find more depth on the perimeter, do they have a play-making tight-end, where do they stand defensively? I think the third-best team is A&M, and I think they are a top-10 team nationally.

Spending time with LSU staff after the A&M game, that rivalry from inside that building, that was real. I love that rivalry.

Playing Texas in the SEC is like getting a divorce and being forced to have your ex-wife at the dinner table because she married one of your cousins.
Key notes from Ross Dellenger interview
Our Sports Illustrated college football preview magazine deadlines are earlier this year so we're completing that. This is the first time I'm missing SEC Media Days in 12 years. I'll miss the circus.

I started with the Associated Press as a news intern. The news background comes in handy with college sports because there are a lot of changes happening and lots of news happening.

It's been a long 30 years of change. In college sports, the offseason doesn't exist anymore. Next summer, we could be talking about athlete employment and athletes getting paid an actual salary. I think that's the next thing coming down the pipe outside of conference realignment news.

The eyes should be on the Pac-12 or Big 12. Those two leagues are similar value-wise, and I don't know if either one thinks it's worth it to go to the other. All the rumors about ACC teams going to SEC, the ACC teams are legally bound to the ACC. It's the same thing Texas and Oklahoma are going through right now. I think the Big 12 having a new commissioner is going to help maybe getting them out a year early, and it's going to be costly. Texas has the money, but I don't know that OU does. We're talking roughly $150 million dollars for each team to get out early. It's a possibility.

I couldn't believe the big 12 hired a commissioner with zero college experience in Brett Yormark. He has all the characteristics that the Big 12 needs right now. You have to be a businessman, have fresh ideas, and have knowledge of NIL. He's been humble and wants to better understand the world of college sports.

The teams speaking today, LSU, Missouri and Ole Miss, I say Ole Miss has a better 2022 season. Never sleep on Lane Kiffin when he has a quarterback. LSU got a lot of guys from the transfer portal.

It's Jimbo Fisher's fifth year, and that's the year you point to. This feels like a big year for him. There are questions at quarterback. I watched Max Johnson start at LSU against Florida, the shoe throw game, and he was impressive.

Georgia is going to be interesting. Their team was built on defense last year. They lost a vast majority of that group. The offense got away with some stuff last year because the defense was so good. This year, they may not have that. I would be shocked if there was not some kind of dropoff in Georgia. Not 8-4, but 10-2. I still think they go to Atlanta for the SEC Championship game.

Ohio State and Alabama, if you had to pick two teams, that's who you pick in the national championship game.
Never miss the latest news from TexAgs!
Join our free email list
PRESENTED BY