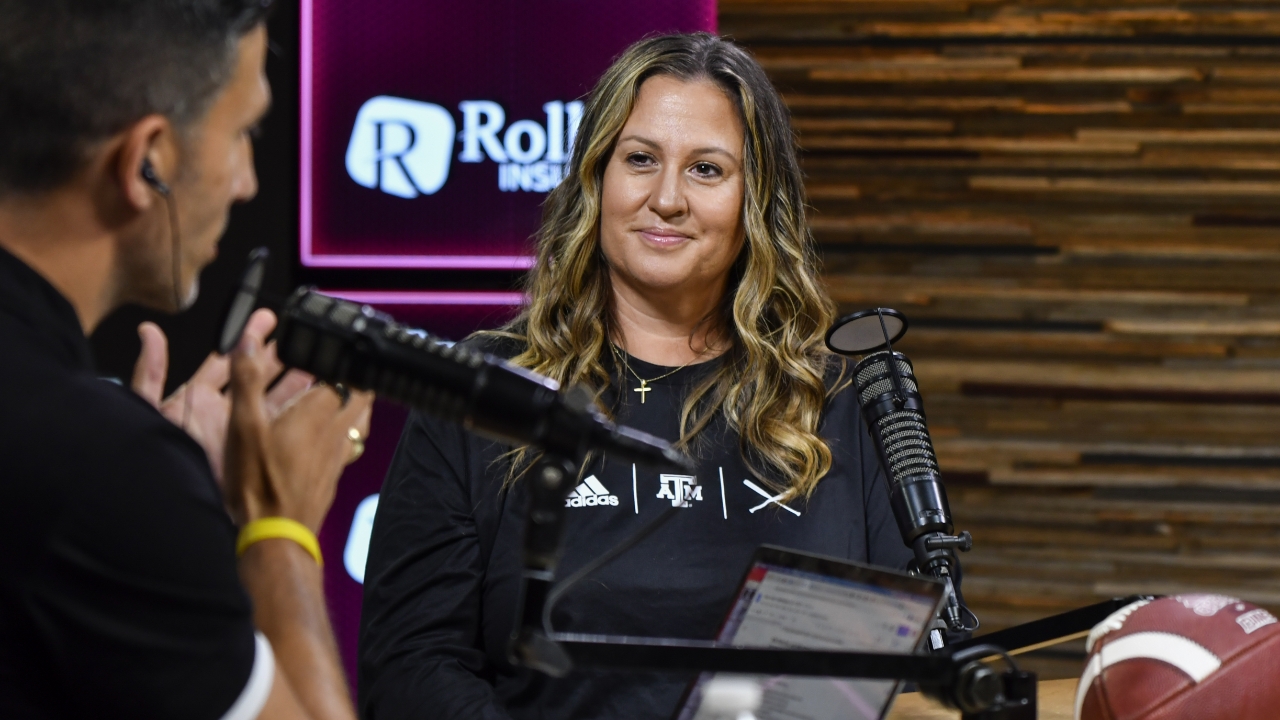 Photo by Jamie Maury, TexAgs
Texas A&M Softball
Trisha Ford hits the ground running during her first days in Aggieland
---
New Texas A&M softball head coach Trisha Ford joins Wednesday's edition of TexAgs Radio to discuss her journey to get to Aggieland, the staff she brought along, recruiting and how she is getting to know her current players on the roster.
---
Key notes from Trisha Ford interview
It was very exciting to get the call for this job. Across the profession, you know this is a great job. When you get that phone call, you listen. We talked about the vision, and at first, it was very informal. Then I came down here for an interview, and at that point, there's no saying no. We went to a regional baseball game. That was my kind of interview. It was the TCU game. I was trying not to get recognized. You get into the game. I love baseball. I went to a baseball game for my bachelorette party. Coach Jim Schlossnagle has done a tremendous job. I know Michael Earley pretty well from my Arizona State days.

When you look at my programs over the years, we are very blue-collar, gritty and going to get after it. We're going to play the game hard and play it right. Texas A&M's values mirror my style of play.

My biggest thing is that I recruit what's inside. I want players that have a different makeup on the inside and want to be the best of the best. When they come to play college softball, they're not going to make millions of dollars after. This is it. I want to support them on and off the field but develop the program.

I don't know if I can say enough great things about Jo Evans. She's been a huge component of our sport. She's one of the nicest people you'll ever meet. What she's built here, I don't have words for it. My job is to continue that and build upon that. She's had some great players, and I've talked to some of them like Megan Gibson, Amanda Scarborough and Tori Vidales. When I was at Stanford, I came here for super regionals and got to experience the 12th Man on the other side. It's an iconic program, and I am very honored to take it over.

There's a home community here. It has a small-town feel with big-time athletics. The people treat you like it's a small town. My goal is to not let the people here down.

We've been mixing and matching. We've had a great reception from the team. We had a big group here this past week. We should have some good announcements here in the next day or so of kids that should be joining our program. It's a transition.

I'm a mom, so I'm used to being busy. There's a balance, and that's something you do as a coach. We're recruiting the team and players to come to the program. I was able to chat with my current players at the 12th Man Foundation dinner. You talk to them, call, text and eat lunch with them. It's the same thing with recruiting.

Our staff fits the mold of A&M. I brought coach Jeff Harger with me. He's been with me since my Fresno State days and then at ASU. If you look at our offensive numbers, we've been in the top three to five every year that he's been a part of our program. I brought coach Joe Guthrie, from UAB, who has been a part of the professional leagues and is very precise. I also brought Hunter Veach, director of player development. He's young, but he already has a lot of experience.

I was a left thumper in college at St. Marys. We didn't have the ability to have coaches in the bullpen there, so I would stand in. I become the interim head coach at Stanford and then the head coach at St. Marys. Stanford called looking for a pitching coach and wanted to talk to Maureen Brady, who is Tom Brady's sister. I said, "Well if you are looking for a pitching coach, I can do it." That's how it all started.

Tom Brady came to a couple of games when he was still at Michigan. We just thought he was good on the eyes back then.

Davis Diamond, good lord. I was able to meet Monty and Becky Davis. They have built a beautiful stadium, and we're lucky that we get to play on that every single day.

The pieces are there. Schlossnagle set me up for this year. We're going to go out there and compete. I didn't come here to finish second, third or fourth. I came here to win a national championship. You don't come to the SEC if you don't want to compete.

When I took the ASU job, I told my husband I probably had one more move in me. My family moved to Arizona, b​ut these jobs don't come open very often.
Never miss the latest news from TexAgs!
Join our free email list