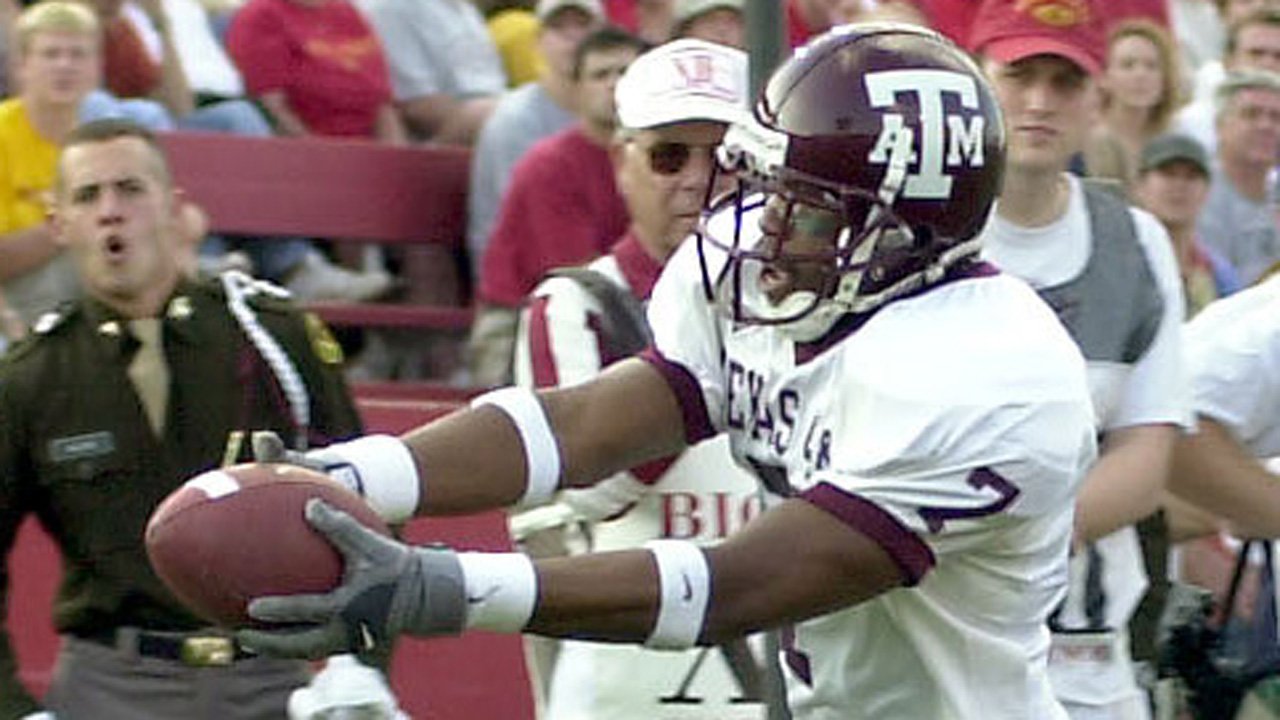 Photo by Texas A&M Media Relations
Texas A&M Football
Former Aggie WR Chris Taylor breaks downs A&M's 2022 receiving corps
---
Former Texas A&M wideout Chris Taylor joined Friday's edition of TexAgs Radio to analyze the upcoming receiving corps filled with experienced veterans and young talent and how they can make an impact during the 2022 campaign.
---

Key notes from Chris Taylor interview
Anytime we get to talk about Aggie football, I'm glad to do that. I've been busy graduating one kid, being a parent and training guys for their respective teams.

Ainias Smith is going to continue to be the explosive player he's been. The stats don't jump off the page, but when the ball is in his hand 15-20 times a game, you can line him up in the backfield or put him in the slot and create separation. He's a unique player. As long as he can get his touches, that's where you start. He will have an impact on the receiving corps this season.

Smith can take his game to another level, but it's going to depend on the guys around you like Moose Muhammed, Evan Stewart and Yulkieth Brown. Smith's a home-run threat at any time. You have to pick your poison as a defense. Are you going to keep your secondary deep or bring them in to stop the run? That offense could be one of the top in the country if they perform on all cylinders.

You cannot say enough about the veterans. I played during the Big 12 days, and we were a run-first football team. SEC West is the best division in college football. Going to play at Alabama this year, they are pissed off from last year. That senior leadership will help them keep the younger guys level-headed, locked in and focused on going into Bryant-Denny Stadium and getting a win.

Chase Lane brings a steadiness. He's a security blanket for the quarterback. He's dependable, sure-handed most of the time and understands assignments. I'm excited to have him back. I'm ready to see explosive plays from that whole group.

Jalen Preston and Hezekiah Jones bring leadership. Those young guys are looking for playing time. They are young gorillas. You hear the critics saying that you go to A&M to be a blocking receiver, and this is the time to prove them wrong. You have the talent. Now, it's a matter of getting on the field and going to do it.

Moose Muhammad III has the pedigree, and he's been around the game having his dad play. There's a huge difference when transitioning from high school to college ball for a guy like that. Defenses give you so many different looks. Moose is ahead of the game of understanding defenses because he's been around football for so long.

Devin Price has a ton of opportunity. He came in the class with Demond Demas and Moose. He's also been around the game.

I've watched Evan Stewart. There are not a lot of holes in his game with the routes and understanding defenses. Watching him, there's no wasted movement. The routes look all the same. Jerry Rice did the same thing. Stewart has mastered making his routes look identical. It makes it tough for the defense to read. It puts him ahead of the young receiving corps.

To see the work Stewart's putting in. Everything he does in training relates to football. The kid has a huge upside, and his ceiling is the stratosphere. He's not a huge guy. I could compare him to Bethel Johnson with his speed and size.

I think Noah Thomas is the sleeper of this bunch. There is a mental side to this game. If you watch him prepare, the kid is an athlete. He reminds me of Mike Evans. He's a great route runner, can stretch the field, and he's a do-anything kind of guy.

Chris Marshall plays with a chip on his shoulder. I watched him in the playoff basketball run. He has tenacity. Robert Ferguson was that "alpha" leader for us, and I see that same thing in Marshall. He plays like he's pissed off all the time, and I like that. I think all three of the wideouts contribute in a big way this year and in years to come.

Quarterback is everything. We got a sample size from Haynes King. It's very important to have a guy that can get you the ball. You have a group that will cheer for each other, and there's a brotherhood there. You can put up massive numbers with this wide receiver and quarterback room.

I'm going to make a bold prediction. From the receiving group, 25 touchdowns on offense, and with punt and kick returns, I think 30+ touchdowns from the group as a whole.
Never miss the latest news from TexAgs!
Join our free email list