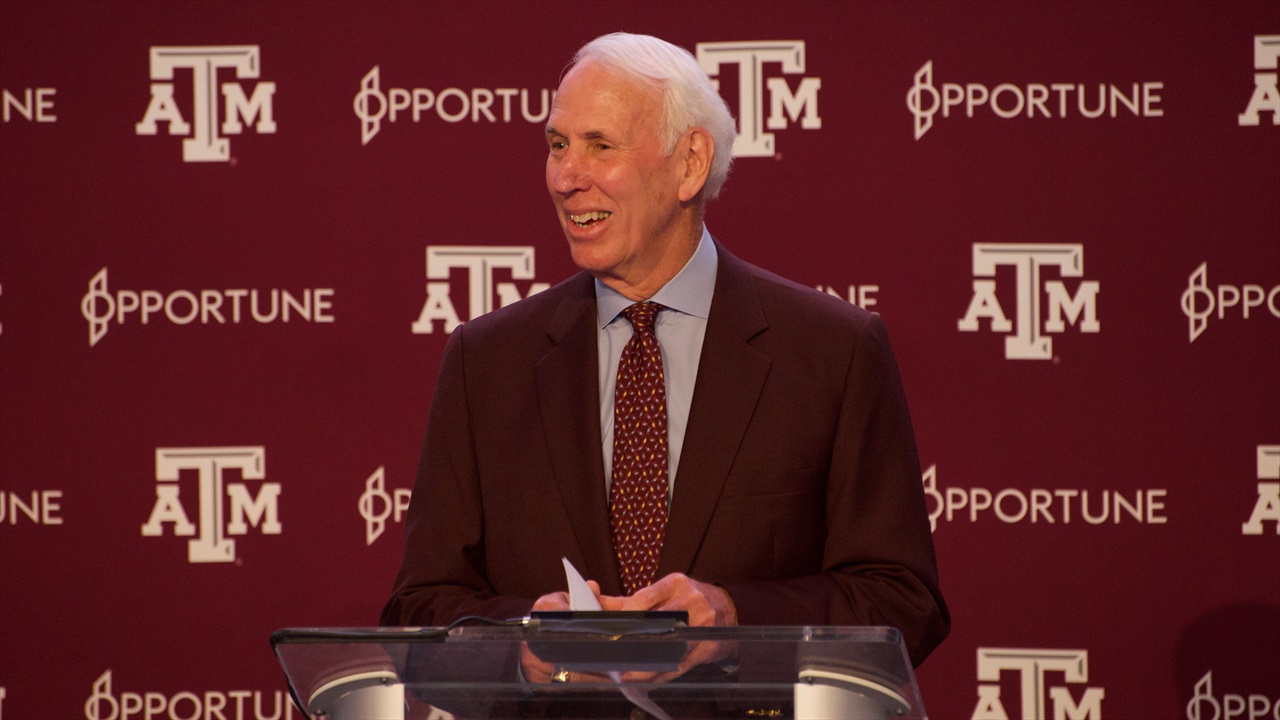 Photo by Lia Musgrave, TexAgs
Texas A&M Football
Legendary Texas A&M coach R.C. Slocum recounts his battle with cancer
---
Texas A&M's all-time winningest coach R.C. Slocum joined TexAgs Radio on Tuesday to discuss his battle with Hodgkin's lymphoma, share valuable life lessons he learned throughout the journey and give his coaching perspective on keys to A&M football's success in the fall.
---
Key Notes from R.C Slocum Interview
I feel really well. I have some balance issues. I'm playing golf, but not playing as well as I would hope. When I was going through treatment, I thought, "Man, if I could just be out there on a sunny day with you guys, I wouldn't be near as worried about making a double bogey." So now I'm getting to see if that's really true or not. I'm making progress. The balance will get better with time. I feel well. I gained all my weight back. I lost 30 pounds at one time.

I try to play golf once or twice a week. I'll go hit balls sometimes, but it's really hot. The heat takes some of the fun out of it.

It's been almost a year. I was fine, playing golf and working out and doing what I wanted to do. I've been blessed. I never missed a day of work from being sick. I had a little cough but no sore throat. I went to the doctor. They took a chest X-ray and then a CT scan. It showed that I had Hodgkin's lymphoma.

I asked them if I could take the chemotherapy at Baylor Scott & White cause I served on the board for a period of time and knew them. They let me do it, and it saved me a lot of time. I never had nausea, but I just felt weak. I had no appetite, and it was an ordeal. That was a six-month process. Fortunately, after five treatments, the cancer was gone. The doctor wanted to continue the treatments, and I was ready to stop. I went through all 12, and November 29 was my last one.

Because of COVID-19, it was way worse. I couldn't have anybody over. I was at home or at the hospital. That was the first time since junior high I didn't see a college football game in person. I feel very fortunate to be back to somewhat normal activity now.

I was always so healthy and never worried about my health or how long I was going to live. It taught me to appreciate the little things and feeling well.

If you and those around you have their health, whatever other problems become distant or secondary problems. Some people spend their lives always upset about something. If you get up out of bed and move around on your own, that's a real good thing. Don't let the problems overshadow your happiness. I'm not worried about the future. I got this day right now, and I've chosen to spend time with TexAgs today.

A while back, Jacob Green called and wanted to have lunch. A day or two before, he told me to wear a sports coat, and he would pick me up. Things weren't adding up. We were driving, and he missed a turn and was buying time to make sure everyone was there. I walked into the restaurant, and I saw Dat Nguyen, Richmond Webb and Alan Cannon. I thought, "What's going on here?" My wife was dressed up too. They had a surprise luncheon to induct me into the Texas Football Legends. I was conducted during a Texas Bowl game but not officially inducted into the Texas Football Legends. They gave me a big beautiful western-style belt buckle with my name on it and Texas Football Legend on it.

There's not a day that goes by where I don't hear from one of my former players. The joy of coaching, the trophies and all that is fun, but the relationships with those guys mean a whole lot to me.

I'm excited about this season. I'll be able to go to some games this year. I spoke at the Dallas Coach's Night. As you go around the country and the conversations turn to the fall, A&M will be a part of those conversations about who is the best team.

When you talk about our quarterback situation, if you look at any team, NFL or CFB, that position has become increasingly important. As time has evolved, defense's have become so good that if you go through the analytics, the single most important aspect is explosive plays on offense. It is almost impossible to create those plays without a big-time quarterback, and we have at least three good candidates. That position stands above the rest, and you have to have a good performance there if you are going to be really can't. You can't win championships unless you have a big-time quarterback.
Never miss the latest news from TexAgs!
Join our free email list