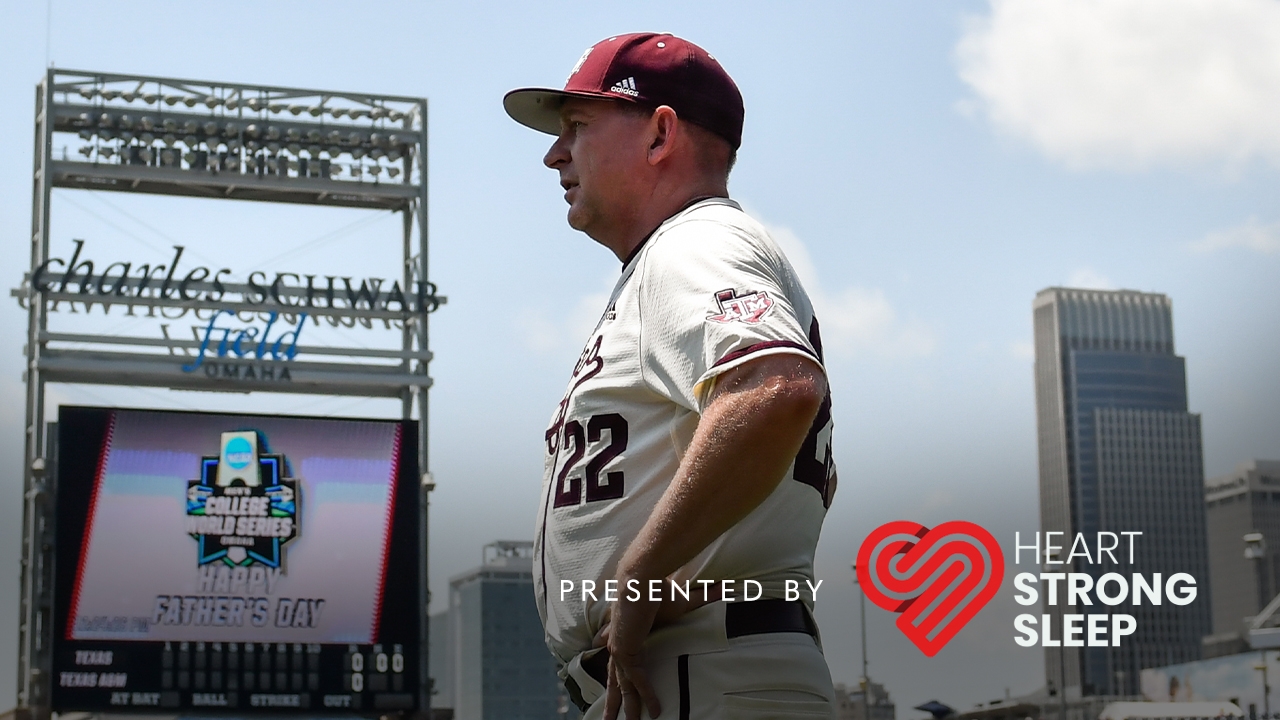 Photo by Jamie Maury, TexAgs
Texas A&M Baseball
Jim Schlossnagle discusses huge win over Texas at the Men's College World Series
---
Texas A&M head baseball coach Jim Schlossnagle joined Monday's edition of TexAgs Radio to share his thoughts on the Maroon & White's first two games in Omaha, the win over Texas and the plan moving forward against Notre Dame.
---

Key notes from Jim Schlossnagle interview
Just so happy to be playing baseball on June 20. We got an off day in Omaha and are going to let these guys rest a little bit. Now we're just trying to develop a pitching plan for tomorrow against Notre Dame.

I'm going to eat some breakfast here then talk with the staff and watch some Notre Dame tape. You're always trying to balance the fact that you have to win the game, but also win the tournament when making these pitching decisions. We will try to make the decision that best fits that goal.

You're constantly trying to decide when to save pitching and when to put the nail in the coffin. Look at yesterday with Jacob Palisch and the 8-2 lead. You have to respect that lineup. My only regret from yesterday is that I didn't pull Jacob and go to Brad Rudis sooner. I also wish we had played better defense behind Micah Dallas. He deserved to be able to pitch longer than he did.

The untold story of the game is limiting their lineup from the very first inning. They had first & third with no one out in the first, and we limited the damage to one run. We also had Ivan Melendez leading off twice. He can't hit a grand slam if he comes up with no one on. I think we really pitched well against one of the best hitters in the country.

Trevor Werner may have swung at ball four three or four times in that long at-bat. He just went up there and battled, got the offspeed pitch and went with it. He was looking to go the other way with the fastball, and that allowed him to take that elevated off-speed pitch into the left-center gap.

Micah isn't a big velocity guy, but I thought the ball was coming out of his hand hot. He also lived at the bottom of the zone. I thought he had decent fastball command, and he even threw some good changeups. Micah is such a great human being and a competitor. Just a great kid that battled through some rough spots in the season to deliver now when it matters most.

You can't be a front-runner. You have to be able to help the team when you don't have your best stuff and aren't at your best. Look at ten starts: Two great, two awful ones and six in the middle. It's how you perform and battle in those six that make you a great pitcher, in my mind. Micah Dallas has proven to us that he can and will do that each and every time out. We need more of that from Nathan Dettmer. We need him to go out there and pitch like an ace.

Chris Cortez is fine. Just a super competitor that holds himself to a higher standard than any coach ever could. He had some kind of neck issue and didn't want to come out of that Friday game on the mound in Omaha. It's a long season for these guys. They are all battling through something, and it's late in the season.

Jacob Palisch is a gamer. He has pitched in big moments before. Coach Nate Yeskie has done such a great job with him in his development, and he's such a great pitcher right now. Yesterday was only his tenth walk of the season. His strikeouts to walks and innings pitched rate is absolutely off the charts. It's All-American-type stuff.

I don't know where we'd be without Jordan Thompson. He doesn't necessarily do it in the prettiest fashion at times, but he always gets locked back in and back to the at-bat. He has learned to be a patient hitter—just a super competitor.
Never miss the latest news from TexAgs!
Join our free email list
PRESENTED BY