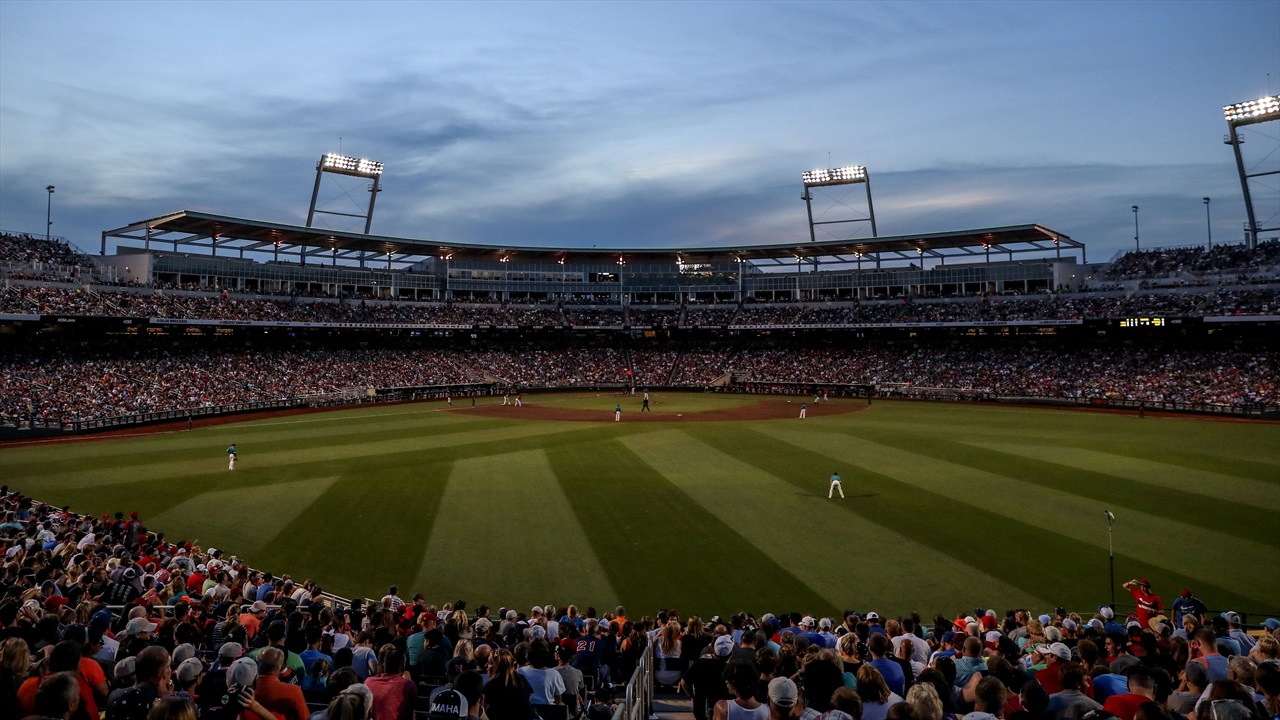 Photo by Kevin Jairaj-USA TODAY Sports
Texas A&M Baseball
An Aggie's guide for what to do, where to eat & more in Omaha, NE
---
You know her from the social center on TexAgs Radio, but Anna Peterson is also a native of college baseball's favorite city: Omaha, NE. With the Aggies heading to the heartland, Anna offered her tips on where to go, what to eat and more in Omaha outside of the CWS.
---
Key notes from Anna:
I was born in Nebraska as long like the rest of my family. We moved to Texas when I was four. I visit almost every year. This year, we are going for my grandma's 80th birthday which happens to be when the College World Series is happening.

It's like College Station as far as size goes so you can get anywhere in about 10 minutes without traffic.

One of the biggest attractions is the Henry Doorly Zoo. It's a top 10 zoo in the world. It's a great place to spend the whole day or an afternoon. It's eight minutes away from the field. There's a huge aquarium and an indoor rainforest section so you can escape the summer heat and enjoy the zoo in the air conditioning.

The casinos are 10 minutes away in Council Bluffs, Iowa. Nebraska is not huge like Texas so you can travel state to state with ease. The top three casinos are Ameristar and Harrah's Casino which includes hotel and dining. Horseshoe (Caesars) Casino is connected to the Hilton Garden Inn. It's a great way to spend your night or morning.

If you are downtown in Old Market, that's a great place to be with a lot of restaurants and shops. For breakfast, CTRL Coffee 7 Cereal Bar has 30 different kinds of cereal to choose from, and Gravy Train has biscuits and gravy made from scratch. On Saturdays, breakfast at the farmer's market downtown is great as well.

For lunch, M's Pub is my dad's favorite bistro. Butterfish is great for sushi. Cocktails in the Old Market can be found at Berry and Rye, and Committee Chophouse and Speakeasy.

Pitch Pizza is a great spot to bring kids and build your own pizza. Lo Solo Mio is a great Italian restaurant as well. You can't go wrong with any of the pasta there.

More great restaurants are Upstream Brewing Company with beer on sight. Barrel and Vine is a neat spot with a rooftop pool, live music and it's an incredible atmosphere in the west Omaha area.

Runza is incredible. It's a fast-food concept but a Nebraska staple. They have burgers, fries, and onion rings, but the Runza sandwich is like a buttery kolache mixed with a burger. My mouth is watering describing it. They are scattered throughout Omaha and are a place you cannot miss. I need a selfie from Richard Zane with Runza.

There are neat sports bars, but one that sticks out is a legendary bar called the Blatt Beer & Table. It's an ode to Johnny Rosenblatt stadium where the series was held until 2011. It's a historic place to be. If you want food, head next door to the Old Mattress Factory Bar & Grill, nicknamed The Matt, which has great food options and is close to the stadium.

The Capital District is a great hang-out for a younger crowd and has some cool bars to check out.

The Omaha Baseball Village is something you can't miss. There are a bunch of vendor tents representing all the eight teams invited with shirts and souvenirs. When you're there, there is an unmarked, unnamed lemonade stand you have to look around for. The myth behind it is that the fanbase that visits that lemonade stand the most, their team will win the College World Series. They also serve sweet tea and I'm all the SEC fans in attendance will enjoy that.

It's not Texas, but the hospitality is great in Omaha.
---

Anna's additional places to check out:

Breakfast:
Good Lookin
Early Birds (try cinnamon roll pancakes)
Jojo's
Quick Eats:
Runza (A Nebraska Fast-food original. The burgers are great but try the Runza))
Goldbergs (burgers)
Kitchen Table
The Taco Co.
Dinkers (maybe the best burger in town - cash only)
Sam & Louie's Pizza
Lunch/Dinner:
801 Chophouse
Jams
Gather
Boiler Room
V Mertz (perennial powerhouse fine dining)
M's Pub (dad's fave)
Via Farnia
Dynamite Woodfire Grill
Jackson Street Tavern
Cafe Postale
Ika San (ramen)
Upstream Brewing Company (casual dining and pool hall)
Lefty O'Tooles
Butterfish (sushi)
Lo Solo Mio (short drive but worth it Italian made from scratch)
The Drover (longer drive but totally worth it)
Midtown/Blackstone
Smokin' Oak Wood-Fired Pizza
Pitch Pizzeria
Benson
Yoshitomo (sushi)
Ika Ramen
Bellevue
Stella's (honestly a total dump, but the burger is a spiritual experience – worth the drive)
Barrel & Vine (maybe the coolest venue not downtown)
Tavern 180
Never miss the latest news from TexAgs!
Join our free email list