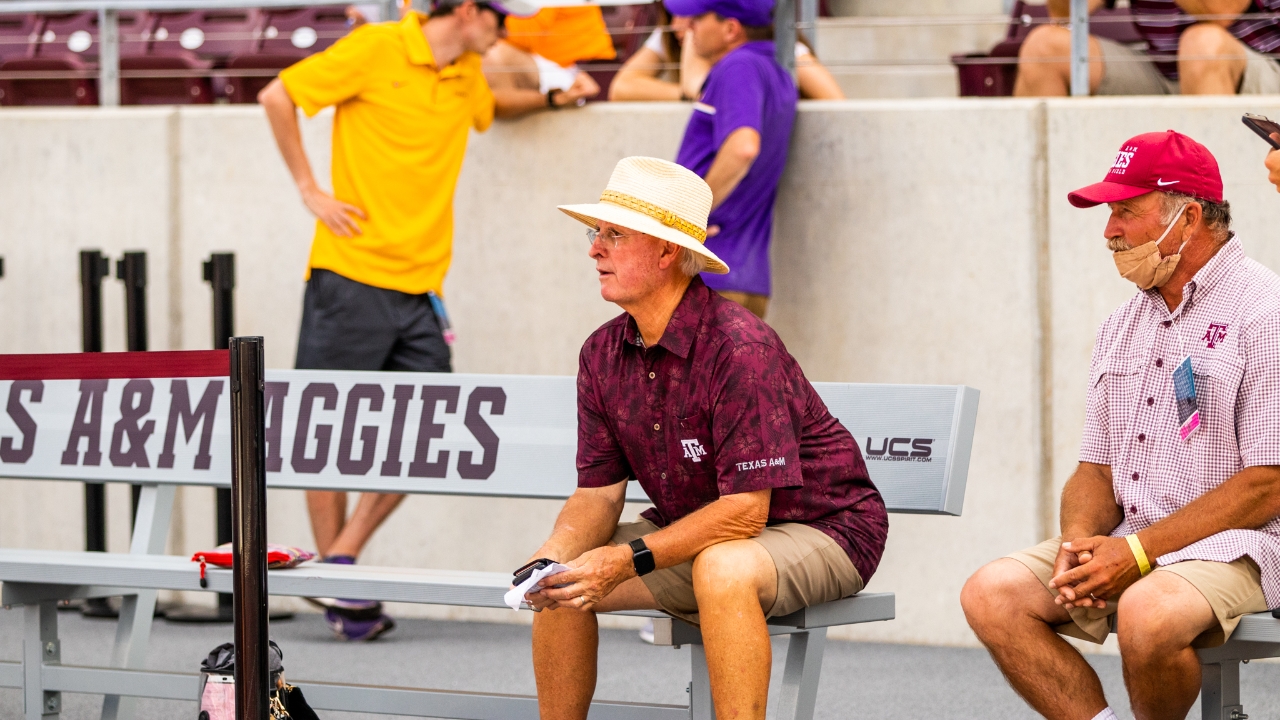 Photo by Angelina Alcantar, TexAgs
Texas A&M Track & Field
Track & Field Report: Pat Henry previews NCAA Championships
---
During Tuesday morning's edition of TexAgs Radio, legendary Texas A&M track & field coach Pat Henry previews the team's expectations at the NCAA Outdoor Championship starting Wednesday, June 8 in Eugene, Oregon.
---

Key notes from Pat Henry interview
Doing fine in Eugene. It was 58-59 degrees yesterday and 60 degrees today. Always that way in Eugene, and you got to be ready for it.

Eugene has always been fun to come to. The championship used to rotate. Next year, we will be at Texas. The $250 million facility that Nike has built in Oregon is great. It's been a good place to come and there is a great crowd.

For some athletes, allergies are a problem. The pollen count is very high up here. It's just another condition that you have to tolerate. Some athletes have taken some medicine to keep the adjustment to the climate fluid. Cool weather and pollen are a factor in Eugene, but everyone here deals with it. A lot of the allergy medicine could test positive for something on certain tests, so we have to be careful about some things our athletes take.

We got here Sunday and trained yesterday. We have team meetings today along with training. The women's schedule looks a little different because the men start competition tomorrow.

We have expectations every year for each athlete and for the team. On the men's side, we have done well. At the conference level, we haven't had the depth we have wanted. On the women's side, they were doing better. We don't have as many women as some of the other schools here.

At the championships, you can have your absolute best performance and come in eighth. You have to be a the top of your game.

Bryce Foster's final is tomorrow, and that contest is one day. For the races, the men start preliminary rounds tomorrow. If you don't come prepared, you're going to get left out of the show.

Foster, as a freshman, gets better each week. Two weeks ago, he put out his best day by far. To make the finals, he is going to have to do even better than that. He is the first putter out of 24 to go.

Brandon Miller is a 1:44 800-meter guy. He hasn't run that his year but he looked a lot better last week and ran a 146 flat. This is a world championship year that he could go on to represent the United States. Miller had flown under the radar along with James Smith.

Sam Whitmarsh is a young Texas guy. Two weeks ago, he ran a 1:46 800-meter and barely got beat. He had a heart issue that we detected after COVID-19. He had surgery in the fall, started training, and has had a really good season. After the regional, he had the heart issue again during the cooldown. He didn't go to the hospital but they are going to work on him and we are praying for the best for him.

Lamara Distin has been very consistent high jumping at tall heights. She's a sophomore and one of the best in the world right now.
Never miss the latest news from TexAgs!
Join our free email list