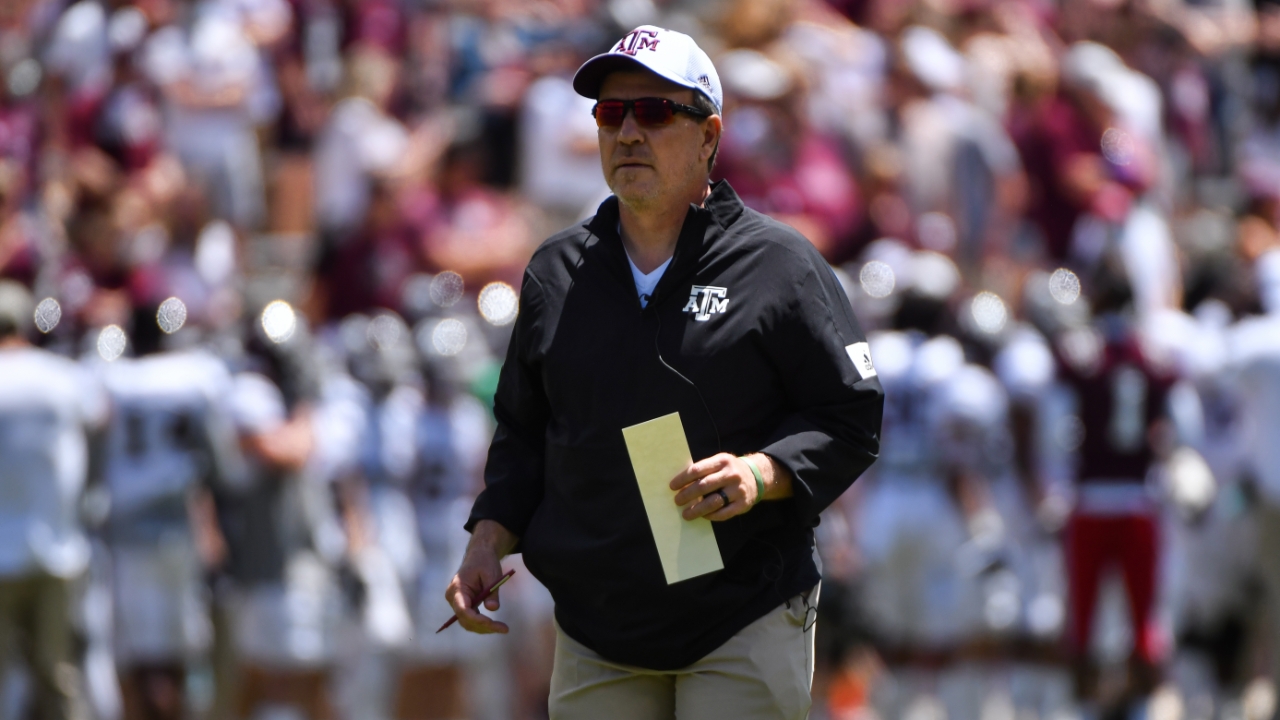 Photo by Jamie Maury, TexAgs
Texas A&M Football
Moving On: Jimbo Fisher focused on future rather than feud with Saban
---
DESTIN, Fla. — Something about Florida seems to get Jimbo Fisher moving.
Remember the 41-27 Orange Bowl over North Carolina two years ago? Fisher moved too quick and too fast for Buddy Johnson and Camron Buckley to douse him in Gatorade.
On Wednesday, reporters assembled at the SEC spring meetings tried to douse Fisher in questions regarding his feud with Alabama coach Nick Saban.
Fisher dodged them like Roger Staubach.
Did Fisher regret any comments he made about Saban in a hastily-called press conference on May 19?
"Things are said. What he said. What we said," Fisher replied. "We're moving on to the next thing."
Did the feud pose any problems in a coaches conference at SEC spring meetings at the SunDestin Beach Hotel?
"We're done talking about it," Fisher said. "We're moving on to the future and what goes on and trying to fix the problems we have in college football."
"We're done talking about it. We're moving on to the future and what goes on and trying to fix the problems we have in college football."
Have Fisher and Saban made amends?
"We've moved on."
Would Fisher elaborate on suggestions that Saban may have a history of violating recruiting rules?
"I'm done. I through talking about that," Fisher said. "We've moved on. We're trying to figure out our schedule."
Ah yes, the schedule. The SEC will be changing its scheduling format when Texas and Oklahoma enter the league in 2025, if not before.
Coaches and athletic directors discussed the possibilities of new formats.
One suggestion calls for each team to play eight conference games with one permanent opponent. Another calls for nine league games and three permanent foes.
Either way, the Texas Longhorns could be a permanent opponent for the Aggies.
Fisher said he embraces that idea.
"Rivalries are great for college football. I love rivalries," Fisher said. "I think the one-seven format, whatever the dominant rivalry is — or whatever the league says it is — is that. The three-(nine), you get your second rival, which in this league, there are still a lot of those that are included, too.
"I would love to play Texas. If that was our guy (permanent opponents), I would love to play Texas, no doubt."
Of course, he would. Who wouldn't trade an annual game against Alabama for an annual game against Texas?
But Fisher also wondered how the change in schedule might affect the College Football Playoff, which will expand from four teams to eight, 12 or 16 sooner or later.
"At the end of the day, you want great content, but as a program, you want what gives you the best chance as a conference to get the most teams into the playoff," Fisher said. "To get the 12 best teams or eight best teams or 16 best teams or whatever the format is. Hopefully, they will reward strength of schedule in that process."
Fisher also said a process must be set forth to solve problems stemming from Name, Image and Likeness.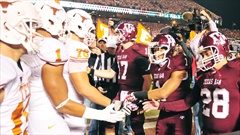 Andrew Kilzer, TexAgs
He echoed some of Saban's Tuesday-morning rant about a need for a uniformed set of NIL rules, which currently are mandated by individual state laws.
"The thing you have to have in all those things is uniformity," he said. "It has to be concrete across the board, whatever each state's rules are. I don't know how you get to that.
"The answer is there is no answer, but we have to have that uniformity. I've said that from day one."
Fisher even talked about football. The Aggies finished a disappointing 8-4 in 2021, but he is confident much more success is coming soon as he enters his fifth season at A&M.
"I think we're in good shape. I'm anxious to see where we go if we can stay healthy," Fisher said. "We had a great year two years ago; I still say that we should have been in the playoff. We're the only one-loss SEC team to never be in the playoff.
"Last year, we had a good team. We didn't finish the season like we needed to. We had some injuries early, but hey, that's part of this game. You have to finish. No excuses.
"I feel very confident about our team. I like our team, and I really like our team going forward. I think we've got good players, and I think our program, mentally, is in a very good place to compete and play well. And hopefully play at the top of this league, which is very challenging."
The most challenging game in 2022 figures to be an Oct. 8 clash at Alabama.
Both teams project to be in the preseason top-ten — maybe top-five — and could be unbeaten when they meet in Tuscaloosa.
That game may test just how much he and Saban have moved on from their feud. Coaches often chat at midfield prior to the kickoff. Will they or won't they?
"We're going to be intense and ready to play each other," Fisher said. "We all smile and say, 'I'm going to beat your ass.' We all say that."
Fisher didn't say much more. He just moved on.
Never miss the latest news from TexAgs!
Join our free email list