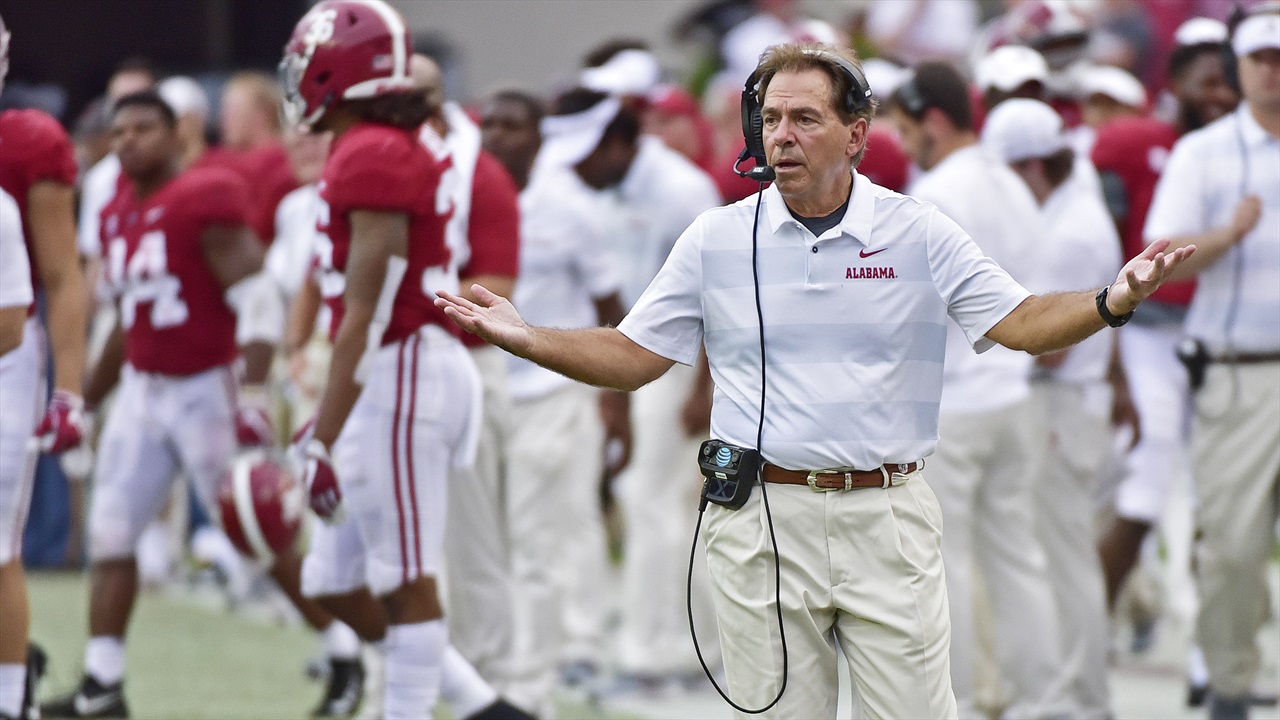 Photo by Brandon Jones, TexAgs
Texas A&M Football
Saban backtracks A&M accusations, calls for uniform NIL guardrails
---
DESTIN, Fla. — Apparently, Nick Saban sees nothing wrong with breaking state laws.
The Alabama football coach on Tuesday morning said that…without really meaning to say that.
To explain:
Two weeks ago, Saban alleged Texas A&M bought its entire No. 1 ranked 2022 recruiting class — a violation of Texas state name, image and likeness laws.
But on the first day of the Southeastern Conference spring meetings, Saban was backpedaling in a ballroom at the SanDestin Beach Hotel.
"I didn't really say that anybody did anything wrong," Saban said when asked for evidence that A&M paid for recruits.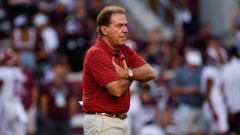 Jamie Maury, TexAgs
"You said they bought their class," a reporter interrupted.
It was May 18 when speaking to a group of Alabama boosters in Birmingham that Saban said:
"I mean, we were second in recruiting last year. A&M was first. A&M bought every player on their team — made a deal for name, image, likeness."
Texas laws forbid a university from making NIL deals with recruits. Therefore, "buying" all the players would absolutely be doing something wrong.
By now, it's common knowledge Fisher, who once was an assistant coach to Saban, called a press conference the next morning to vehemently deny Saban's accusations.
Fisher maintained his recruiting class — regarded as the best ever — was compiled through hard work and building relationships.
Fisher has recruited extremely well throughout his career as a head coach at A&M and Florida State. His classes typically are ranked among the top ten.
Then, Fisher suggested Saban built his legacy by manipulating the recruiting rules.
Florida coach Billy Napier and Georgia coach Kirby Smart — both former Saban assistants — were asked if there was any validity to Fisher's suggestions.
Both dodged the question.
"My phone started blowing up right when Jimbo hit the press conference," Smart said. "I haven't thought about it a day since. Because in the world we operate in, you worry about what's in front of your right now, which is the 15 recruits I'm trying to get on the phone, the conversations I'm trying to have. I'm not really worried about a feud between two guys that used to sit in the same staff meeting and have similar conversations."
(Kirby) Smart, who has recruited at a high level at Georgia, might feel differently if he was accused of "buying" his players.
Smart, who has recruited at a high level at Georgia, might feel differently if he was accused of "buying" his players.
Not that there's anything wrong with that, right?
Reminded he said A&M "bought" its entire recruiting class, Saban, appearing frustrated, expressed some regret.
"I did not say anybody did anything wrong. That's all I'm going to say about that," he said. "I should have never mentioned any individual institutions. I've said that before."
Then he went into a diatribe about competitive equity, NIL transparency and the health of the game.
"Some kind of uniform name, image and likeness standard that supports some kind of equitable national competition, I think, is really, really important in college athletics and college football," Saban said. "We've always had that, whether it's equal scholarships, equal (Alston) money. Whatever it might be. So, that's kind of point one.
"Point two is we need some kind of transparency in name, image and likeness deals to verify that players are doing what they need to do to have the opportunity to make money with name, image and likeness."
Saban said he strongly advocates for players to make money through NIL. Indeed, he bragged last year that quarterback Bryce Young had $1 million in NIL deals before starting a game.
He acknowledged other Alabama players have profited from NIL, too.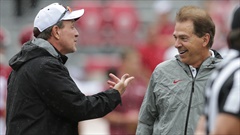 Marvin Gentry/USA Today Sports
It would seem Saban supports NIL deals for players. His players. After all, Saban was asking Alabama boosters to contribute more for NIL opportunities when he made the accusations against Texas A&M.
Saban has won six national championships at Alabama. Eight of his last 10 recruiting classes have been ranked No. 1 in the nation.
Yet, he called to put "some guardrails" on NIL to ensure a level playing field. Really, he said that.
"I think we need to make sure we have a uniform way to have equitable competition that's transparent. We have to protect the student-athlete," he said.
Interestingly, A&M coach Jimbo Fisher often has spoken about the need for regulating NIL. So, he and Saban agree on that.
Where they do not agree, apparently, is that breaking Texas state law equates to "doing something wrong."
Fisher has adamantly maintained that no NIL deals were promised to 2022 recruits. Just last week, it was reported that only two A&M 2022 signees —both of whom are enrolled — have NIL deals.
The obvious question, then, is Jimbo Fisher lying? That question was put directly to Saban.
"I have no problem with Jimbo," Saban said. "I have no problem with Jimbo at all."
Maybe not. But Fisher has a problem with Saban.
Never miss the latest news from TexAgs!
Join our free email list
PRESENTED BY