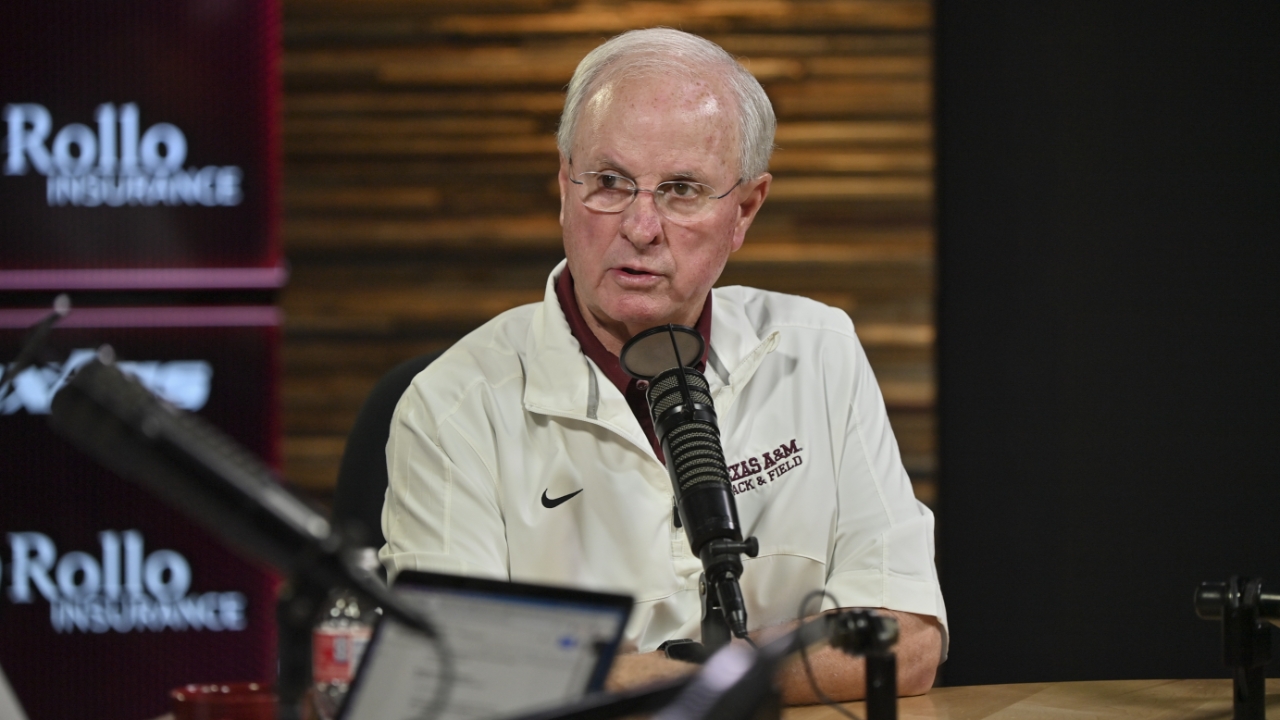 Photo by Jamie Maury, TexAgs
Texas A&M Track & Field
Track & Field Report: Legendary Pat Henry recaps NCAA West Prelims
---
During Tuesday morning's edition of TexAgs Radio, legendary Texas A&M track & field coach Pat Henry recapped the team's performance at the NCAA West Preliminary Rounds last week in Fayetteville, Arkansas with 25 Aggies advancing to the NCAA Outdoor Championships.
---
Key Notes from Pat Henry Interview
I am glad you guys make time to talk about track & field. It's appreciated. We have some great athletes, and it's fun to talk about them.

This was a meet where 48 meet in the first round, only 12 advanced from the east and west. You go in with one performance, and of the people who advanced, we only had one that didn't advance, which was a major blow. Our men's 4x100m didn't advance as well because of a bad exchange.

The thing about the national championships that is you're giving yourself an opportunity. You have to have a great day, and your teammates have to have a great day. It's not a shoo-in.

Bryce Foster is getting better each week. In track, it's measurable. In football, I don't know if there's a way to measure if a guard or a center is consistently getting better. It's not all physical, it's mental. He had some puts in practice, and they were significantly better than a put he had in the meet. Practice doesn't count though. He's feeling good about himself, but doing it when it matters is a challenge. Bryce is going to be a great shot putter, and I hope he doesn't run out of time. The more time he has with it, the better he will be.

Devon Achane didn't have a good exchange. In the 100m and 200m, he's having a posture issue, but that's a mental thing.

A&M is the only school in the nation to qualify two dual-sport athletes for the 2022 NCAA Outdoor Track & Field Championships.

Deshae Wise is one of those that has an aura about herself. She's doing really well in short hurdles, and she advanced. I still believe she can be very good in the intermediate hurdles.

I don't like the format of the NCAA West Regionals at all. It's an opportunity for good ones to fail. The season has got to start counting more than it does.

Lamara Distin looked really good. In the high jump, 48 are jumping, and 36 are eliminated as you take the bar up. The 12 remaining advance, and she advanced on an average jump.

Brandon Miller won by about 10 meters in the 800m race. He stepped up and looked really good. He's a great athlete on this team. It's really too bad we lost Sam Whitmarsh due to medical issues.

Moitalel Mpoke stepped on the metal curb and hurt his ankle. The trainer worked hard last week, and it helped him mentally. Still, it's really swollen. For him to run the intermediates this week was a major challenge. For a little guy, he's really tough.

Carter Bajoit is a different kind of guy. When he's on, he's on. When he's not, he's not.

We are taking 25 people to the NCAA Outdoor Championships, 14 ladies and 11 men. With seven freshmen and seven sophomores advancing, we're pretty balanced moving forward. The SEC prepares you for the best competition.

We will meet for a relaxed session today and get as much mental relaxation as possible. We can run next Wednesday, Thursday, Friday and Saturday. We leave that Sunday.
Never miss the latest news from TexAgs!
Join our free email list