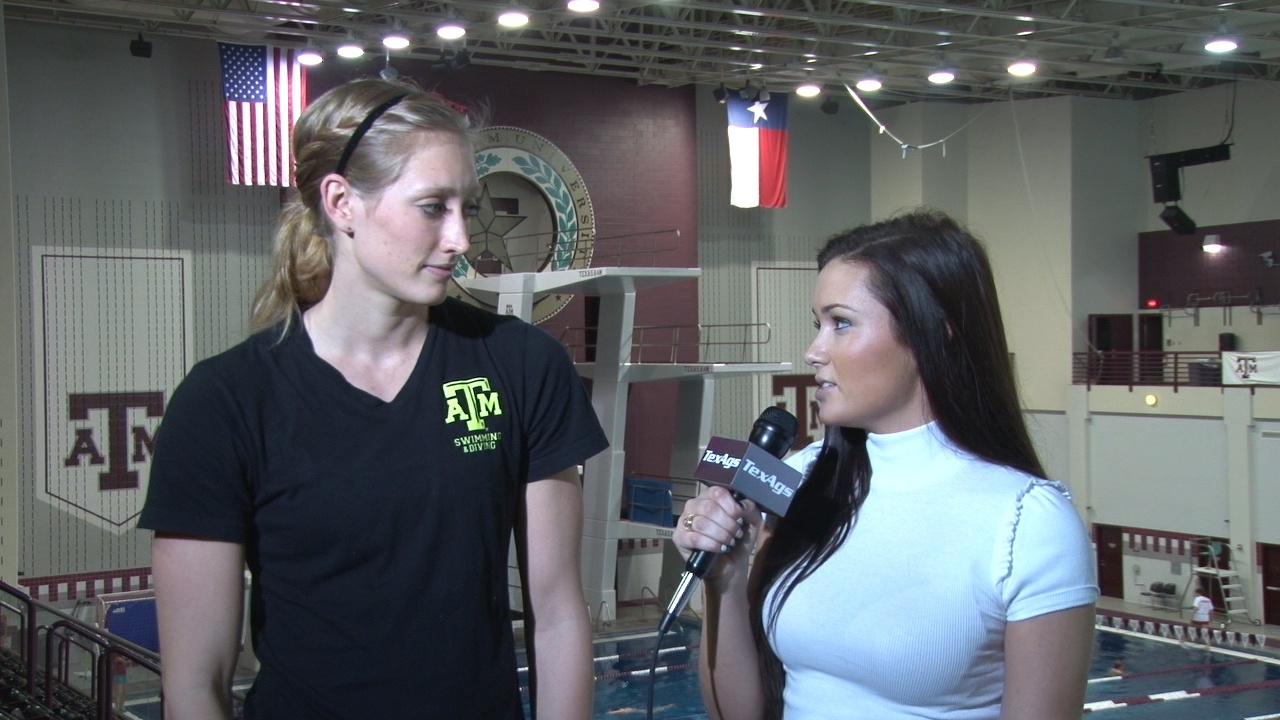 Texas A&M Women's Swimming & Diving
On Camera: Robyn Crowley chats with NCAA record-holder
---
Robyn Crowley: The first collegian under 58 seconds. What were your initial thoughts after the race when you looked up and saw your time?

Breeja Larson:
"The cool thing about swimming is there's two kinds of crowds — there's the crowd that's cheering for everyone to keep going and, you hear it once in a while around national championships, there's a crowd about to see a record. And when I was coming out of my last 25 I heard it and I was freaking out and saying, 'I can do this, I can go for it.' And when I touched the wall, I had to look at the wall and look at the scoreboard and I was like, 'Fifty... fifty-seven?' And I had to check again and again, and I looked at it and just kind of looked at my coach and ... I was just really happy. There was a moment when we were both just kind of shocked. I knew I was going to go for that time at nationals, but I didn't expect it at conference. So it was a good thing.
RC: You're just shy of the American record, which you have a chance to beat in the upcoming NCAA Championships. What are you doing, mentally and physically, to prepare for that?

Larson:
"I've had the time written down in my hand and my journals and everything, and I look at it every day and visualize my race. Just trying to work on the little things, all the little technique changes ... but trying not to change anything. Because when you race, you just want to let your body do its own thing. And you don't want to think when you're racing. Thinking is for practicing. So right now, going into it, just trying to work on all the little details I need to be able to achieve the goal."
RC: Obviously every athlete dreams of going to the Olympics, and that could definitely be a reality for you. How does that make you feel, and what are your thoughts pertaining to that?

Larson:
"You know, it's really intimidating because these girls, the ones who have been there, are just amazing athletes. For me, right now, it's just kind of going and swimming and trying to stay humble and hungry about it. But I just want the best times. I think everyone just wants the best times. And if my best times happen to get me there, it'd be amazing. But I think everyone's just trying to go for their best times in some of the meets."
RC: You ladies just won the Big 12 Championship, the fourth in the last six seasons — but it was your first (personally). Being a part of the team, getting to do that with the team, how does it feel and how does your team influence you?

Larson:
"Last year we had a rough start with a new group and we lost a lot of really good seniors, so this year I feel like we've come up from scratch and all these girls have such amazing times. We've all worked so hard this year, and it's a new team. I love every one of the girls, and we've all worked hard and we all push each other. This being our last Big 12s and being able to win it, it was really special to share with everyone on the team."
RC: Changing gears a little bit, when you were being recruited, what finally led you to choose Texas A&M?

Larson:
"My original coach, Brad Herring, he trusted Steve (Bultman, A&M's coach), and Alia Atkinson, the breaststroker before me, was amazing. On the recruiting trip here they were all so nice, and I just got the feeling when I met Steve that he was a good coach, I trusted him, he would be patient with me, he didn't seem like an angry person — he seemed very calm, and that was one of the things I was definitely looking for. All the little nicks you hear about other coaches, about them just getting angry on deck or not being supportive enough, I didn't see that about Steve at all. I just saw positive attributes and it was really hard to even consider other schools after I took my trip here."
RC: Academically, you just picked a major this semester — psychology. What made you choose psychology?

Larson:
"I'm not much of a math or science person (laughs). I took intro (to psychology) in high school and here and I really like it. I wanted to kind of pick a major that would help me in life overall, and psychology seemed to fit. I just took a sport psychology class and it kind of put into perspective what the mind can do. I think it'll help me a lot in my swimming as well."
RC: It could also lead to coaching in the future. How do you, as a student athlete, juggle your classes and the sport? Has it been an issue or do you find it to be a good transition?

Larson:
"It's really difficult just trying to manage your time because, after afternoon practice, you're really tired and all you want to do is eat dinner and go to bed. So you have to find the time in between classes to study. And giving up a lot of naps to try to get all the work in. But the professors here are really accommodating and they help us out a lot. It could be worse, but I think we get along okay. And our academic advisor, Chris Barttlebort, he does amazing. He helps us balance out everything we need, and if we need special attention and help to schedule everything out, he does everything he can to help."
Never miss the latest news from TexAgs!
Join our free email list