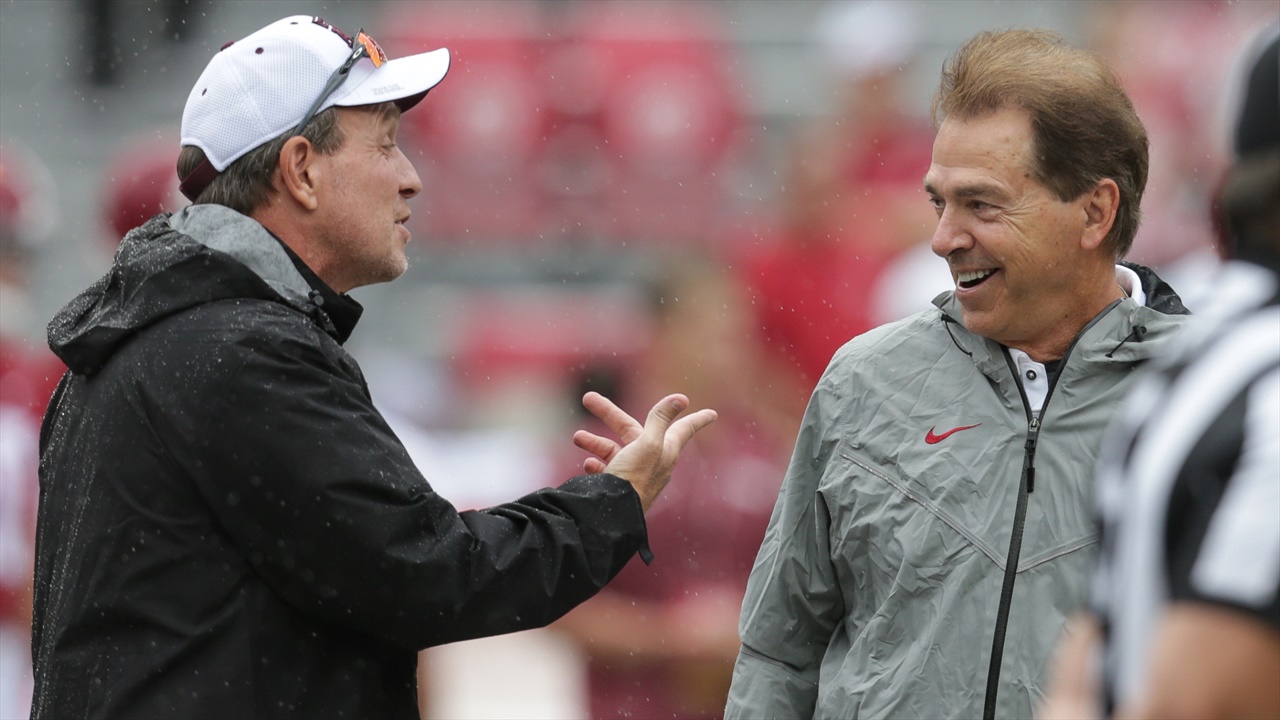 Photo by Marvin Gentry/USA Today Sports
Texas A&M Football
Fisher Fires Back: Jimbo responds to Nick Saban's comments about A&M recruiting
---
Comments made by Alabama football coach Nick Saban Wednesday evening about Texas A&M seem to have simultaneously ended a friendship and started a blood feud.
Thursday morning, A&M coach Jimbo Fisher vehemently responded to Saban's accusations that the Aggies resorted to possibly illegal and unethical measures to accumulate its top-rated 2022 football recruiting class.
"It's a shame that we have to do this," Fisher said. "It's really despicable. It's despicable that somebody can say things about somebody. They're taking shots at 17-year-old kids and their families that they broke state laws.
"We bought every player in this group? We never bought anybody. No rules were broken. Nothing was done wrong."
Texas state law allows college athletes to profit from their name, image and likeness. However, universities cannot be involved in the payment or brokering of deals.
"We bought every player in this group? We never bought anybody. No rules were broken. Nothing was done wrong."
Speaking to a group of business leaders in Birmingham, Saban said:
"I mean, we were second in recruiting last year. A&M was first. A&M bought every player on their team — made a deal for name, image and likeness. We didn't buy one player, all right? But I don't know if we're gonna be able to sustain that in the future because more and more people are doing it. It's tough."
Fisher pulled no punches in response. He actually seemed ready to throw some.
"You can call me anything you want to call me. You ain't calling me a cheat," Fisher said. "I don't cheat, and I don't lie. I learned that when I was a kid. If you did, the old man slapped you (up)side of the head. Maybe somebody should have slapped (Saban)."
Fisher added: "My dad always told me this: When people show you who they are, believe them. He's showing you who he is."
Requests made to the Alabama Sports Information Department to interview Saban were not answered.
Accusations about paying recruits have been a sore subject for Fisher since January when an obscure website called BroBible cited an Oklahoma message board post that claimed A&M spent $30 million to attract prospects of what is considered the best recruiting class ever.
In February, Ole Miss coach Lane Kiffin joked that A&M should be forced to pay a luxury tax for its class. Fisher did not find the remark humorous although he did refer to Kiffin as a clown.
"This is the second time we've had to do this with grown men who don't get their way and want to pout, throw a fit and act up," Fisher said. "Just ask all the people who have worked for him. They know exactly what he's about."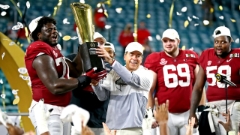 Mark J. Rebilas-USA TODAY Sports
The remarks by Saban obviously cut deeper because Fisher had once been on Saban's staff at LSU, and they were considered good friends.
The relationship is apparently over. Fisher said Saban tried to phone Fisher, but Fisher would not take the call.
"We're done," Fisher said. "He showed you who he is. The greatest ever, huh? If you have all the advantages it's easy.
"It's despicable that a reputable head coach can come out and say this when he doesn't get his way or things don't go his way. The narcissist in him doesn't allow those things to happen.
"It's a shame you've got to defend 17-year-old kids and families and Texas A&M because we do things right. We always do things right."
Fisher also insinuated Saban has previously broken NCAA rules in recruiting. Saban's recruiting classes have been ranked No. 1 in the nation eight times in the last 10 years.
"Some people think they're God," Fisher said. "Go dig into how God did his deal. You might find out about the guy a lot of things you don't want to know. We build him up to be the czar of football. Go dig into his past. You can find out anything you want to find out. What he does and how he does it. It's despicable."
Those were harsh words for a coach that some considered to be Fisher's mentor. However, Fisher — who coached under legendary Bobby Bowden at Florida State — suggested that wasn't the case.
"You coach with people like Bobby Bowden, and you learn how to do things," he said. "You coach with other people and learn how not to do things. There is a reason I didn't go back to work with him (when I had) opportunities. I don't want to be associated with him."
Saban might have lashed out because he sees Texas A&M as a threat. Last year, Fisher said A&M would "kick (Saban's) ass" before he retired.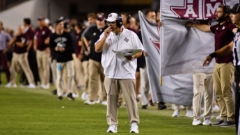 Jamie Maury, TexAgs
Fisher became the first former assistant to defeat Saban when the Aggies prevailed 41-38.
Fisher vowed more victories like that will follow.
"Don't make a mistake: We're not going anywhere," he said. "We still have a lot of work to do. We're not where we want to be, but this is going to be a great program. We're building it into a great program.
"I have nothing to hide, and our program has nothing to hide. It would be interesting if everybody could say that."
The rift could make for some tense moments in the upcoming months.
Fisher and Saban are both expected to be in Destin, Florida, on May 31-June 1 for the SEC Spring Meetings. They also will be in Atlanta for SEC Media Days in July.
The Aggies and Crimson Tide will square off in Tuscaloosa on Oct. 8.
Fisher said he won't be uncomfortable in those settings.
"I don't mind confrontation," he said. "(I've) lived with it my whole life. I kind of like it myself. Backing away from it wasn't the way I was raised."
Never miss the latest news from TexAgs!
Join our free email list
PRESENTED BY