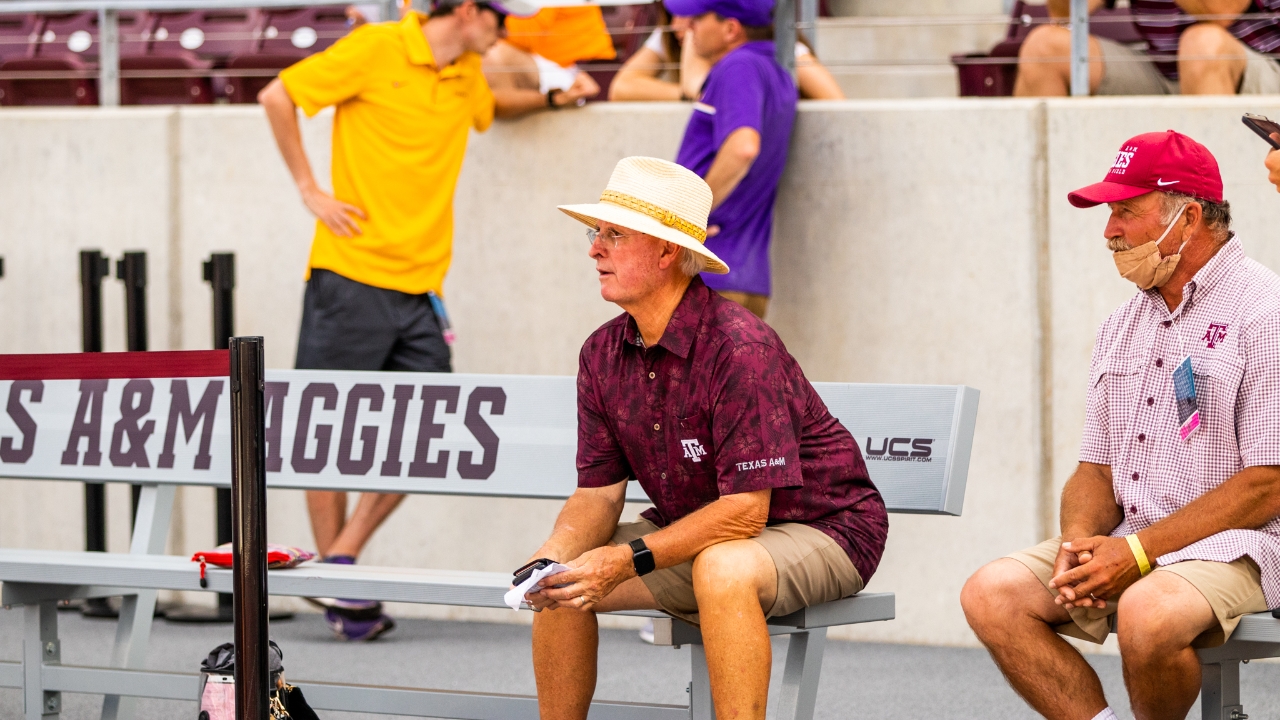 Photo by Angelina Alcantar, TexAgs
Texas A&M Track & Field
Track & Field Report: Pat Henry previews 2022 SEC Outdoor Championships
---
Ahead of the 2022 SEC Outdoor Championships in Oxford, MS, legendary Texas A&M Track & Field coach Pat Henry joined TexAgs Radio to preview the meet and discuss his teams' chances at the conference crown.
---

Key notes from Pat Henry interview
The conference championships rotate from institution to institution. Right now, it's on a 14-year cycle. It's supposed to be alphabetical, but it gets a little out of order if someone has to pass on it. I think it was supposed to be at Georgia this year, but their graduation weekend takes up every hotel room in town. The SEC had to move it to Oxford.

It's hot here today. It's humid. It's just like it is at home right now, so there is really no difference.

This is the best track meet in the United States every year. Tremendous performances come out of this championship.

Looking at the rankings, I think we have five or six teams in the SEC ranked in the top ten in both the men's and women's rankings. It's a tough conference. There is no question that the depth of our conference and the competitiveness of the conference is second to none. Nobody has a conference like this. The west coast has some good track teams, but nobody compares to this league. Oregon, Southern California and Texas are in that top group as well, but the SEC is dominant.

Today is a training day. We will go out and get on the different track. The throwers have to get used to the rings. The javelin runways are different in different places. The exchange zones are different from place to place, but for those who run on an oval, it's still an oval. Today is warmup day to get them ready for tomorrow.

This is a tough meet, and it's very difficult. We never have all the schools in one place during the regular season. We have a descending order, and we know who has run fast and who has thrown far. Still, track is about doing it on this day.

There are some states that have tuition waivers and academic scholarships that we do not have at Texas A&M. If you get in-state tuition from out of state, that gives you aid and more depth on your team. This meet comes down to who scores fifth, sixth, seventh and eighth-place points. It's about scoring depth.

In the first round, lane assignments are a random draw. The computer does the draw. There are some issues with that now too. The second time we run, you will have earned your spot. There are preferred lanes and stuff. For 100m, you'll run on one day and then come back another day for the final.

Devon Achane and Bryce Foster have done really well. Of course, this is Devon's second year with us, and he is a talented young man. He runs a great second leg on our 4x100. He has run one of the finest 200m in the country. Bryce is doing well, but he's not ranked as a big-time shot putter yet. He's throwing 62 feet. In college, you throw a 16-pound shot. There is an adjustment period, and I think he will continue to improve. The best in our country right now are 70-foot-plus guys, and Bryce isn't there yet.

Brandon Miller is a great competitor, and he's a great example for anyone that watches a guy do what he can do. He's an awfully good competitor. He's about 5-foot-8, and he's lining up against 6-foot-4 guys. He proves everybody wrong every time he competes, and that's what's fun when you watch Brandon.

I think all of our relays are prepared to run well. I think those will be fun for Aggies to watch. We have some really good individual athletes. You mentioned Miller, but we have Moitalel Mpoke in the intermediate hurdles and James Smith in the hurdles. Both of them are ranked highly. Charokee Young leads the world in the 400m right now, so she would be a run one to watch. It's about everybody having a good day on this day to beat this field. Everybody knows who you are, but that puts a target on your back. That's what makes this such a great week. Nobody gives anybody anything, and you have to earn it.

Most athletes who do any research and understand it, they know that the SEC is the best conference to push you to be your best. No matter what school you go to in the SEC, you're going to get pushed, and that's what you want. You want that kind of talent. No matter who you are in high school, when you come into this environment, you're going to get beat. You have to learn from it and come back a little bit better next time.

Those young people don't even think too much about the rankings. Nationally, we might be ranked higher than we are in the conference. This is a team meet. Every institution in this conference wants to win this track meet. This is a very competitive situation. These young people are trying to win as a team, and we're trying to have a great day on these two days.

Lamara Distin is the best jumper in this conference, but she has to do it on this day.

I've really enjoyed this year. This is a great group of young people we have, and any Aggie would be proud of them. You'd have a great time talking to this group of young people, and that makes the year and the season so enjoyable. We have a long way to go, but it makes it a lot of fun when you have a lot of good people. At Texas A&M, we're fortunate that we can attract a lot of good young people. We're blessed to be at Texas A&M.
Never miss the latest news from TexAgs!
Join our free email list