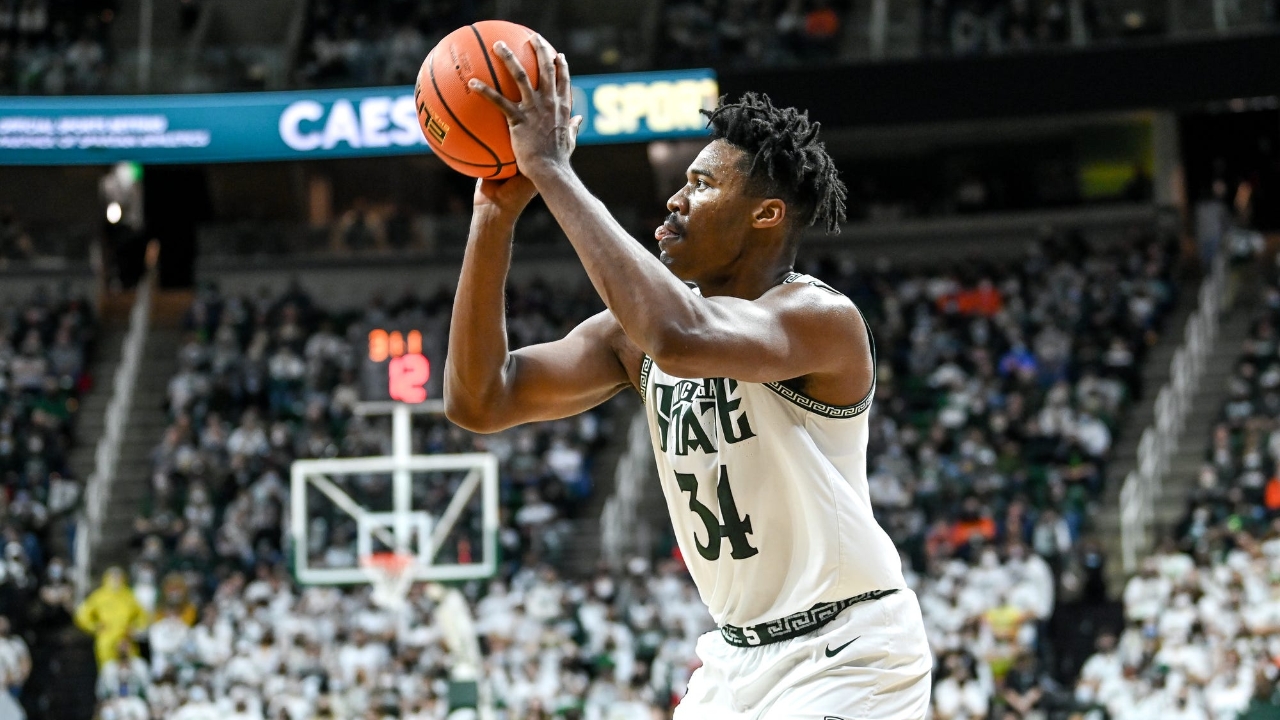 Photo by Nick King/Lansing State Journal
Texas A&M Basketball
Michigan State transfer Julius Marble II commits to Texas A&M hoops
---
Buzz Williams & Co. have added Michigan State transfer Julius Marble II to the roster for next season, beating out Texas, Houston and Oklahoma for the Dallas Jesuit product.
After a good 2021-2022 season, the 6-foot-9, 245-pound power forward was expected to start in the post for Tom Izzo and the Spartans his senior year.
Marble averaged 14.4 minutes, 6.3 points and 3.3 rebounds per game this past season and has seen action in 90 games while averaging 58.4 percent from the field throughout his career at Michigan State.
It's been well-documented that the position-less style of basketball Buzz Williams has become accustomed to, but at times, the Aggies have struggled to put together complete games because of their lack of size in the paint. This past year, the Maroon & White did a great job figuring out how to play with a smaller roster, but adding a big presence in the middle was an area of focus.
Marble has a very steady right-handed jump hook that he can consistently make after fighting for position on the block. He is a strong presence down low and creates space with his strength and footwork. He has a couple of very good back-to-the-basket moves but has shown the ability to make a 15-18 foot jump shot at the top of the key as well. He is a high-energy player with good hands and athleticism in the paint.
The other obvious aspect of adding Marble is the fact that A&M is gaining a player who has learned and grown under the Hall-of-Famer Izzo at Michigan State.
Henry Coleman III transferred from Duke, where he started with coach Mike Krzyzewski, and his learning curve was greatly increased last season because of it. Now, Buzz is receiving a player from Izzo and Michigan State who has been through the battles in the Big Ten and already understands what is going to be expected of him. Marble will also understand how tough the competition will be once the Southeastern Conference schedule hits and the scouting reports get real.
With the addition of Marble, Buzz will have more flexibility with his roster to play fast at times while also having more opportunities to execute a traditional half-court set. Marble not only adds size but depth in the post as well.
Next season, the Aggies will have a minimum of Coleman, Ethan Henderson, Javonte Brown, Ashton Smith and now Marble to rotate throughout games.
The addition of Marble not only brings experience and size to the roster, but his physical nature and aggressive play in the paint is a welcomed aspect to the speed and quickness the Aggies utilized this past season.
Never miss the latest news from TexAgs!
Join our free email list