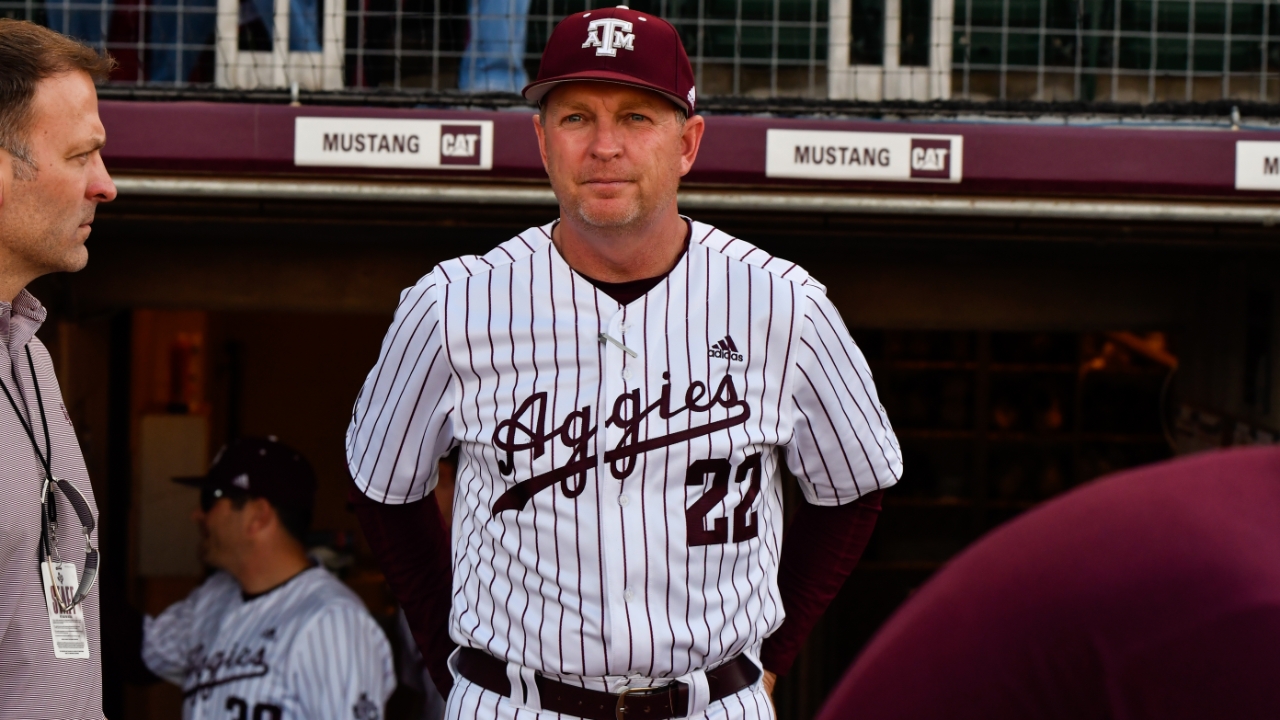 Photo by Meredith Tabor, TexAgs
Texas A&M Baseball
Series Preview: Texas A&M vs. No. 4 Arkansas
---
Also included above is Diamond Talk with David Nuño, Ryan Brauninger, Richard Zane and Scott Clendenin from Friday's edition of TexAgs Radio.
Who: No. 4 Arkansas Razorbacks (30-7, 11-4 SEC)
Where: Olsen Field at Blue Bell Park – Bryan-College Station, Texas
When:
Friday: 7:30 p.m. CT (SEC Network)
Saturday: 2:00 p.m. CT (SEC Network+)
Sunday: 1 p.m. CT (SEC Network+)
Pitching matchups
Friday: Nathan Dettmer (RHP, 3-2, 3.54) vs. Connor Noland (RHP, 5-1, 2.82)
Saturday: Micah Dallas (RHP, 4-1, 4.61) vs. Hagen Smith (LHP, 6-2, 3.88)
Sunday: TBA vs. Jaxon Wiggins (RHP, 5-0, 4.66)
Scouting Arkansas
There's a reason why Arkansas is ranked No. 4 nationally and in first place in the SEC West. They are good. They have talent. They have depth. This series is easily the Aggies' biggest challenge of the season.
It starts with pitching, where the Razorbacks have a clear advantage on the mound. Arkansas' ERA is a full point lower than the Aggies' for the season, and they rank second in the SEC in ERA. That contrast increases to almost 1.50 in SEC games only (3.47 vs. 4.96). For comparison sake, last week's opponent (Georgia) sports an ERA of 8.25. Those expecting a similar offensive outburst from the hot A&M bats are going to get a dose of reality this weekend.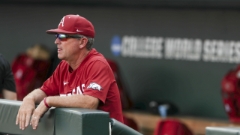 Luke Franke/USA Today Sports
Connor Noland will hit the rubber on Friday with a 3-0 record and 2.30 ERA in SEC games. SEC opponents are hitting just .193 against him in five starts. He will be a huge challenge for the Aggies. Hagen Smith and Jaxon Wiggins don't have the same sparkling numbers (4.76 and 4.88 ERAs, respectively), but the Saturday and Sunday starters are very solid with a combined 6-1 record in 10 starts. Unlike many of A&M's previous SEC opponents, Arkansas has quality depth in the bullpen anchored by Zebulon Vermillion, Evan Taylor and closer Brady Tygart, who has been a dominant workhorse with four saves in 15 innings pitched and a minuscule 1.20 ERA. The Aggies simply can't go into the late innings playing from behind.
For the season, Arkansas has been equally dangerous at the plate with a .285 team batting average. More importantly, they've relied on the long ball for run production with a bloated slugging percentage of .497 and 56 home runs. Brady Slavens is the leading run producer for the Hogs with a team-high eight home runs, 40 RBIs and a .581 slugging percentage. Michael Turner leads Arkansas in batting average with a .341 mark. Overall, the Razorbacks have four hitters in the lineup with a slugging percentage over .550, which shows how much depth and power this team possesses.
However, a lot of those grandiose offensive numbers were generated early in the season. The Hogs have been in a prolonged slump during SEC play, which could pose an opportunity for the Aggies. This slump is reflected in the numbers where Arkansas is currently 10th in the SEC with a paltry .252 team batting average and a slugging percentage more than 70 points lower than their season numbers (.426). Slavens personifies this slump. The team's leading power bat is hitting just .200 in SEC play with an on-base percentage of .273 and a slugging percentage 160 points lower than his overall season mark. The big question this weekend is whether Arkansas can pull out of this slump at Olsen Field. They will have a south wind blowing out to help their cause.
| | | | | | |
| --- | --- | --- | --- | --- | --- |
| Hitting | Avg. | Runs | Slugging % | On-Base % | Strikeouts |
| Texas A&M | .289 | 259 | .463 | .396 | 333 |
| Arkansas | .285 | 288 | .497 | .396 | 286 |
| | | | | | | |
| --- | --- | --- | --- | --- | --- | --- |
| Pitching | ERA | WHIP | Walks | Opp. Avg. | Strikeouts | Fielding % |
| Texas A&M | 4.32 | 1.34 | 111 | .252 | 329 | .973 |
| Arkansas | 3.31 | 1.20 | 136 | .216 | 400 | .986 |

Texas A&M storylines to watch
As well as this team has been playing in recent weeks, this weekend's test will be very tough, but hosting the No. 4 Razorbacks also offers a huge opportunity for the Aggies and their postseason hopes. The red-hot A&M offense has been able to feast on some shaky SEC pitching in recent weeks, but they will have to battle one of the best pitching staffs in the SEC and the nation this weekend.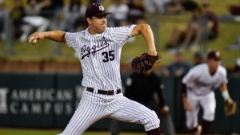 Jamie Maury, TexAgs
It's a pretty safe bet that we'll see fewer runs cross the plate in this series. That means a premium will be placed on good pitching and clean defense. The patchwork A&M pitching has been much improved behind the emergence of Nathan Dettmer as the Friday night ace. Look no further than his SEC statistics to confirm this with a 2-0 record and 2.70 ERA. He matches up well with Arkansas ace Connor Noland, and Dettmer will need to match him, pitch for pitch, deep into the game for A&M to win the all-important game one.
After that, veteran Micah Dallas must put last week's poor start behind him and muster up a quality 6-7 inning start. He won't need to be perfect, but he has to stay in the fight, stay ahead in the count, and minimize his number of pitches thrown so he can take the burden from a thin A&M bullpen.
Jim Schlossnagle has not announced a Sunday starter, but all signs point to game three turning into a slugfest, and the Aggies will have all hands on deck in the bullpen. Hopefully, the offense can keep up against a solid, but not dominant lefty starter Jaxon Wiggins. A&M's cluster of right-handed power bats will have an opportunity to put some high fly balls into the south wind jetstream this weekend. That means cutting down on the strikeouts and getting the bat on the ball.
Ultimately, the game of baseball is usually decided by the quality of pitching and clean defense. Arkansas is one of the cleanest defenses in the nation with an impressive team fielding percentage of .987 in SEC play compared to A&M's .969. That's a huge advantage on paper, and for A&M to win this series, they must play much better defense and not give the Arkansas offense more than 27 outs a game. A clean defense also minimizes pitches for a staff that has potential but lacks depth.
Speaking of that depth, the emergence of Brad Rudis as a bullpen stopper has been huge. He hasn't allowed an earned run in 8.0 innings of SEC play. The freshman has handled the pressure of SEC play so far. Can he continue that against the No. 4 team in the nation? He along with Chris Cortez will be key figures in nailing down any late-game leads this weekend. Throw Robert Hogan into that mix as well, who came back from injury for a productive outing against No. 23 Dallas Baptist on Tuesday.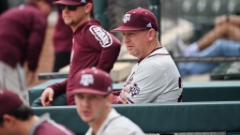 Jamie Maury, TexAgs
What's at stake this weekend
Today marks the start of the second half of SEC play. At the midway point, the Aggies have put themselves in the mix for the NCAA Regionals at 8-7. However, with so many teams within two games of that mark, an 0-3 weekend can wipe out the gains made the previous two weekends and quickly put A&M on the outside looking in the bottom tier of the SEC standings.
That's why it's so critical to avoid being swept on any given weekend. That's even more important this weekend against Arkansas.
The Razorbacks can easily sweep this series if the Aggies stumble just a little bit on the mound, on the field, or at the plate. I think the minimum goal is to win at least one game against a team expected to compete for a national title in Omaha.
Now, let's talk about the opportunity here.
If Dettmer and Dallas can come out and shut down a slumping Arkansas offense and those red-hot A&M power bats can get some balls hit into that southern jet stream, winning this series can serve as a huge turning point for postseason expectations.
For the past month, A&M has been focused on finding a way into the NCAA postseason. Win the series this weekend and all of a sudden the possibilities greatly expand to possibly thinking about finishing in the top 3-4 in the SEC and getting into the regional hosting picture. Yeah, I know I'm getting ahead of myself, but if the Aggies come out of this weekend with a 10-8 record with several struggling SEC teams left on the schedule, a final record of 17-13 is not out of the question...and a lot of 17-13 SEC teams have hosted an NCAA Regional.
First things first: Win the series against No. 4 Arkansas.
Never miss the latest news from TexAgs!
Join our free email list