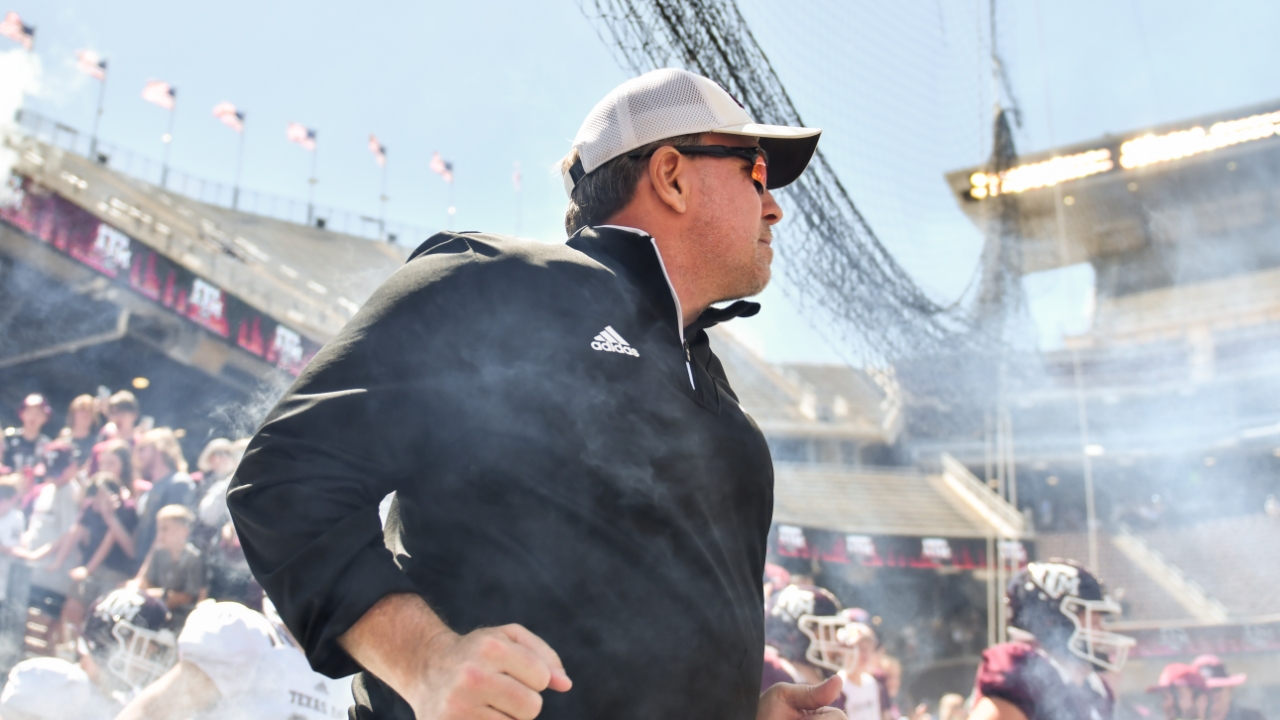 Jimbo Fisher
Layden Robinson
Demani Richardson
Ainias Smith
Texas A&M Football
Texas A&M's hard work to continue even with spring practice in rearview
---
The deceptions of spring football are well known.
What is seen in spring isn't always what will be viewed in the fall. That's why an obscure walk-on can emerge as the star of the spring game.
That was certainly the case in Texas A&M's annual Maroon & White game on Saturday at Kyle Field.
With several defensive players sitting out, safety Avery Hughes capitalized on his opportunity to play.
He intercepted two passes and returned one 38 yards for the decisive touchdown in a 30-24 victory for the Maroon Team.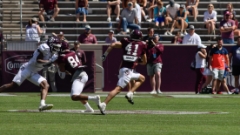 Jamie Maury, TexAgs
Hughes also recovered a fumble and recorded seven tackles.
But don't count on the sophomore from Fort Bend Austin making a splash — or even playing — in the autumn.
That's how spring can be deceiving.
However, some things of spring can hint at what's to come. With that in mind, look for the Aggies to throw deep much more often in 2022.
Though hampered by gusting winds, the Aggies threw deep downfield at least ten times. That suggests a significant change of strategy for the A&M, which completed just 12 passes of 30 yards or more last season.
The Aggies might not complete many more this year, but coach Jimbo Fisher said it won't be for lack of trying.
"We were trying to (throw deep)," Fisher said. "It wasn't the day to do it. If you were calling plays today, you couldn't do that because of the wind.
"We've thrown the ball downfield on days when we didn't have the wind, but I wanted to keep doing it. I don't care. You have the wind. Let's see what happens. See who can make plays or make catches."
A&M quarterbacks Haynes King, Max Johnson and Conner Weigman didn't connect on many attempts. They combined to complete just 31 of 84 passes.
But Weigman did hit Yulkeith Brown for a 32-yard completion. Johnson and Jalen Preston hooked up for a touchdown on a 40-yard catch-and-run play. King hit freshman Evan Stewart down the sideline for a 32-yard gain.
Stewart, who has drawn raves all spring, also drew a pass interference penalty on a throw that would've produced a 35-yard touchdown.
He finished with seven catches for 75 yards.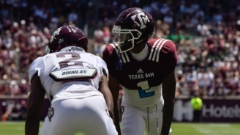 Jamie Maury, TexAgs
In that instance, there is no spring deceiving. This fall, Stewart will be receiving.
"Explosive plays is a huge reason you win," Fisher said. "We had an emphasis all spring we're going to throw the ball downfield.
"Last year, we didn't do it as much. We lost two or three receivers and things, but you've got to take shots down the field. You've got to do it and be able to create them, so we're going to practice them and go. Got to."
Stewart wasn't the only member of A&M's historic 2022 recruiting class to flash enormous potential.
Safety Bryce Anderson posted five tackles and broke up three passes. Defensive end Anthony Lucas had eight tackles and was credited with two sacks.
"He has an opportunity to be a very good player for us and help us immediately," Fisher said of Lucas. "(He's) Long, athletic and can pass rush. As he keeps getting the schemes down and the technique down, I think he has a chance to be a really, really good player."
Sophomore running back Amari Daniels displayed that he can also be really, really good.
Playing in place of Devon Achane, who is participating in track & field this spring, Daniels rushed for 128 yards on 16 attempts.
"Last season, he was taking the rock and getting us yards, and he was getting us touchdowns," guard Layden Robinson said. "He really didn't surprise us. That's expected of him.
"I don't expect nothing less from Amari. He's going to be a great, great player for us in the future."
The future also looks good for linebacker Edgerrin Cooper, defensive end Tunmise Adeleye, safety Jardin Gilbert and kicker Caden Davis, among others.
"Now is when the great players take off this offseason and be ready for camp and have a tremendous summer workout program."
Cooper had ten tackles, with two resulting in lost yardage. Adeleye had seven stops and consistent pressure. Gilbert had an interception. Davis was three-for-three on field-goal attempts, with one coming from 52 yards out.
Yet, Fisher might have been more impressed that the Aggies came out with no significant injuries. Guard Jordan Moko appeared to be the only player who sustained an injury.
"We didn't seem to have any injuries that will be lingering into the fall," Fisher said. "That was a good thing today. You always worry about that. Moko got a little ankle, but (in) a little time, he'll be back in."
Fisher also said now that the spring drills have ended the hard work begins.
"Now is when the work starts," he said. "You can make tremendous strides individually with your strength, conditioning, all those things.
"But also with your technique work. Your throwing and catching and covering and skills and studying film and becoming a student of the game. Now is when the great players take off this offseason and be ready for camp and have a tremendous summer workout program."
Never miss the latest news from TexAgs!
Join our free email list