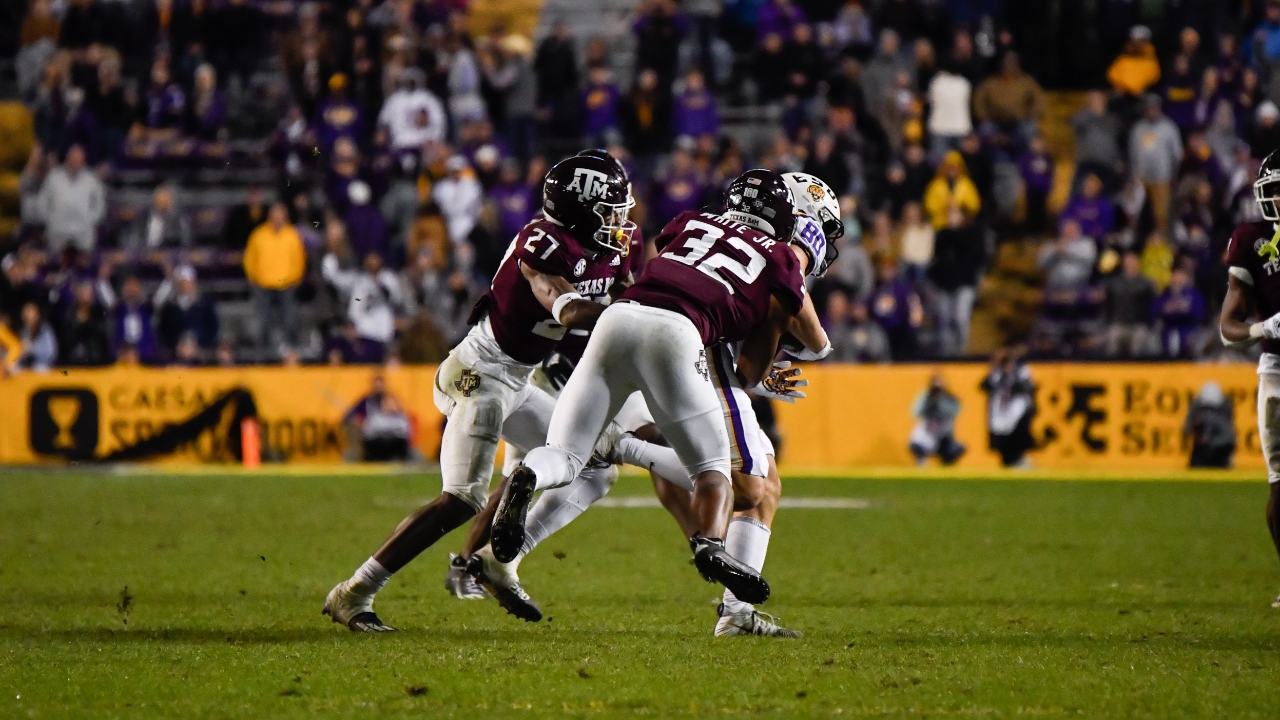 Photo by Jamie Maury, TexAgs
Texas A&M Football
Needing a Buddy: Improved linebacker play crucial to A&M's 2022 campaign
---
Everyone needs a buddy. Texas A&M needs a Buddy.
More specifically, Texas A&M needs a linebacker like Buddy Johnson.
Therefore, particular attention should be paid to the linebacker position during the Maroon & White spring football game on Saturday afternoon in College Station.
The Aggies need linebackers who can diagnose plays, fill a hole and end a run at contact.
You know, like Buddy Johnson did so magnificently in 2020.
Remember 2020?
Of course, you do. That was the brilliant 9-1 campaign in which Isaiah Spiller was running over Florida linebackers, Devon Achane was running away from North Carolina defensive backs and the offensive line was running over almost every defense it faced.
But nobody was running on the Aggies.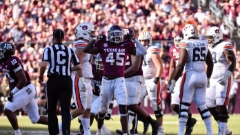 Jamie Maury, TexAgs
That season, A&M was ranked second in the nation in run defense. The Aggies allowed one run that covered 30 yards or more. Auburn's Tank Bigsby broke loose for a 42-yard run in a 31-20 A&M victory.
Even though nine defensive starters were returning in 2021, the Aggies' defense just wasn't the same.
Though still a solid 35th in the nation in run defense, the Aggies allowed 13 runs of at least 20 yards and five of 30 or more.
Of course, A&M played 12 games in 2021 compared to ten in 2020.
Also, the Aggies' defense lost more than Johnson. Like Johnson, run-stuffing defensive tackle Bobby Brown departed for the NFL. And Myles Jones, who played a physical corner in 2020, missed almost all of 2021 because of a foot injury.
Still, there was no doubt Johnson's absence hurt A&M's run defense.
Aaron Hansford was excellent in 2020 as an outside complement to Johnson but wasn't as good inside in 2021.
Edgerrin Cooper showed good instincts and even better speed as a true freshman but was inconsistent.
That's not surprising. Johnson and Hansford both needed time to develop. So did Tyrel Dodson, who preceded Johnson as an inside linebacker in 2018.
"They were guys who turned themselves into that (effective inside linebackers)," A&M coach Jimbo Fisher said. "They weren't in those roles before they became in those roles.
"They grew and became guys that were impact guys. We had a lot of the same concerns which we have now because we lost guys that made that role."
"I think Andre White is growing really well. I think he's playing with a lot more consistency and physicality. He's had his best spring by far."
Fisher acknowledged concern at linebacker. That's actually a positive. Previous coaches have sometimes been misleading about the prowess there.
However, Fisher did indicate some players are showing signs of developing into reliable players like Johnson.
"I think Andre White is growing really well," Fisher said. "I think he's playing with a lot more consistency and physicality. He's had his best spring by far.
"Coop has done and is doing a really nice job fitting things, doing things, being athletic. If he continues… he can play in space and run and do a lot of great things.
"Chris Russell is getting better. Tarian Lee is getting better at what he does. Ish Harris is a young guy who flashes and really has come on and picked things up."
White, a senior, started several games in 2021 and finished with 57 tackles.
Cooper had 58 stops.
Just for the record, Johnson had only 27 tackles in 2018 before he took over a full-time starting role the next season.
Maybe Cooper or White or even Harris will emerge as a dominant linebacker for the Aggies this season.
I'll be watching closely on Saturday for any indication one of them could be A&M's next Buddy.
Never miss the latest news from TexAgs!
Join our free email list
PRESENTED BY