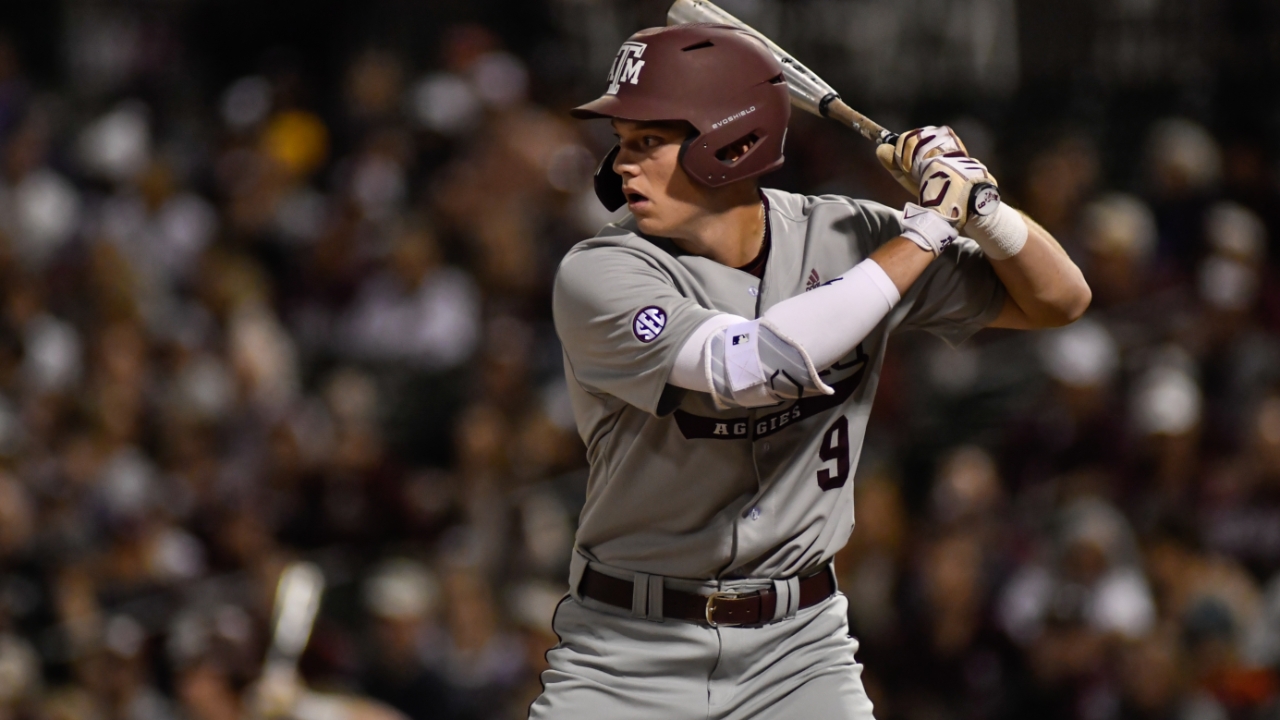 Photo by Jamie Maury, TexAgs
Texas A&M Baseball
Series Preview: Texas A&M at Alabama
---
Also included above is Diamond Talk with Ryan Brauninger, Richard Zane and Scott Clendenin from Friday's edition of TexAgs Radio.
Who: Alabama Crimson Tide (15-11, 2-4 SEC)
Where: Sewell Thomas Stadium – Tuscaloosa, Alabama
When:
Friday: 6 p.m. CT (SEC Network+)
Saturday: 4 p.m. CT (SEC Network)
Sunday: 1 p.m. CT (SEC Network+)
Pitching matchups
Friday: Nathan Dettmer (RHP, 1-2, 5.14) vs. Garrett McMillan (RHP, 2-1, 2.80)
Saturday: Micah Dallas (RHP, 3-0, 3.32) vs. Jacob McNairy (RHP, 4-0, 3.33)
Sunday: Ryan Prager (LHP, 0-0, 4.39) vs. Grayson Hitt (LHP, 1-0, 2.13)
Scouting Alabama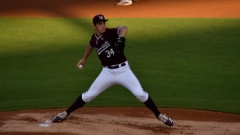 Jamie Maury, TexAgs
The Crimson Tide is a tough team to figure out near the halfway point in the season.
Alabama raced out to a 5-0 start before dropping a three-game series to then-No. 1 Texas. That's certainly understandable, but losses to UT-Martin, UAB, Southern Miss and North Alabama are a little more head-scratching. The team has also feasted on some weaker non-conference weekend opponents like Binghamton, Xavier and Murray State, which have skewed their season stats. However, despite starting SEC play at 2-4, the Crimson Tide have battled top SEC opponents Florida and Mississippi State to the wire, dropping several one-run and extra-inning affairs.
Basically, Alabama appears to be much like the Aggies — capable of beating anybody with a good outing on the mound but inconsistent with the ability to lose to anybody on a given day. Welcome to the middle of the SEC standings.
At first glance at the numbers, it appears the Crimson Tide has a slight advantage offensively and a larger advantage on the mound.
| | | | | | |
| --- | --- | --- | --- | --- | --- |
| Hitting | Avg. | Runs | Slugging % | On-Base % | Strikeouts |
| Texas A&M | .282 | 159 | .437 | .390 | 216 |
| Alabama | .291 | 146 | .465 | .365 | 183 |
| | | | | | | |
| --- | --- | --- | --- | --- | --- | --- |
| Pitching | ERA | WHIP | Walks | Opp. Avg. | Strikeouts | Fielding % |
| Texas A&M | 4.58 | 1.32 | 72 | .251 | 217 | .979 |
| Alabama | 3.89 | 1.26 | 78 | .241 | 240 | .980 |
The warmer temperatures and south wind has done wonders for A&M's offensive statistics while also forcing the pitching numbers to balloon in recent weeks. If you look at the offensive numbers over the past three weeks, the Aggies should be able to match Alabama swing for swing at the plate.
While Auburn had a trio of dangerous hitters and a top-heavy batting lineup, Alabama is more consistent top-to-bottom with only two batters hitting above .300. However, nobody is hitting below .268. Tommy Seidl is a table-setter at the top of the order with a .363 average, seven stolen bases and an on-base percentage of .434. The run producers are Zane Denton with a team-leading seven home runs, .535 slugging percentage and 22 RBIs. Owen Diodati is the other power bat in the lineup with six homers and 21 RBIs.
On the hill, Alabama has a solid starting rotation of Garrett McMillan (2.80 ERA), Jacob McNairy (3.33) and Grayson Hitt (2.13). This group is not dominating with IP-to-hits ratios all near 1.00. However, this trio doesn't give out many free passes. As a group, they've walked just 23 batters in 85 innings of work. With a good team fielding percentage of .980, A&M will have to earn their way on-base most of the weekend. Alabama's bullpen appears to be thin. The two quality arms are Hunter Hoopes (2.25, two saves) and Brock Guffey (1.35, one save), but the numbers go up significantly from there.
Texas A&M storylines to watch
Not surprising, but pitching will be the key to Texas A&M's success this weekend.
The depth is extremely thin going into the weekend with injury concerns to Khristian Curtis and Robert Hogan. In addition, Jim Schlossnagle went to Micah Dallas to close out Tuesday's win over Texas. Yes, it was his bullpen day, but I also don't think the staff was expecting Dallas to throw over 30 pitches either. He may get pushed back to Sunday for this reason.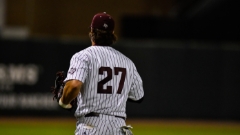 Meredith Tabor, TexAgs
Nathan Dettmer's ERA has elevated to 5.17 while Ryan Prager's short outing last weekend inflated his ERA to 4.39. Those numbers need to stabilize quickly for this team to have success in the SEC. Also, the starters must stretch these outings to 6-7 innings to help out a very shaky and thin bullpen.
The story is much better on the offensive side, where the Aggies' team batting average has climbed over 30 points in the past two weeks led by Dylan Rock's recent explosion. The UTSA transfer has seen his batting average climb over 100 points in the past two weeks up to .358. He's also leading the team in slugging percentage (.654), home runs (6) and RBIs (21). Coming off the cycle in Austin on Tuesday, Jack Moss is pushing .400 at the plate (.393) and is second to Rock in most run-producing statistics. Kole Kaler has quietly seen his average rise from .220 up to .270 in recent weeks, while Logan Britt has gone from near .200 to .244 and rising.
Top-to-bottom, this lineup has seen an uptick, which is desperately needed with the pitching statistics trending upward as well. Some of that is to be expected with the warm weather and the SEC competition, but the team's 4.58 ERA is still way too high by any standards.
What's at stake this weekend
Despite the pitching woes, the Aggies have managed to tread water at 3-3 in SEC play. Alabama will be an evenly matched series, so the opportunity is there to win another weekend away from Olsen Field.
The Aggies need to do damage now. Going forward, the road trips get much harder against the likes of Georgia, Vanderbilt and Ole Miss — all nationally-ranked teams. In fact, the overall schedule is back-loaded with top SEC teams, so now is the time to collect as many wins as possible before the slate gets appreciably harder.
Thus, a series win in Alabama is critical for A&M's postseason hopes.
Never miss the latest news from TexAgs!
Join our free email list