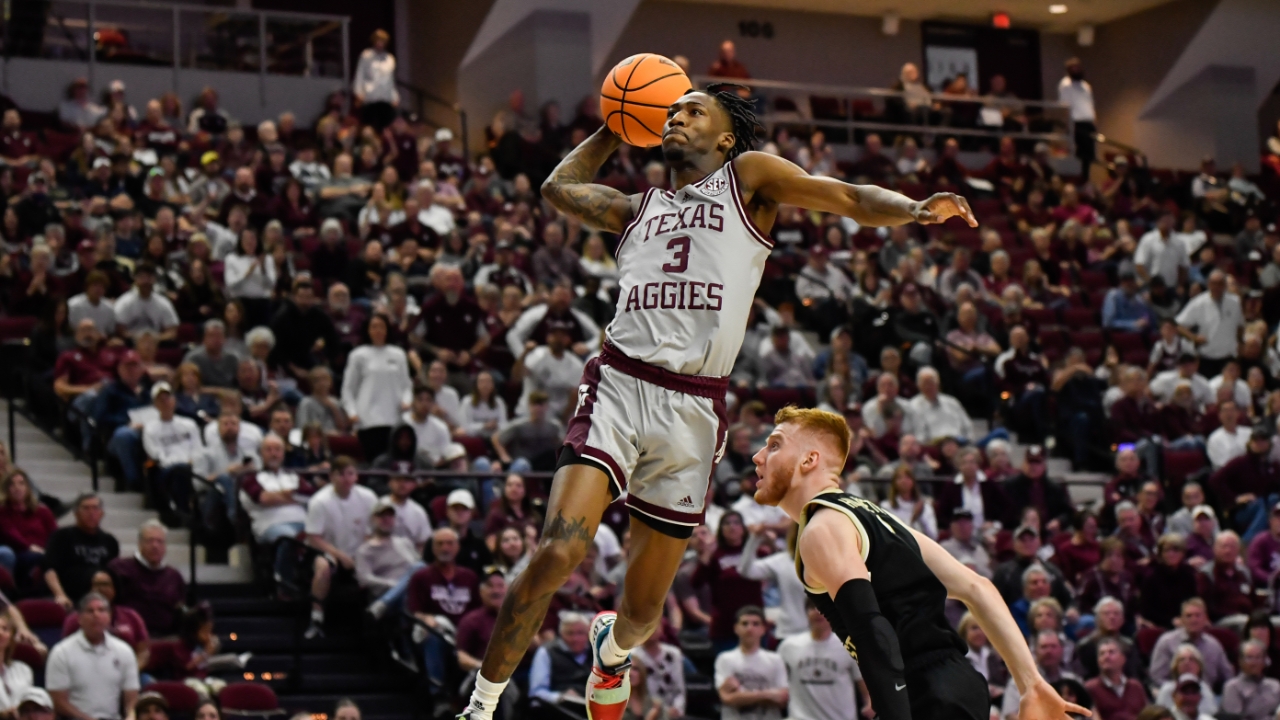 Buzz Williams
Tyrece Radford
Wade Taylor IV
Texas A&M Basketball
Late-season changes have sustained Texas A&M's resilient turnaround
---
Change can be difficult. Change can be good.
It was both for Texas A&M.
Changes in the starting lineup and in scheme wrought a dramatic Jekyll and Hyde transformation that has led the Aggies (26-12) to New York City for the National Invitation Tournament semifinals.
A&M faces Washington State (22-14) on Tuesday at 8:30 p.m. inside the iconic Madison Square Garden.
"We still have work to do. The job is not done. Making it to New York is one step. But winning the NIT would be the biggest step of the year."
Xavier and St. Bonaventure play in the other semifinal. The winners are set to clash on Thursday night for the NIT championship.
"I think it's an amazing opportunity to still be playing, for one," A&M junior guard Tyrece Radford said. "Two, to play there is a dream come true, too, because a lot of things have happened in that building. We just want to go there and win."
A little more than a month ago that would have seemed like a pipe dream as the Aggies were mired in an eight-game losing streak.

But since, coach Buzz Williams has elevated senior Quenton Jackson, freshmen Wade Taylor IV and Manny Obaseki into the starting lineup — a move that resulted in a player leaving the team — and went to a faster, four-guard system the Aggies have surged upon.
They've won 10 of their last 11 games, including wins over Alabama, Auburn, Arkansas and NIT foes Alcorn State, Oregon and Wake Forest. Seven of those victories came by double figures, positioning A&M as the only Southeastern Conference basketball team still playing in the postseason.
"I think anytime you make lineup changes, it's hard," Williams said recently. "If you're going to be good at what you do, you have to have a little bit of an ego. We changed personnel, and we changed our offense. I don't think you pin the change on one thing. It was the culmination of many things. Yes, we went 15-2 to start the year, but then it became the Einstein quote of you can't keep doing the same thing and expecting different results.
"I think a lot of this goes back to the mindset of Quenton Jackson. A guy that started the season off the bench, was our leading scorer and just showed up and went to work every single day."
Jackson has averaged 17.4 points over the last 11 games. Also in that span, Radford has averaged 13.6, Henry Coleman III 12.7, Taylor 7.3 and Obaseki 3.1.
The Aggies' defensive effort is arguably even more impressive. Their last six opponents have been held to 65 points or less.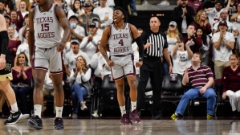 Jamie Maury, TexAgs
Through three NIT games, opponents have been held to an average of 58 points under a 66.7 percent shooting clip, in addition to committing an average of 16 turnovers.
A&M has also limited its NIT opponents to 26.5 percent shooting from 3-point range. That figures to be a major factor against Washington State, which has hit 324 treys — the 15th most 3-pointers in the nation.
Guard Michael Flowers has hit 100 triples alongside Tyrell Roberts' 80.
"Twelve (Flowers) on their team broke Klay Thompson's 3-point record at Washington State," Williams said. "Two (Roberts) on their team has shot 100 more 3's than Q (Jackson), who is second on our team in 3-point field goal attempts.
"They're top-30 in the country in offensive rebounding percentage."
Taylor said the Aggies will approach the game like every game since their turnaround.
Even though the changes have brought changes of fortune, he says the Aggies won't change their attitude.
"I feel like we still keep an underdog mentality. We've been underdogs all year," Taylor said. "We don't want to get too big-headed. We still have work to do. The job is not done. Making it to New York is one step, but winning the NIT would be the biggest step of the year."
Never miss the latest news from TexAgs!
Join our free email list
PRESENTED BY