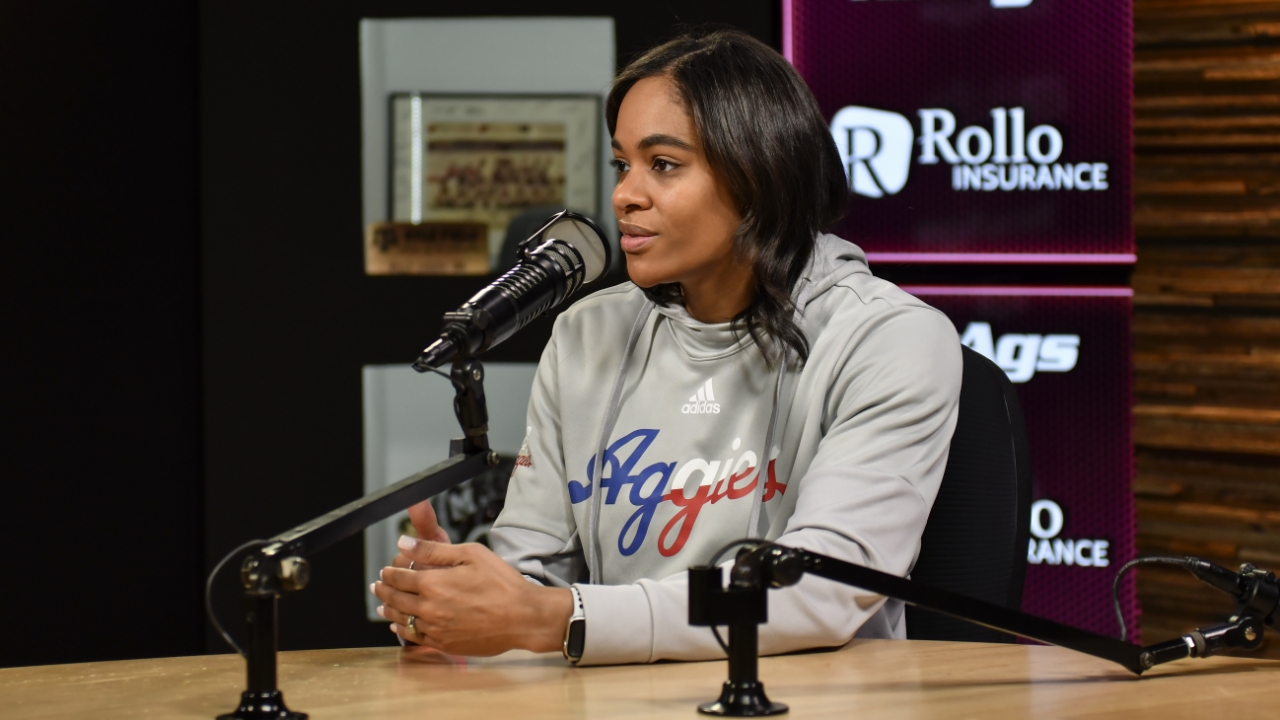 Photo by Jamie Maury, TexAgs
Texas A&M Women's Basketball
New Aggie women's basketball coach Joni Taylor excited to get started
---
This week, Joni Taylor was named the eighth women's basketball coach in Texas A&M women's basketball history. On Friday morning, she joined TexAgs Radio in-studio to discuss her decision to come to Aggieland, vision for the future and much, much more.
---

Key notes from Joni Taylor interview
Yesterday was authentic and genuine. I felt the spirit of the 12th Man in there. The welcome my family has received has been really, really special, and it's just confirmation of what I already knew when speaking to Ross Bjork and Kristen Brown.

When Darius and I were talking about this, we asked if we were going to live the rest of our lives in Athens, GA or Bryan-College Station, TX? We don't want to hop around. We want to be involved in this community.

This has always been a special place for women's basketball. When you look at the history and tradition that Gary Blair built. You can watch Texas A&M and its culture from afar, but when you start to hear people talk about how special this place is and the commitment they're making to women's basketball, it caught my attention. I felt drawn to be here.

I'm leaving a special place. For me to do this, it has to be a special place for me to be. The Lord busted that door wide open.

I never thought I was going to coach. I wanted to be a counselor. I wanted to go to grad school, teach for two years and become a high school counselor and a Christian counselor on the weekends. In my fifth year, I was a student worker in the women's basketball office at Alabama. That's when I caught the bug. I would go to dinners with the staff and stuff. That's when I figured out that coaches impact lives. To be able to see what goes into the daily routine and grind of being a coach, that's when I fell in love with it.

I had a great team meeting yesterday with the current players, and I'm looking forward to spending more time with them and getting to know them. It's going to be a day-to-day process because it's new and different for everyone. I need everybody to be going in the same way because this is hard. Everybody wants to win, and that's the expectation and the standard. All hearts and minds have to be synced.

I know my staff has to be people that line up with my core values and how we treat young women. They have to be go-getters, recruiters and teachers of the game.

Going to the SEC Championship game in 2021 was a special moment. We had peaked at the right time and we were playing really well. That senior class was the first recruiting class that really took a chance on us. For those women to take a chance on me, on Georgia and our program and vision, it was a full-circle moment for them. They left things better than they found it.

I met Darius in coaching. We were both assistant coaches, but I knew of him from my time elsewhere. I always thought I'd never date a coach, but he was persistent and kind. I finally gave him a chance. He was always impressive, but when I got to know his heart, that was it. In 2013, that's when we connected and talked. After I stopped being stubborn, I realized that I had to lean into it and make it work.

I pray every single moment of my life, and the Lord guides my steps every single day. If I look too far ahead, it gets too overwhelming. My work-life balance, I'm not sure if that's a thing for me. I'm a workaholic, and fortunately, the people around me know that about me. Being where your feet are is how I live my life. Our parents are always with us. Right now, both sets of parents are with us, but one set is always living with us and helping us take care of our girls. Loving on our family the way they do, gives us a lot of comfort. Texas A&M puts an emphasis on family too, and we'll be able to have our family around us all the time.

I'm a runner, and I love running. I'm also an Orange Theory person as well, but I'm a 5 a.m. person. I'll be in the earliest timeslots available. I want the treadmill first. I try to work out five out of seven days and at least one day a week, I have to get in at least six miles. My minimum is three miles. And I'm listening to gospel music when I'm running.

I want to talk to our players and their parents to get to know them. I want to meet the rest of the coaches here at Texas A&M. I want to support them. I will start working the phones and recruiting. Eventually, we'll find somewhere to live, but that's on the back of my mind. I'm comfortable living in a hotel, and I lived in a hotel for a whole year one time.
Never miss the latest news from TexAgs!
Join our free email list