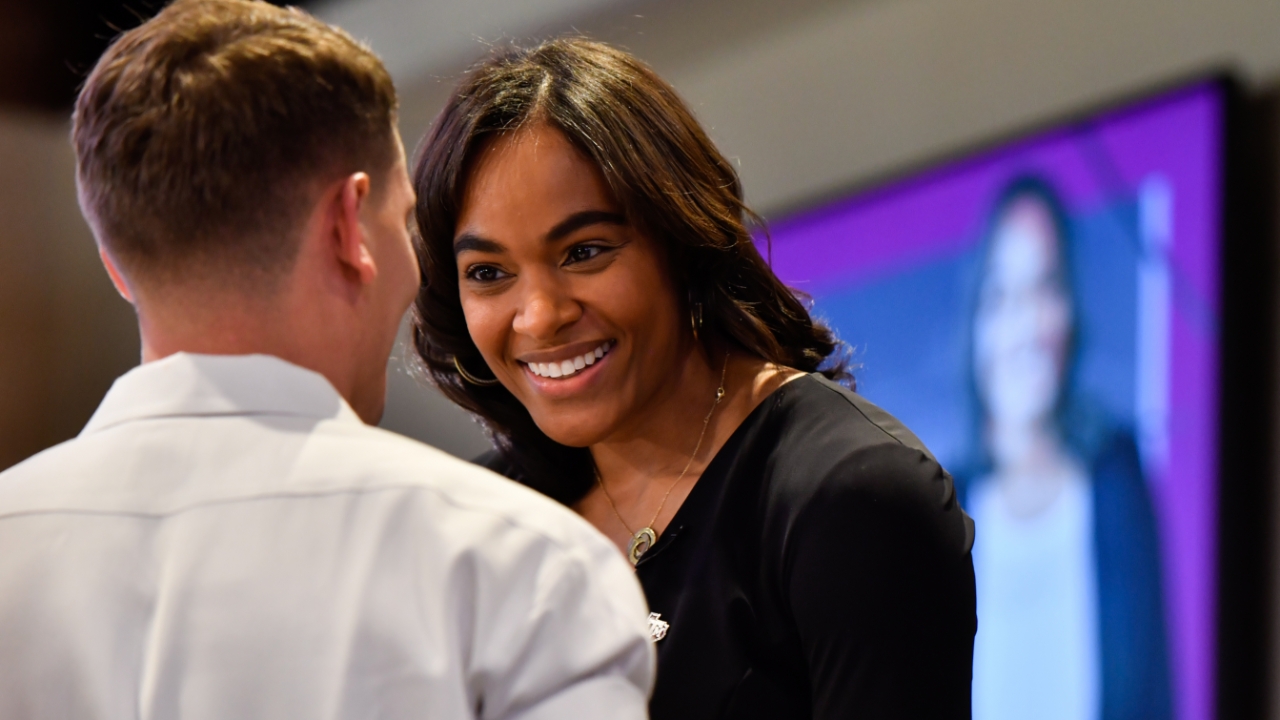 Photo by Jamie Maury, TexAgs
Texas A&M Women's Basketball
A confident Joni Taylor embraces the challenge of succeeding legendary Gary Blair
---
Much has been said about Joni Taylor.
But perhaps what's says most about Taylor, who on Thursday was introduced as Texas A&M's women's basketball coach, is that she isn't easily intimidated.
Replacing a legendary coach is not ideal.
Expectations are great. Standards are high. Success can look like failure.
Yet, Taylor has put herself in that position twice.
First, as the replacement to legendary coach Andy Landers at Georgia and now as successor to Texas A&M's legendary Gary Blair.
Why would a coach willingly take on that pressure once? Why do it twice?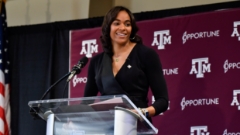 Jamie Maury, TexAgs
"Why would I do it again?" Taylor asked rhetorically. "Why not? Why not?"
Here's why.
Holly Warlick was 172-67 in seven seasons as Tennessee's coach. Under her watch, the Lady Vols made seven consecutive NCAA Tournament appearances and three times reached the Elite Eight.
That will get you a statue on many campuses. At Tennessee, it got Warlick fired.
Warlick had the misfortune of following legendary Pat Summitt. She was successful, but she wasn't Summitt.
Blair wasn't Summitt's equal, either. However, in 19 years, he took Texas A&M from the women's basketball scrap heap to…well, the summit.
His teams became perennial fixtures in the NCAA Tournament. They usually advanced to the Sweet Sixteen or beyond. The Aggies won the national championship in 2011.
That's a lot to follow. But apparently, nothing to fear.
"I don't look at it as something to fear," said Taylor in a press conference at Reed Arena. "I think it's an honor that I'm in a position to be at an institution that had a legend and that I have an opportunity to follow behind and learn from and continue to enhance what was created here.
"That has been my experience, and that is what I want to do. I want to be involved in a program that has that type of tradition, that type of history. So the fact that I have the opportunity to replace a legend is a great thing. That's the way I look at it."
That's the right way to look at it.
"I don't look at it as something to fear. I think it's an honor that I'm in a position to be at an institution that had a legend and that I have an opportunity to follow behind and learn from and continue to enhance what was created here."
In the treacherous Southeastern Conference, potential upsets and beatdowns lurk around every corner. A league with powerful South Carolina, Tennessee and LSU is no place for the timid.
Nothing about Taylor seems timid. Dressed smartly in a black dress and with about a half dozen bracelets adorning one arm and maybe three more on the other, she flashed style.
Direct responses to questions showed confidence. She even demonstrated a sense of humor by joining in on a Yell Leader's hand motions while sawing the horns.
Taylor will need to be stylish, confident and likely in need of a sense of humor in the SEC. But she already knows that.
In seven seasons as Landers' successor, her Georgia teams were 140-75. Her teams appeared in the NCAA Tournament four times. Twice they reached the second round.
On the surface, that might not seem like the résumé of a coach that can take A&M to the heights reached under Blair.
For that reason, there may be skeptics. However, Blair isn't among them.
Though Blair had publicly advocated for longtime assistant coach Kelly Bond-White as his replacement, he attended Taylor's introduction and gave her his endorsement.
"I think it's a very good hire because she's one of — not the rising stars — she's been a star for some time," Blair said. "I think she's going to bring a lot of Texas A&M recruiting-wise. She's a defensive-minded coach."
She's indeed known as a good recruiter, a sound strategist and …well… if not a mother figure — she's only 43 — a very demanding big sister.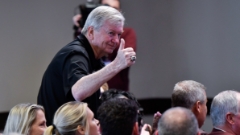 Jamie Maury, TexAgs
Texas A&M Director of Athletics Ross Bjork and Deputy AD Kristen Brown were sold on Taylor almost immediately after meeting face-to-face.
"The moment that we engaged with Joni, we knew, 'Okay, we need to meet her face-to-face," Bjork said. "And then we walked out of the meeting, Kristen and I, with her face-to-face, and I said, 'Why won't we hire her? What's the process going to look like? We need to try to get this done.'"
That was before the NCAA Tournament started. Taylor's Bulldogs were traveling to Ames as a six-seed. They opened with a 70-54 victory over Dayton. Then they fell to Iowa State on Sunday, 67-44.
"I didn't want them to lose on Sunday," Bjork said. "But when that happened, it created the opportunity to get that done as soon as possible. They were on a plane yesterday, and here we are today."
Yes, here Taylor is. Following the most successful women's basketball coach in Texas A&M history.
It's a tough job, but somebody has got to do it.
Blair said Taylor has what is necessary for that job.
"It can be extremely hard," Blair said. "But with her confidence in herself, what she can do on the defensive end and recruiting some of the right players, she can."
Never miss the latest news from TexAgs!
Join our free email list
PRESENTED BY