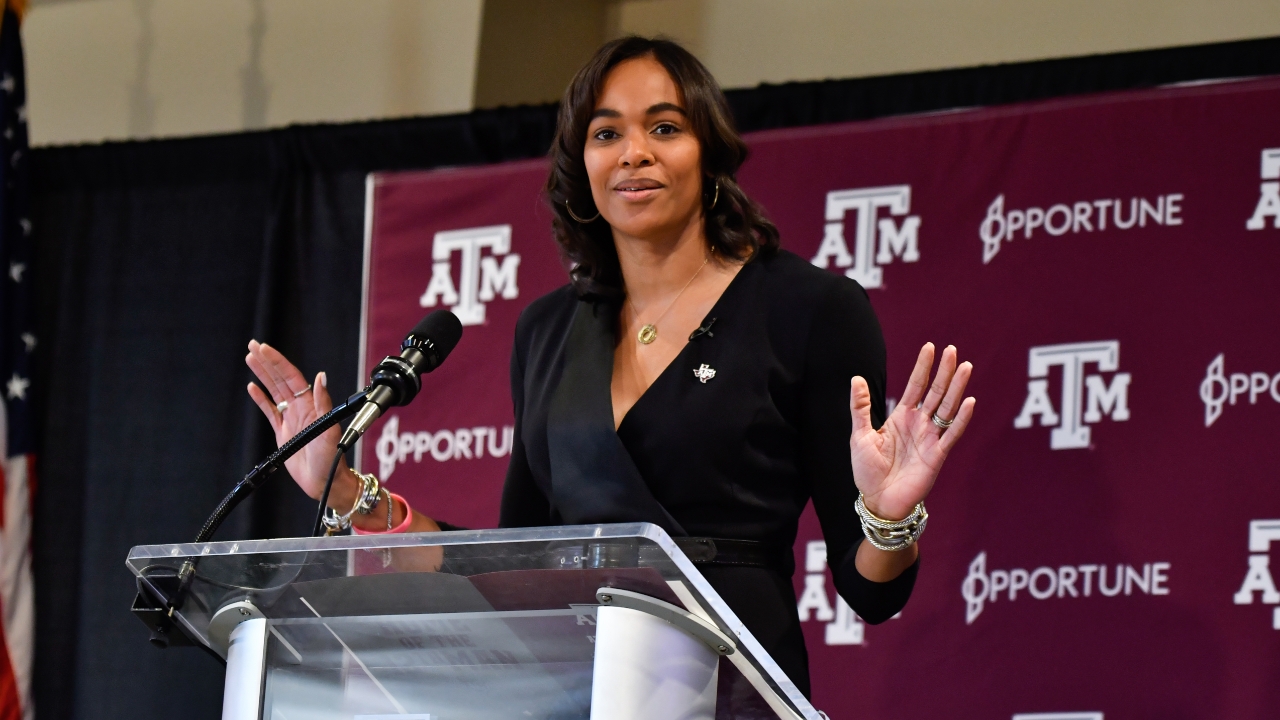 Welcome Event
Presser
Gary Blair
Buzz Williams
Destiny Pitts
McKinzie Green
Texas A&M Women's Basketball
WATCH: Texas A&M introduces Joni Taylor as head women's basketball coach
---
Texas A&M officially introduced Joni Taylor as the next head coach of Aggie women's basketball on Thursday with a welcome event in College Station. TexAgs presents videos of Taylor's introduction, press conference and more.
---
The following are live, paraphrased notes from head coach Joni Taylor's introductory press conference on Thursday.
Joni Taylor
I learned so much from coach Andy Landers and from Gary Blair. I think what's special about both of those men is that they know it's all about women's basketball. It's an opportunity to enhance what Blair created here. I never walk into a situation thinking that it's all mine or all about me. It's about women's basketball. They operate in the spirit of what's best for our sport and program, and that's what I will continue to do.

I can speak from my experience: I don't think it's something to fear (following a Hall of Fame coach). I think it's an honor to be at an institution like this and inherit a program from a legend. I want to be involved and have that opportunity to follow a legend. Why am I doing it a second time? Why not?

The atmosphere and experience that is here is something that I've always appreciated and admired. Having the opportunity to talk to Ross Bjork and Kristen Brown and hear their vision, I knew it was an opportunity I could not pass up. Their commitment to women's basketball is clear, and that's something I want to be a part of.

I think there are great pieces here. There are things that we have to do, but I'm excited for the opportunity to build something here. I'm looking forward to the additional staff that we are bringing in. It's easy to walk into a room and identify talent. After that, where we really spend our time is making sure that they are the right people that we bring into our program.

Taylor to a reporter asking a question: "I can't believe they let you wear orange in here."

Effort and attitude. We want hybrid players that can do multiple things and that can defend the basketball because that's going to be the cornerstone of what we do here.

The atmosphere we create is a family atmosphere. That's what we do in our own family. I told our players this morning that I'm not going to be put into their personal business unless they put me in it but it's going to be an open door policy. That's going to always give us the chance to connect, not just when certain people are in town. Once a relationship is built with a player, everything else falls into place because the trust and relationship are already there.

On favorite memory of Blair - Back in 2013, when all those video challenges were going viral, I'll never forget when someone Ice Bucket challenged me, and I didn't think I was going to do it. Until I saw Blair online getting dumped with two buckets of ice water, and at that moment, I saw he was leading the way once again. His commitment to raising awareness to what he thinks is important is amazing. He'll also do anything to advance women's basketball.

That's the million-dollar question. We talked about it, and we'll see. I think (my husband) Darius has found his niche in being in the front office (with the Atlanta Dream). It also allows us to balance our family very well. For now, we'll frequent between here and Atlanta so he can continue his job. I don't know if he'll ever be a part of our staff. I guess we'll see.

I have been fortunate to be around and see people and mentors with great minds. Dawn Staley is someone I consider a mentor. I think that's what is special about women's basketball is that our community is something we can always rely on.

Ross and Kristen said it best: Our core values are important and are top rate. That's the first thing that drew me. Then as a tradition-rich program, similar to other programs that I've been a part of. Everything lined up for me and made it an easy decision.

There are very few schools and universities that can draw my eye. When Darius and I were talking about this decision, we asked ourselves if we wanted to spend the rest of our lives in Athens or College Station. We have no intention of moving from here.

In Athens, we were very visible in the community, and we want to do the same thing here. You will see our kids and family around. We want to help. We want to serve our community.
Never miss the latest news from TexAgs!
Join our free email list