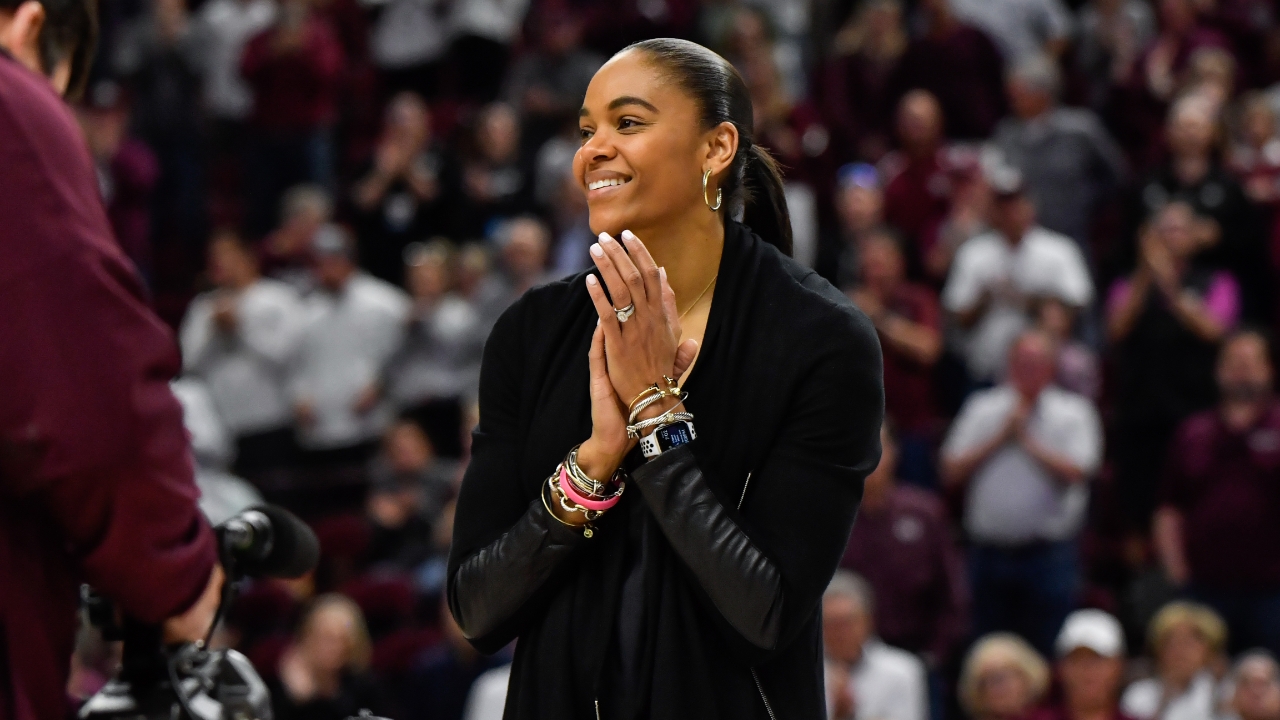 Photo by Jamie Maury, TexAgs
Texas A&M Women's Basketball
LIVE NOTES: Joni Taylor introduced as Texas A&M women's hoops coach
---
Joni Taylor has been hired as the eighth head women's basketball coach in Texas A&M history and is being introduced to the 12th Man on Thursday. The following are live, paraphrased notes from the press conference introducing Joni Taylor as the Aggies' head women's basketball coach.
NOTE: There are multiple events for Joni Taylor's welcome. We will try and get notes from each.
---

Welcome event
Deputy AD Kristen Brown has stepped onto the stage.
Notes will begin shortly.
Kristen Brown
It was a natural fit. She's a great teacher, coach and a phenomenal person.
The impact she has on people around her is truly special.
Brown introduces Ross Bjork.
Ross Bjork
How about those Aggies last night?
It's a great day to be a Fightin' Texas Aggie. It's an exciting day for athletics and women's basketball.
She is an experienced coach, this is the second time that she has replaced a legend, she replaced Andy Landers and now she replaces our coach Blair
Blair - thank you for your contributions to our program, community and for everything you've done.
Bjork jokingly lists all the places he will see Blair around town still, including the Dixie Chicken.
President Banks could not be here today but her vision was crucial towards the coaching search.
Chancellor Sharp, Board of Regents, thank you for your current leadership.
Current players in attendance, thank you all for coming out today, in addition to former student-athletes.
Other head coaches, athletics staff, presidents cabinet members are here as well.
Kristen and I were the tag team on this search.
I relied on her research skills, on her experience as a former college basketball player, I relied on her counsel throughout this process.
Our search was very, very thorough, we also employed a search firm to contribute to the process.
We want to make sure that we use our core values as a guide when we hire here at Texas A&M.
When we sought a new leader for this new era, we not only wanted to find the right coach but also the right person. Someone who would live up to the high standard of excellence in all departments.
We met with the team on March 4, right after the SEC Tournament and asked for advice on ideal characteristics in a new coach. Relatability, family atmosphere and knowledge of the game were all common themes and I think we checked all those boxes in Taylor.
SEC Coach of the Year, Mississippi native, Gatorade player of the year in high school, then went to Alabama. Bjork jokingly hisses.
We can sense her passion, drive and commitment to doing basketball the right way.
I met coach Taylor back at a basketball summit for aspiring coaches back in 2013. The more that we talked, we could see her leadership and commitment to developing young women.
It's more than just basketball for coach Taylor, it's about making an impact on those she coaches.
She's the right choice for our basketball program.
Darius, Joni's husband, played at Michigan. Her parents and her children are also in attendance.
This is a new era of Texas A&M basketball.
Bjork welcomes Taylor to the stage.
Joni Taylor
Howdy! I love how that sounds, can I do that one more time? HOWDY!
I have to start by saying that we serve an awesome God, I'm truly blessed to have praying family and friends and because of that I'm able to stay in line in my life.
Thank you Bjork, Banks and Brown for entrusting me with this program.
I will do everything in my power to uphold and enhance the legacy that is Texas A&M women's basketball.
I'm thankful for the belief you have given me and for the opportunity to lead this history-rich program.
Buzz talked to me this morning, which I really appreciate, can I go to NYC with you? I can carry bags for you.
To Coach Blair, thank you. Thank you for your leadership.
When I first started, Blair found me and shared his knowledge with me. If you ask anyone in our business, he has always taken the time to spread his knowledge. That's something you usually don't see, not to mention, from a hall of fame coach.
Thank you for all that you have done at Texas A&M and for our game, Coach Blair.
To have the opportunity to build on what you have created (Blair) is something special.
Thank you to UGA, it was hard to leave. I will forever be grateful for Andy Landers and those fans that embraced me like family.
Thank you to my family for being here. Thank you to my husband Darius, the assistant GM of the Atlanta Dream, Bjork was not kidding when he said we are a basketball family.
To Texas A&M, the Aggie Network, the 12th Man, I am extremely excited to work with you. I am happy to help to promote the university any way I can.
To our current players, thank you for handling this transition with grace. I can't wait to get started. Hard work and doing things the right way is how we will get through this transition.
I know we will build something special.
I'm ready for the challenge.
To every recruit in Texas, I want you to know that you are our first target. We welcome you to College Station and our campus at any time. Of course, our recruiting search will extend nationally but we want those in Texas to know that they come first.
When players leave Aggieland, we want them to not only leave with a degree but with a love so strong that they continue to come back and support the program. I want that to be the expected standard.
I need you, the program needs you to help start this journey.
I can't make promises, but I can tell you that we are going to put a product on the floor for you to get behind and get excited about.
It's important that the community is involved and stands with us to embark on this new era of Texas A&M women's basketball.
We play in the best conference in the country. There are great teams in this conference, the staff we assemble will help uphold and support this program and the traditions established.
I promise to make you proud. I love you big, thank you and Gig'em!
Bjork and Brown then present Taylor with her jersey.
Brown invites Taylor's family to the stage as well as the Yell Leaders to Saw 'Em Off for the first time with Taylor.
That concludes this morning's event. The introductory press conference will start promptly at noon. We will be back right here for more live notes!
---

Introductory Press Conference
Joni Taylor
I learned so much from coach Andy Landers and from Gary Blair. I think what's special about both of those men is that they know it's all about women's basketball. It's an opportunity to enhance what Blair created here. I never walk into a situation thinking that it's all mine or all about me. It's about women's basketball. They operate in the spirit of what's best for our sport and program, and that's what I will continue to do.
I can speak from my experience: I don't think it's something to fear (following a Hall of Fame coach). I think it's an honor to be at an institution like this and inherit a program from a legend. I want to be involved and have that opportunity to follow a legend. Why am I doing it a second time? Why not?
The atmosphere and experience that is here is something that I've always appreciated and admired. Having the opportunity to talk to Ross Bjork and Kristen Brown and hear their vision, I knew it was an opportunity I could not pass up. Their commitment to women's basketball is clear, and that's something I want to be a part of.
I think there are great pieces here. There are things that we have to do, but I'm excited for the opportunity to build something here. I'm looking forward to the additional staff that we are bringing in. It's easy to walk into a room and identify talent. After that, where we really spend our time is making sure that they are the right people that we bring into our program.
Taylor to a reporter asking a question: "I can't believe they let you wear orange in here."
Effort and attitude. We want hybrid players that can do multiple things and that can defend the basketball because that's going to be the cornerstone of what we do here.
The atmosphere we create is a family atmosphere. That's what we do in our own family. I told our players this morning that I'm not going to be put into their personal business unless they put me in it but it's going to be an open door policy. That's going to always give us the chance to connect, not just when certain people are in town. Once a relationship is built with a player, everything else falls into place because the trust and relationship are already there.
Ross Bjork
We had the availability to have a lot of time with our search as Gary Blair announced his retirement before the season. December, January was a lot of research and time to study, talking to agents, our firm, who's available, what's our market like and figuring out who's at the top of our game.
When we walked out of our first meeting with Taylor, I looked at Kristen Brown and said, "Why don't we hire her?"
I didn't want Georgia to lose on Sunday, but it gave us the chance to announce this as soon as possible. I knew when we walked out of that meeting that it was something we were going to get done.
Joni Taylor
On favorite memory of Blair - Back in 2013, when all those video challenges were going viral, I'll never forget when someone Ice Bucket challenged me, and I didn't think I was going to do it. Until I saw Blair online getting dumped with two buckets of ice water, and at that moment, I saw he was leading the way once again. His commitment to raising awareness to what he thinks is important is amazing. He'll also do anything to advance women's basketball.
That's the million-dollar question. We talked about it, and we'll see. I think (my husband) Darius has found his niche in being in the front office (with the Atlanta Dream). It also allows us to balance our family very well. For now, we'll frequent between here and Atlanta so he can continue his job. I don't know if he'll ever be a part of our staff. I guess we'll see.
I have been fortunate to be around and see people and mentors with great minds. Dawn Staley is someone I consider a mentor. I think that's what is special about women's basketball is that our community is something we can always rely on.
Ross and Kristen said it best: Our core values are important and are top rate. That's the first thing that drew me. Then as a tradition-rich program, similar to other programs that I've been a part of. Everything lined up for me and made it an easy decision.
Ross Bjork
When I talked to Blair on Tuesday night, he said, "You are getting a great person." He knows who the right coaches are. He knows who can coach. To me, having Blair say that about her means a whole lot and speaks a lot about who Joni is as a person and coach.
Joni Taylor
There are very few schools and universities that can draw my eye. When Darius and I were talking about this decision, we asked ourselves if we wanted to spend the rest of our lives in Athens or College Station. We have no intention of moving from here.
Ross Bjork
I think the market is very challenging and interesting. We had some candidates in mind and also looked internally and spoke to Kelly Bond-White here. We have to get approval from the Board of Regents so until our meeting in May. We cannot disclose specific contract details. We did take care of Taylor's buyout at Georgia.
Joni Taylor
In Athens, we were very visible in the community, and we want to do the same thing here. You will see our kids and family around. We want to help. We want to serve our community.
Never miss the latest news from TexAgs!
Join our free email list