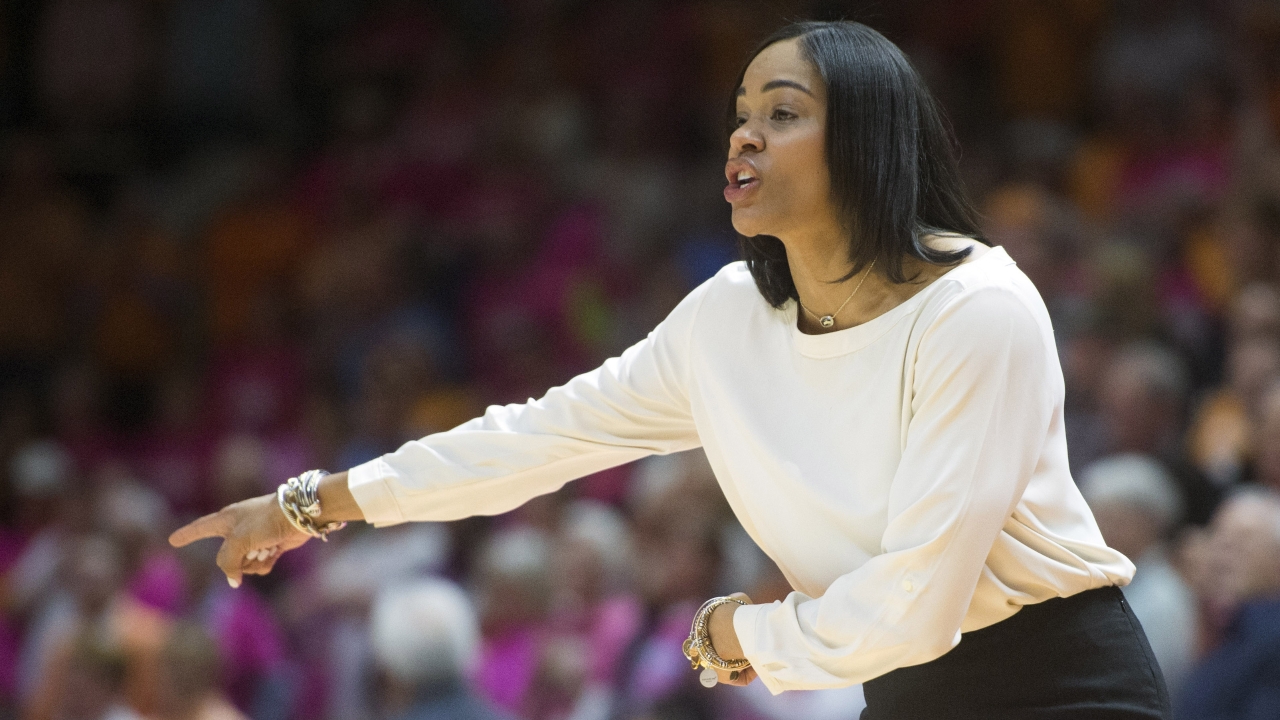 Photo by Knoxville News Sentinel-USA TODAY NETWORK
Texas A&M Women's Basketball
Texas A&M hires Georgia's Joni Taylor as women's basketball coach
---
A new era begins.
Seven-year Georgia women's basketball head coach Joni Taylor will take the reins of Texas A&M's women's basketball program as Gary Blair's successor, the program announced on Wednesday morning.
The hiring will make Taylor the eighth head coach in program history and marks her second head coaching position.
"I am extremely excited and humbled to have the opportunity to lead the Texas A&M women's basketball program," Taylor said in a release. "You are talking about a program that is rich with tradition and an institution that leads not only in the SEC but in the country. I am excited to get there and meet the team and immerse myself and our family into Aggieland."
Taylor, 43, boasts 14 years of coaching experience within the Southeastern Conference and compiled a 140-75 (.651) record through her time in Athens as the head coach at the University of Georgia, which included four NCAA Tournament appearances.
The Mississippi native was named the 2021 SEC Coach of the Year after piloting her team to a fourth-place finish (21-7) in league play last season despite being predicted to finish ninth in the conference's preseason poll. The 2020-21 Lady Bulldogs also advanced to the SEC Tournament final for the first time in 17 years and posted its highest NCAA seeding since 2007.
Taylor has also been the recipient of the Spalding Maggie Dixon Rookie Coach of the Year and was honored as a semifinalist for the prestigious Werner Ladder Naismith National Coach of the Year Award in 2018.
In 2021-22, Taylor's Lady Bulldogs finished in sixth place in the SEC with a 20-9 record overall and went 9-7 in conference action. The team ultimately made a second-round exit in the NCAA Tournament, falling to third-seeded Iowa State this past Sunday.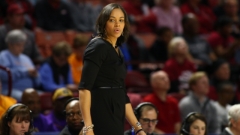 Jeremy Brevard-USA TODAY Sports
A coaching veteran of 20 years in the collegiate ranks, Taylor first began her career with a three-year stint as an assistant at Troy from 2003-05, before making stops at Louisiana Tech and eventually returning to her alma mater, Alabama, as an associate head coach from 2008-10.
In 2010, Taylor departed Tuscaloosa for a spot on Hall of Famer Van Chancellor's bench as an assistant during his final year at LSU.
Taylor rightfully earned a reputation of being an elite recruiter after securing multiple top-five prospects at both Alabama and LSU in 2010 and 2011, respectively, in addition to signing a top-10 class during her time with the Crimson Tide.
She then joined Georgia as an assistant in 2011 before being promoted after one season to associate head coach under the legendary Andy Landers. Taylor succeeded Landers upon his retirement in 2015, becoming just the second full-time women's basketball head coach in program history.
A product of the University of Alabama, Taylor manned the four and five positions as a two-year starter and played a key role in the team's back-to-back NCAA postseason runs and WNIT outings from 1998 to 2002. In high school, Taylor was selected as the 1997 Gatorade Player of the Year in her home state of Mississippi after leading Meridian High School to a combined 67-7 record during her junior and senior campaigns.
In addition to her lifelong triumphs on the hardwood, she was named to the SEC's Community Service team from 1999-2001 and earned a post-graduate scholarship for her admirable community service record. Her selflessness continues to shine through the award-winning outreach program, Beyond Basketball, which Taylor founded in 2015 to serve as a gathering and networking initiative for women in Athens.
Taylor will be tasked with boosting Texas A&M beyond what was an uncharacteristically poor season last year as the Aggies suffered through its first losing record (14-15, 4-12) and omission from the NCAA Tournament since 2004-05, in spite of having won an SEC regular-season title only a year earlier.
Moving forward, Taylor's decorated resume and previous success in the SEC will prove to be vital as the team looks to reassume a top spot on the national stage.
Never miss the latest news from TexAgs!
Join our free email list