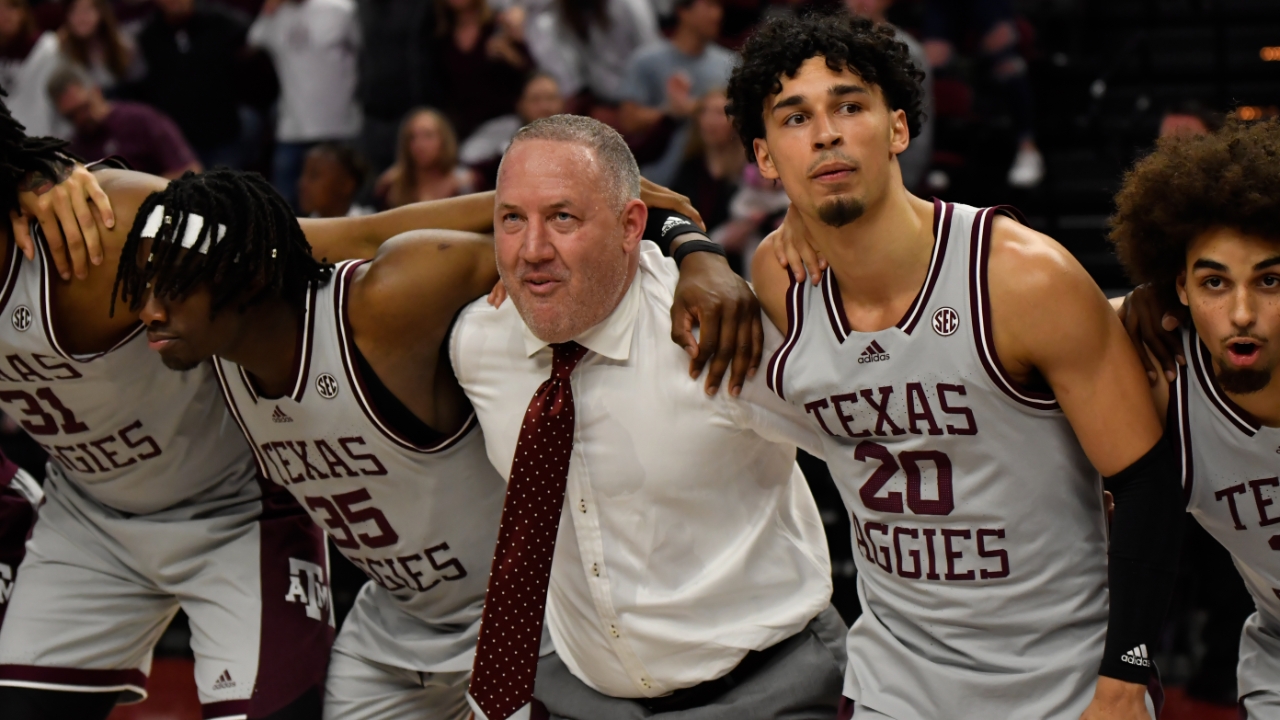 Buzz Williams
Obaseki & Jackson
Texas A&M Basketball
A&M's paint presence too much for Ducks in second-round blowout, 75-60
---
If anything captures how Texas A&M's basketball resurgence this season, it might be this:
The Aggies on Saturday were facing Oregon, which featured an eye-brow raising trio of 7-foot Nate Bittle, 6-foot-11 Franck Kepnang and seven-foot N'Faly Dante.
Yet, in a 75-60 National Invitation Tournament second-round victory, the Aggies (25-12) outscored the Ducks in the paint, 42-24, and out-rebounded them, 38-34.
"We figured out they didn't like to guard the ball," freshman Manny Obaseki said to explain the Aggies' point production in the paint. "They didn't want to guard at all. They were just looking to get a rebound, get a turnover and put it to the other end. We just had to take advantage of what they gave us and execute it. I think we did a good job of that."
Astonishingly, the Aggies still felt like they had somehow failed.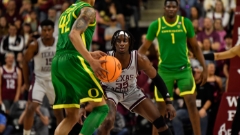 Cade Ingersoll, TexAgs
"Big Rock No. 3 (priority) was less than seven offensive rebounds for Oregon and more than 15 for us," A&M coach Buzz Williams said. "There was a stretch when we were just trading baskets, so many of those trading baskets were offensive rebounds by No. 1 (Dante).
"Of our priorities, that would be the one thing that we failed at."
But Oregon still only managed 16 second-chance points, so whether the Aggies (who also had 16 boards) failed is up for debate.
What isn't debatable is the Aggies were head-and-shoulders above their counterparts en route to posting their ninth victory in their last ten games.
The Aggies next face either Wake Forest or Virginia Commonwealth on Wednesday at Reed Arena at a time to be determined.
A&M held the lead for more than 37 minutes, was up by nine at halftime and built the margin to as high as 18 points.
Quenton Jackson scored a team-high 17 points. Manny Obaseki had 11 points and seven rebounds, while Wade Taylor IV and Henry Coleman III each had 10 points.
Tyrece Radford just missed a double-double with eight points and 11 rebounds.
Oregon was led by Dante and forward Eric Williams with 13 points. De'Vion Harmon, the brother of Texas A&M football player Deuce Harmon, added 12 for the Ducks.
Williams had some concern on Friday because it didn't feel the Aggies had practiced particularly well, but he was encouraged by their attitude at an early morning shoot-around.
"I thought, from start to finish, our energy, our spirit, our flow, our mojo, the plan relative to how they play… I thought our guys played at a really high level, no matter who was in the game."
He needn't have ever worried.
"I thought, from start to finish, our energy, our spirit, our flow, our mojo, the plan relative to how they play… I thought our guys played at a really high level, no matter who was in the game," Williams said.
The Aggies shot 47.5 percent in the first half and held a 37-28 advantage at the break. They increased the margin to 45-30 on a pair of Coleman free throws with 17:26 to play.
From there, every Oregon comeback bid was abruptly thwarted.
The Ducks got back within 50-42, but Obaseki spun around Harmon for a layup and drew the foul.
He then converted the free throw for the first of four conventional three-point plays the Aggies tallied in the second half.
"Q (Jackson) is always on my head about being aggressive and believing in what I can do and what I can bring to the team," Obaseki said. "The play wasn't to me, but the play was broken down. If I have a mismatch, he says take it and go score, and that's what I did."
On A&M's next two possessions, Taylor hit a 3-pointer, and Coleman converted a three-point play for a 59-44 lead with 11:44 left.
Oregon pulled within 61-50 on a pair of Kepnang free throws, but that was the Ducks' last gasp.
Andre Gordon passed to Hayden Hefner, who scored a layup and drew a foul. He converted the three-point play.
The Aggies completely settled the issue with a 7-0 run that resulted in a 71-53 lead with 3:49 to play.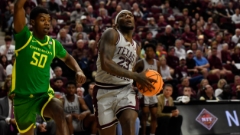 Cade Ingersoll, TexAgs
Obaseki finished that run with a turnaround jump shot in the middle of the lane.
"I thought today was the best Mo has played as a college basketball player," Williams said. "It was because of his presence on the glass."
Obaseki's seven rebounds were his second-highest total of the season. Interestingly, he got those despite playing much of the game in a point guard role.
The Aggies have frequently used Jackson and Radford at the point in their most recent nine victories. Obaseki was used in that role against Oregon while sometimes playing on the wing or at a high post.
"That's what makes Boots (Radford) such a hard matchup," Williams said. "Are you playing the point this time? Or are you playing over there on the wing? Or are you playing in an Iso spot? Now, we're starting to use Mo that same way.
"But the reason why Boots is so hard to get off the floor is the presence he has on the glass on both ends. Mo doing that changes the complexion of our team."
Never miss the latest news from TexAgs!
Join our free email list