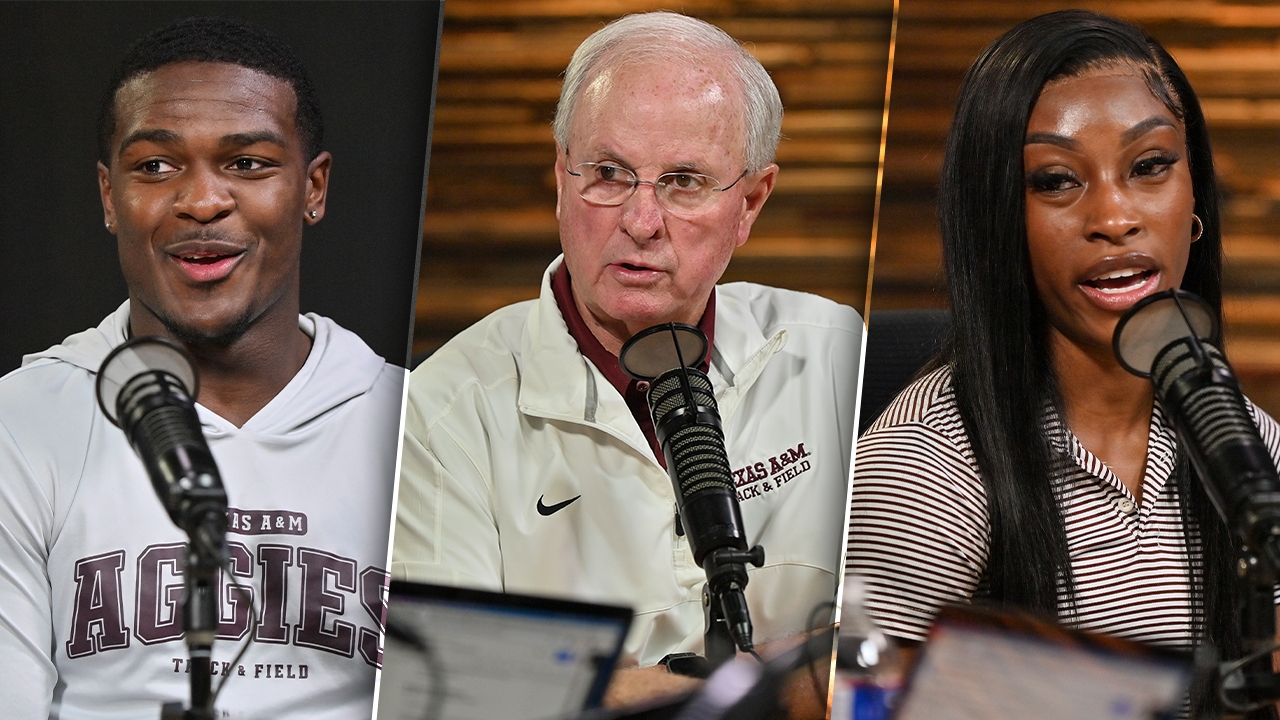 Texas A&M Track & Field
Devon Achane, Charokee Young join Pat Henry on Track & Field Report
---
During Tuesday's edition of TexAgs Radio, Texas A&M track & field head coach Pat Henry joined in-studio to recap the Maroon & White's weekend on the track. This week, Devon Achane and Charokee Young joined Henry to discuss their respective seasons thus far.
---

Key notes from Pat Henry interview
We had a very productive weekend. We split our team, and I think that's bad for track & field. At times, you have to play the game everyone else is doing. You have to play the game the rest of the country is playing. We took seven or eight of our distance runners to Nashville, and we took our team to Albuquerque.

The SEC Championships allow each school to bring a specific number of athletes. We can bring 27 athletes per gender to the SEC Championships, so we have to look at which 27 athletes have the best opportunity to score. We could take four pole vaulters and no mile runners if that's what we think is best. You have to make some coach's decisions for this meet.

The SEC Championships is a tremendous team competition. It's an event that you'd like to come and watch because there is a lot of team enthusiasm and camaraderie. These schools are intense about beating each other.

Charokee Young is an athlete that continues to improve. She has done a great job. This weekend, she ran 51.35. That's one of the top two times in the country. There is more in the tank, and she knows it. It's going to be fun to watch. That's fast, and she's getting down to where she's with the elite people in the world.

Devon Achane ran 6.63 in his first competitive 60m. He did a great, great job. Not many can run a 6.6 in their first competition. He's a talented guy. Once he learns to start better and be more reactive to the gun, he's going to run very fast. He is very dedicated, so he'll be fun to watch. In the 200m, he ran 20.68. He got beat by our own Lance Broome, but for him to break 21 seconds with the training he has done since football is tremendous.

A gun start is sort of like when you're walking down the street and a car backfires. You respond quickly without knowing that's going to happen. When you expect it, you can start faster. You have to get a lot of stuff out of your mind. As he goes, he will get better. Achane has some natural ability, and it's just repetition right now. Practice is practice. You can work technique and the process in practice. Meet day is different than practice.

We talked about Bryce Foster a week ago. Shot put is about a rhythm. It's not about grunting and throwing it as far as you can. Nobody throws two feet farther in just one week. That's a significant improvement.

Brandon Miller is doing very well. We have not run him very much. He is running on our long relay, and he has done very well. He holds one of the top marks in the country in the 800m. He will run the half-mile at the conference meet next week, and I know he's excited about that.

Indoor track & field as a sport is continuing to grow. It's already huge right now. Facilities around the country are getting much, much better, and everybody in the SEC has tremendous facilities.

Wendell McRaven, our distance coach, is very cautious with volume. I think volume is good for some people, but volume will also beat you up and hurt you. You have to supplement volume with some speed training and weight training. There are a lot of things you have to do in volume to make sure the volume can help you.
Key notes from Devon Achane interview
It felt great to run this weekend. I also had a PR, and it's the second meet of the season. That's good.

I don't go out there and say I want to run this time. I just go out there and just try to have a clean race.

I feel I have improved a lot. This is my first time ever running a 60m race. My start is not good yet, but it's starting to get better. I ran a PR in the 200m this weekend too. I was excited with myself because I wasn't expecting it. I'm happy with myself so far.

The 60m is fun now that I've run it a couple of times. It's faster. It's really like a warmup for me, but it's a lot of fun, though.

I've been doing football and track together for a couple of years now, so the transition from sport to sport is easy to me. The only thing that is hard is getting into track shape. Other than that, I've been doing track and football since high school. My mindset is the same because they're both competitive sports, and I like to compete.

My body in football is different than in track. In football, I'll be more beat up and tired. In track, I just need to make sure I'm staying in shape.

Everyone talks to me about track or going to the NFL. I don't know yet. It's whatever comes first and whatever I want to do in my life. Whatever I feel like doing and whatever I have more fun doing, that's what I'm going to do. I don't know if I'll go into the draft or focus on track. I'm just living in the moment.

In my free time, I'm more of a video game type. I stay home and play video games. I'll play 2K and Madden.

I'm happy with the year so far. We have this week off, so we'll get better in practice and look forward to the SEC Championships.
Key notes from Charokee Young interview
I think this weekend was pretty good. I hit a PR, so I was really happy with my performance.

I focus on doing the right thing, not reverting back to my old ways. I go out there and try to do my best with everything I learned in practice. By doing all of that stuff, hopefully, I'll have a good performance or a PR on that day.

Last year, I opened up with a 53.0. This year, I opened with a 52.0. That's a whole second better. I'm adding stuff to what I learned last year.

With COVID-19 going on last year, I got contact tracing the day before SEC Championships. I couldn't run, and I didn't know what to do because it was out of my control. I'm excited to have an opportunity to compete at SEC this year.

I really wanted to go to the Olympics and be there. I thought it was a huge accomplishment as a 20-year-old, a sophomore in college. I was really excited.

I really enjoy going to the movies. I watch a lot of movies. I spend a lot of time on social media because I try to engage with my fanbase. I know a lot of young athletes look up to me, so I try to do whatever I can to have a positive impact on them.

Right now, I'm focused on getting good grades and improving to see where it takes me this season.
Never miss the latest news from TexAgs!
Join our free email list