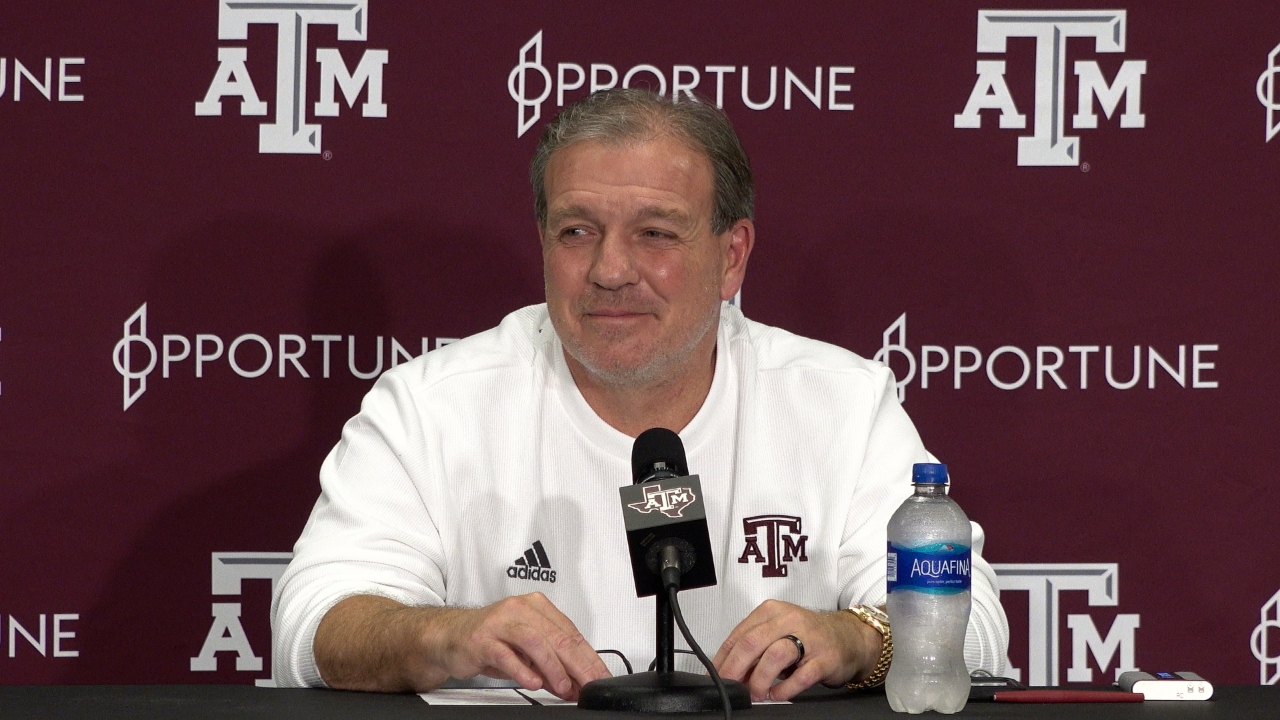 Texas A&M Football Recruiting
Press Conference: Fisher addresses new additions to A&M's 2022 class
---
Texas A&M has made one new addition to its 2022 class as the Aggies are looking to finalize a historic haul on Wednesday's National Signing Day. Jimbo Fisher spoke to the media about the current group of signees.
---
The following are live, paraphrased notes from Jimbo Fisher's Wednesday afternoon media availability:
Today is a great day trying to put the finishing touches on our signing class that I think is extremely bright. Shemar Stewart‍ is another great addition to our class, he's a guy that can rush, pass, outspeed you, tremendous athlete. This class has really turned into one heck of a class. On paper they are great, they still need to put it in production. We got the guys we wanted. the ones that we were after. We keep adding, he's a well-rounded athlete as fast as every position. Very excited about this in the future.

There is no $30 million fund. This is garbage. It pisses me off. It comes from a site called 'BroBible,' and it comes from a guy called 'Sliced Bread.' It's unbelievable to me. It's insulting to me that they think this is why these players chose to come here. To have coaches say it, clown acts. Irresponsible as hell, multiple coaches in our league. That's the ironic part. It's a joke. It does piss me off. The vice president of Notre Dame. I wouldn't be really proud to hire that guy. We worry about the kids and social media, what about grownups? I know the history, the tradition, and I know things. You don't want to go down that avenue. It's funny when Nick Saban said his quarterback got an $800k deal. It's funny when they do it. The hypocrisy is a joke. It's insulting to our staff and our school. There's no better place to play ball. It's irresponsible. It's funny when they do it. The ball game is changing, and it's not because of NIL.

Shemar Stewart‍ is an edge player. He's extra big. This guy has the uniqueness of size, power and speed.

We got more guys that could, but we got a roster that is getting pretty full. There could be more though.

On walkons: That's what the 12th Man is all about. They are a huge part of our team. They practice and develop our players, and they have a chance to be the 12th Man here.

In this class, we have a great quarterback, three great receivers. In today's game, you got to hit big plays. You got to have backs that can run over people and get big yards. Our secondary, I'm excited to see the size and speed of our safeties. The tight ends are another group. They are 6-5, 6-7, and they can run. We got playmakers up front too. I'm excited about it. But they still got to play. It's our job to develop them.

We don't control the NIL. That's outside sources. There is a lot of issues with that. People, yes, some of those that are complaining, owned NIL deals. I'll stand by that too and things that go on. NIL is here to stay. It's a factor in things. There is going to be a fine line between reality and what's being said on the internet.

On players coming in early: You learn your way around the school, and you also learn the new languages. Football is a foreign language they have to come and learn. I think it's a great thing. We had 12 guys that came in early, and they are doing exceptionally well.

I knew it was a special class, they recruited each other every bit that we recruited them. The atmosphere and environment in that stadium last year? Is there a better place to watch a game? They saw that, and they realized they wanted to be a part of it. There was a bond and unity between those guys, and they realized that in football, in order to win a championship, you have to be together.

The early signing period is a great thing. I don't think we should change it. I think it's beneficial for the coaches, players and everyone else involved to have an early signing period.

Conner Weigman‍ is in football only right now. That was his choice. He expressed to me from the start that he wanted to play football. He loves football and wants to play baseball. I love two-sport guys.

D.J. Durkin brings a lot to the table. We will add new packages to the new coordinators but I think we have some great guys.

On transfer QB Max Johnson: I haven't seen him yet. Our players seem to like him. He fits in very well. Excellent athlete, big, strong, and our players speak highly of him. Very blessed to have Max and that experience in our room.

On highly-rated recruits coming to play: You are getting the opportunity to play. The best players will play. The character of these guys, the guys that embrace the competition will be great to play, and I plan on the whole class on doing it.

On spring ball: Quarterback battle. I haven't worked with Conner Weigman‍ yet, but I know what I got. All these guys are competitive, and they all have a chip on their shoulders. It's going to be fun.

We have eight different states and two different countries in this recruiting class. We are as good as a recruiting base as there is in the country. Houston, Dallas, San Antonio are all great areas. We are going to recruit as many players as we can and take them. We are in a global world right now. You come here, the education you get, the quality you get, nobody has seen a ballgame like at Kyle Field. The 12th man, our fans, nobody has it better. It's amazing that we are branding ourselves nationally now, and these kids fall in love with these people. The relationships and genuine people are here, and it helps bring them in. When you are in the Aggie family, you are in it for life.
Never miss the latest news from TexAgs!
Join our free email list