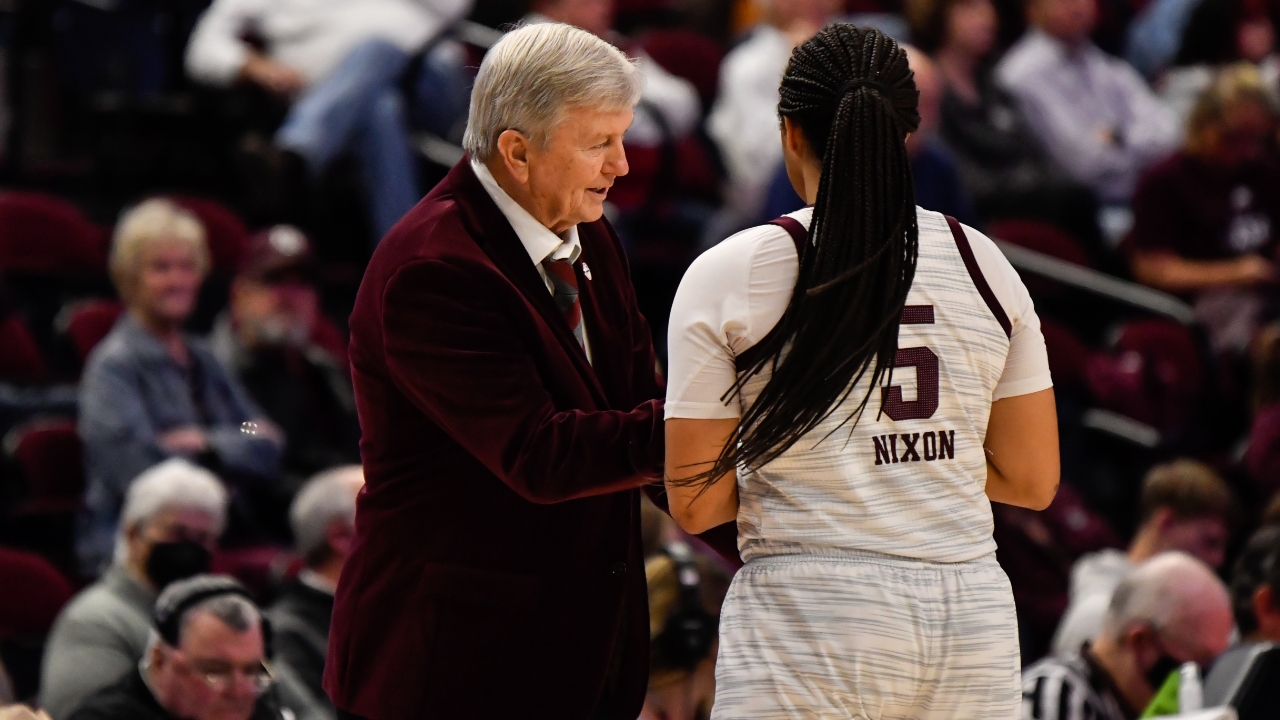 Photo by Jamie Maury, TexAgs
Texas A&M Women's Basketball
Fourth quarter struggles plague the Aggies in loss to Missouri, 78-69
---
Press conference video courtesy of Missouri Athletics.
---
Basketball is a game of runs.
The Aggies had a promising start early, but a 16-7 run to end the game by Missouri resulted in another SEC loss, 78-69, on Sunday night to the Tigers.
The Aggies (11-8, 1-6) were down four heading into the final quarter, but turnovers and an inability to score down the stretch plagued the Aggies. With 6:04 left in the game, A&M was down 62-60, and Missouri (15-5, 4-3) put the game out of reach due to a quick 9-0 run. A&M had six turnovers over the final six minutes.
"It was hard when we were trading threes for twos," guard Destiny Pitts said. "When they went on their run, they were making threes, and we weren't getting any stops.
"We needed those stops. I think that was the difference between the first and second half."
The Tigers caught fire early, knocking down three straight triples out the gate. Trailing 14-7, A&M managed a 20-2 run to take the lead 27-16. However, the Tigers crawled back, going on their own 13-4 run to close the half, but A&M was able to regain the lead on Pitts' triple that beat the buzzer.
"We didn't do what we needed to do, and that was communicate on the defensive end."
The third quarter was the highest-scoring frame with both teams combining for 50 points, and the Tigers shot a scorching 71.4 percent from behind the arc in the quarter. The Aggies struggled — shooting only 33 percent from deep — but stayed within grasp thanks to guards Kayla Wells and Jordan Nixon combining for 15 points.
"We know who Mizzou is," Nixon said. "They have proven time after time again they can shoot the basketball.
"We didn't do what we needed to do, and that was communicate on the defensive end."
Four Aggies finished in double figures with Qadashah Hoppie, Pitts and Wells scoring 11, 13 and 14 points, respectively. Center Sydnee Roby added 13 points, but it wasn't enough to pull out the win.
Missouri had four players finish in double figures as well, led by forward Kayley Frank, who dropped 28 points and shot a blazing 50 percent from behind the arc.
"Their offense was basically pick, screen and drift, and they did it very well," Texas A&M coach Gary Blair said. "We let Frank go for 28 points. It didn't matter what we did in the paint. It was what they were able to score with how efficient their offense was."
The Aggies take the court again next Sunday on the road against Mississippi State with tipoff set for 3 p.m.
Never miss the latest news from TexAgs!
Join our free email list