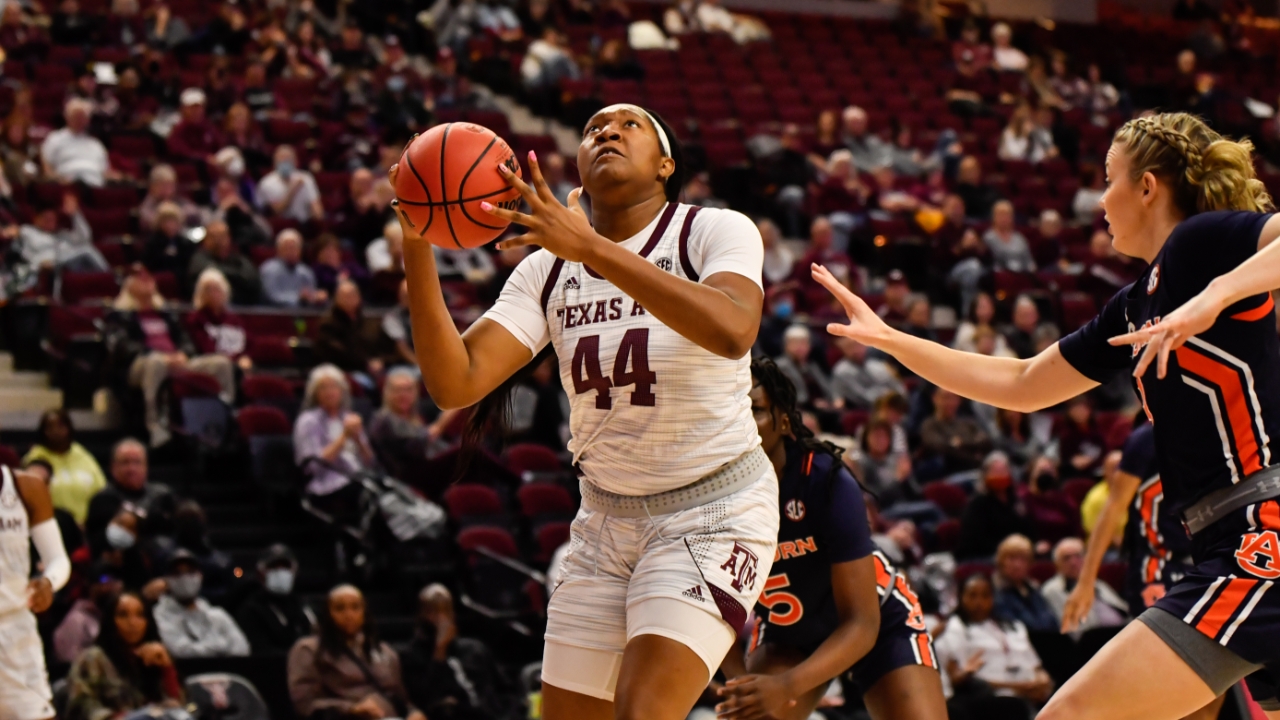 Texas A&M Women's Basketball
Texas A&M snaps four-game losing streak with 71-53 win over Auburn
---
Texas A&M head coach Gary Blair had one word to describe this victory
Relief.
"Relief first. It's just simple. Pure relief," Blair said.
The Aggies (11-6, 1-4) finally secured their first win in conference play, taking down Auburn (8-8, 0-5) at Reed Arena on Sunday, 71-53. A&M maintained its momentum for all four quarters, securing the biggest win of the season thus far.
The offensive performance was much improved as the Aggies had 38 points in the paint and shot 15 3-pointers in the win.
"We had a great crowd. Our kids said enough is enough. It's time to start playing Aggie ball."
"Rim attack, basket, rim, attack were our words on the board instead of settling for our pretty jump shot," Blair said.
Junior center Sydnee Roby led the Aggies with 20 points, while guards Kayla Wells and Jordan Nixon joined her in double figures with 15 and 10, respectively. The Aggies' success can be attributed to an early emphasis on attacking the glass.
"Gary emphasized me playing the post well because we had a height advantage, and I definitely think it was a spark," said Roby. "When you hit your first shot, it just becomes a trickle-down effect after that."
The spark came late in the first half as A&M went on a remarkable 16-2 run to end the second quarter. The Aggies outscored the Tigers 25-6 in the second quarter to take a commanding 44-18 lead.
"Coach Blair wanted us to attack the rim, put points on the board and get to the free-throw line, and that's when I find my rhythm at the line," Wells said.
Coming out of the half, Auburn kept the pace with A&M but ultimately couldn't keep up offensively. Roby and Wells combined for 10 points in the quarter, and Reed Arena erupted when Nixon hit a step-back three in front of an Auburn defender to beat the buzzer.
It was the nail in the coffin and dashed the Tigers' hopes of coming back.
Blair appreciated the crowd having his Aggies' backs.
"It was great to see so many young people out today and to be able to sign autographs," Blair said. "We had a great crowd. Our kids said enough is enough. It's time to start playing Aggie ball."
Texas A&M looks to keep the momentum going on Thursday against Ole Miss with a 7 p.m. tipoff at Reed Arena.
Never miss the latest news from TexAgs!
Join our free email list