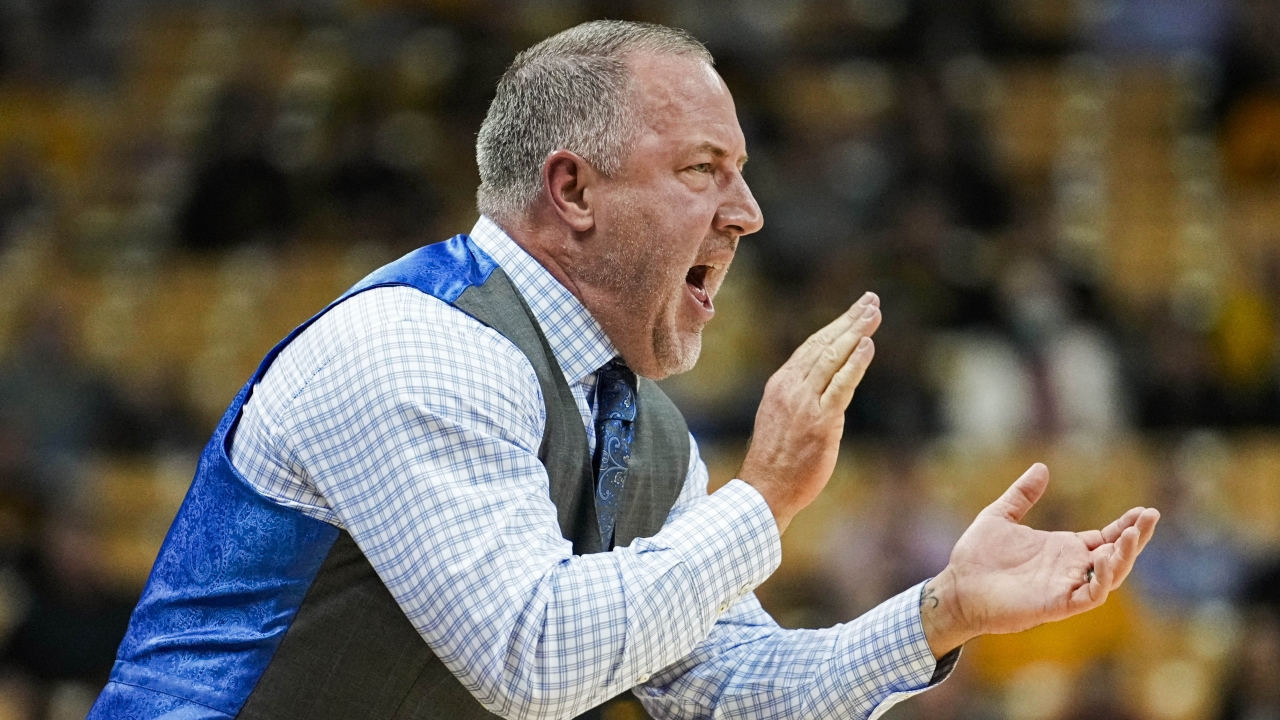 Photo by Jay Biggerstaff-USA TODAY Sports
Texas A&M Basketball
By The Numbers: Texas A&M undefeated in SEC play after two weeks
---
Here's a statistical look, by the numbers, at the Texas A&M men's basketball team after another perfect 2-0 week, a 15-2 start to the 2021-22 season and a 4-0 start to SEC play...
#1 - A&M's ranking in the SEC in three-point percentage (37.4 percent). That's way up from 29.9 percent last year and 29.4 percent in Buzz Williams' first season in Aggieland. The last time A&M shot this well from three for an entire season was in 2006-07, when the Acie Law-led Aggies singed the nets at a clip of 42.2 percent to lead all high0major teams (#2 only behind Northern Arizona that season). Law's famed "knuckleball" shot went in 45.8 percent of the time from three that season, while Josh Carter led all high-major players at an even 50 percent.
1.000 - A&M's winning percentage this season at home and in true road games. The Aggies are 10-0 inside Reed Arena this season and 3-0 in the home arena of their opponents. A&M's only two losses were neutral site defeats to Wisconsin (Las Vegas) and TCU (Houston). The 15-2 start is A&M's best since the 2016 team opened the season at 17-2 and 7-0 in SEC play en route to the SEC regular-season championship and Sweet 16 appearance.
2 - Teams in the SEC that are undefeated in conference play. Texas A&M (4-0) and Auburn (5-0). That's it. That's the list.
5.5 - Assists per game in SEC games for Marcus Williams. That ranks second in the league through four games.
7 - Steals last week for Quenton Jackson. The high-flying super senior had two steals vs. Ole Miss and five steals on the road to help the Aggies pull a major come-from-behind victory at Missouri.
8 - Wins in a row for the Aggies. A&M's last loss was to TCU, 68-64, in Houston on Dec. 11. The Ags had scored 80 or more in each of the first six games during this winning streak but won despite scoring just 67 points in wins over Ole Miss and Missouri last week.
#9 - A&M's national ranking in defensive turnover rate. The Aggies are forcing a turnover on 24.9 percent of their opponent's possessions. That ranks third behind only LSU and Tennessee (25.3 percent) in the SEC. With 17.7 turnovers forced per game, the Aggies also rank 11th nationally and also trail LSU (18.7) and Tennessee (18.4) in the SEC.
#10 - Andre Gordon's national ranking among high major players in three-point percentage. The junior is shooting 49 percent from beyond the arc this season. That ranks first in the SEC ... 3.3 percent higher than Kentucky's Kellan Grady. Among SEC players in the three-point percentage category, Quenton Jackson ranks eighth (38.9%), Wade Taylor IV ranks 20th (35.6%), Tyrece Radford ranks 24th (35.1%). Marcus Williams and Hassan Diarra are tied for 26th (34.7%).
8:53 - Amount of time into the game on Saturday until the Aggies scored their first points. A Marcus Williams layup with 11:07 left in the first half stopped the bleeding after a 12-0 start for Mizzou. A&M started the game shooting 0-of-13 from the field but closed the game making their last four shots.
#12 - A&M's SEC ranking in rebounding. The Aggies average 35.8 rebounds per game ... tied for 136th nationally. A&M's leading rebounder is guard Tyrece Radford, who averages 5.4 rebounds per game.
12.5 - Points per game last week for Tyrece Radford. The Virginia Tech transfer netted 12 points and six rebounds vs. Ole Miss and added 13 points and two boards vs Mizzou. Radford has been in double figures in scoring nine times this season and has grabbed at least five rebounds in 12 games.
18.3 - Scoring average in SEC play for Duke transfer Henry Coleman III to go along with 6.0 rebounds per game in the early going against league competition. The sophomore scored 18 points in a home win over Ole Miss last Tuesday and came back with 18 points on the road to fuel a win over Missouri on Saturday. Coleman's 18.3 points per game rank fifth in SEC in league play and his 6.0 rebounds per game rank ninth. Coleman is also first in field goal percentage in league games at 69.0 percent.
#28 - A&M's national ranking in scoring margin. The Aggies are outscoring their opponents by an average of 11.3 points per game. That's up from a negative margin of -2.7 one year ago. A&M's +11.3 margin ranks sixth among SEC teams.
46.9% - A&M's field goal percentage, which ranks third in the SEC. Kentucky (50.5%) is first in the league, followed by Mississippi State (47.3%).
49 - A&M's NET ranking as of Sunday. That's ten spots ahead of where the Aggies were a week ago. The NET is a key formula-based ranking that the NCAA Tournament selection committee uses to help guide them come Selection Sunday in mid-March. The list of SEC teams ranked ahead of A&M right now in the NET rankings ... LSU (4), Auburn (6), Tennessee (9), Kentucky (14) and Alabama (23).
68.2% - A&M's free-throw percentage in the win in Columbia. That's 9.6 percent above their average in SEC play entering Saturday. The Aggies went 15-of-22 and went 6-of-8 at the line down the stretch. A&M is ranked 14th in the SEC among 14 teams and 344th nationally (out of 358) in free-throw percentage (63.9%). That's last among high major programs. The lone bright spot at the charity stripe this season is Quenton Jackson, who ranks sixth in the SEC at 85.5%.
#71 - A&M's national ranking in points per game. That's 33 spots below where the Aggies were a week ago after back-to-back 67-point outputs.
Never miss the latest news from TexAgs!
Join our free email list