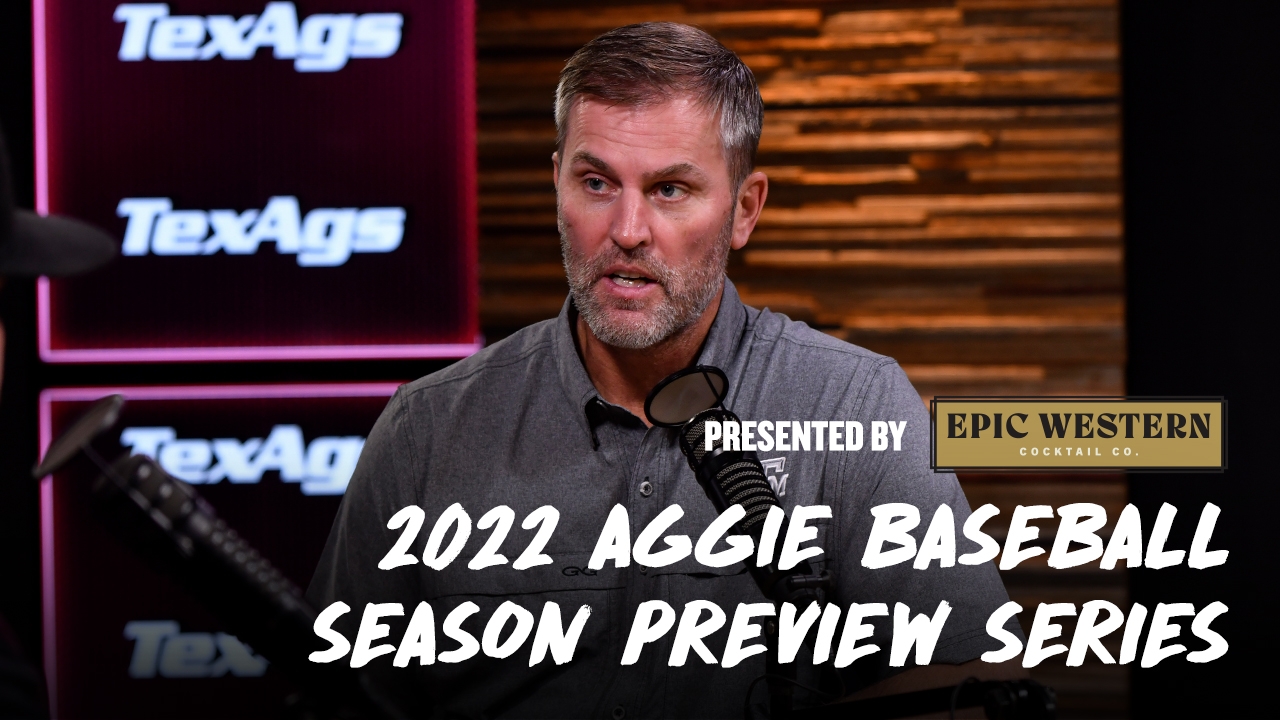 Photo by Jamie Maury, TexAgs
Texas A&M Baseball
3 Days 'til Aggie Baseball: One-on-One with pitching coach Nate Yeskie
---
It's that time of year! The Texas Aggie baseball team is set to open up the 2022 season on Friday against Fordham at Olsen Field at Blue Bell Park. We're counting down the days with our 2022 Aggie Baseball Preview Series.
---
After helping Oregon State to the 2018 CWS title and spending time at Arizona, Nate Yeskie takes over as the pitching coach on Jim Schlossnagle's staff at Texas A&M. Yeskie sat down with Ryan Brauninger to discuss the Aggie pitching staff and much more ahead of Opening Day.
Key notes from Nate Yeskie interview
It has been great. Certainly, this is a place, dating back to when I was a kid, this is a place that had piqued my interest. Knowing the history and looking at what the conference has to offer and a chance for us to be in the great state of Texas, it checked off a lot of boxes for us. We're certainly excited to be here.

A lot of (our success at Oregon State) boiled down to learning those guys and building those relationships. Through the fall, as you get to know those guys, you have to let them fail. You just do because you see how guys respond. You see where you can teach guys certain things, and you get a better sense of how they learn. It makes that transitional period a little bit easier for them and for us when they come back after Christmas time to be able to start addressing what you need to do more specifically and hopefully put the wheels in motion. Each guy is different, and they're all unique in their own way. Learning them and letting them fail is all part of the process.

We try to always build a culture and a network. While there is a team culture, there are little subcultures, whether it's the hitters or the pitchers. Being their own unit, they developed a cohesiveness with one another, and then you try to let them take ownership of it. Giving them some guidance and some ideas of what they need to be working on over the break, and then they check in with each other. They look at the practice list — the guy's name that's above them and the guy's name that's below them — they'll check in with those guys each day. They also pick somebody else out to touch base with. Developing that kind of fabric, not only as a unit but as a team, is important. They know what they need to do. They know what the expectations are. They have high expectations for themselves, so when you send those guys home with a checklist of things to do, it's pretty clear the guys that have been staying on it and those that haven't. I think the biggest challenge for a lot of freshmen when they come in is that they want to validate their own existence with their team. They want to prove that they belong. I try to remind them before they go home that this is the best way to do it. Go home and stay the course. Stay on top of your business because when you come back, it's going to be here quick.

Jim Schlossnagle has given me a lot of the responsibility (with the pitching staff). Certainly, his input, being the head coach, you have to take those things into account. I think it's important. I was talking with Michael Earley just yesterday and spoke with Nolan Cain in the past about if you guys see something or if you've got a feeling about something, I think the best staffs work just as that: A staff. Just like a pitching staff. It's not like softball where you can throw one girl out into the circle and she's going to win you 50 games by herself. Very rarely do you see a lot of complete games nowadays. You're going to have to count on one another to get through whatever it is you're working through on that particular day, whether that's a scrimmage or a midweek game or the weekend in conference play. Those guys doing it together is important. With Schlossnagle's input and with his experience, I think it is very valuable.

I think (the buy-in of returning pitchers) has been good. With my background of growing up on a farm and going deer hunting with my dad, that kind of speaks their language. They've been great. They really have been. They've been open and receptive to a lot of different things. Watching them take ownership of what they want to do. It's a challenge when kids have to learn from different guys, I think they sometimes frame it wrong. What I try to explain to kids is that when you get the opportunity to learn from somebody else, that's good in this industry because it means you're still playing. Those guys have really opened up to some things that in talking with Joseph Menefee they've tried before. I said, "That's OK, go back at it and try to do it again." He has had some things that have taken real well. Jonathan Childress and the list goes on with those returners. Nathan Dettmer has gotten extremely physical. He has put on some strength, and coach (Jeremy) McMillan has been doing a great job with our guys in there. Each one has had to grow in certain ways, and I'm excited to see it get put into action on the field.

Analytics are about giving him an understanding of how to utilize his stuff better. Not that (Alex Magers) didn't have a good plan in place and not that there weren't some good things, but you look for opportunities in growth. Certainly, when you start thinking how guys' deliveries set up... I think there is a part of the movie 'Days of Thunder where they're trying to figure out what it means when it's loose, what it means when it's tight, how do we drive these things? That's my job. It's to really allow them to get a better feel for what they're doing and promote that feel so that they can explain it. With all the technology that's out there and everything else that's in play, if they can't understand it and can't feel it and can't apply it, it's worthless.

With this group of kids, it's the fastest I've seen a group come together. They genuinely like being around each other. Now, we've just been out on the practice range and are working on sighting it in because the enemy hasn't fired back yet. When that happens, you get a real sense of what you're dealing with. Micah Dallas has been real receptive in the things he's doing. Having seen Jacob Palisch in the Pac-12 for all those years, when we saw that he was going to enter the portal, I thought I needed to get moving on this quick because there were some things I thought I could do to help him out, and we've seen a couple of upticks in his velocity as a result of it. Each guy is different, and each guy is unique, but I really like the vibe and the energy these guys have right now. Like I said, we'll see how it goes when we have to put that lineup card together for Opening Weekend and one guy is starting on Friday, one guy is starting on Saturday, one guy is starting on Sunday. The guys whose names aren't on there are ready to step up and do what they need to do.

I'd like to think that our guys over the years were extremely competitive. If you look at the track record of the guys that performed over our time together in the dugout, those guys all had that competitive streak, that competitive nature in the things they wanted to do, whether that's attacking the strike zone, fielding their position, controlling the running game. There's only a handful of things that we can really control, so when they get a better grasp of what those things are and stay focused on those four or five things, it makes it a lot easier. I think Michael Earley could probably answer that question a little bit better, maybe even Nolan Cain, having crossed paths on the diamond with those guys over the last couple of years. Our guys, in time, will certainly be ready.

I know that Jacob Palisch for one, having been in Omaha last year, that helps him. Micah Dallas has been there before as well. Micah, we'll have to temper him down a little bit. He likes to go. He's got a little wedge-buster in him, so he likes that opening kickoff a lot. If we can get him to just be him, he'll be fine. We have some other kids too, some freshmen that will have the same challenges. For all of them, the first time you get to play here in front of your fans, it's human nature to want to do well. You're measuring everything that you do, and in our sport, they track everything under the sun. That's why we try to peel it back to being competitive with this pitch, and when that's over, be competitive with the next one. You want to go as long as you can, and when you're done with that, we'll pass the ball off to the next guy.

Chris Cortez is one of them. Ryan Prager is another one. Lefthanders, throw the rulebook out with those guys. It's always different. Will Rizzo. There is a list of guys that I'll probably miss a bunch of them. Bottom line, we want to see them all do well. We're all pushing and trying to promote those guys as best we can. When they realize that they can do it together, that's when we're going to go far.

Khristian Curtis has been good. We had a chance to run him out there for a few outings at the end of the fall. We actually started doing an infield drill, and I've done this the last handful of years with our pitchers. I actually stole it from a coach at Oregon State named Jack Reilly, and Jack had put together this little infield drill with his son. We've taken it and modified it some, but what it does is promote athleticism. You have to communicate, talk and start throwing out of different arm slots. Next thing you know, we see Curtis starts throwing the ball a little differently. We say, "What's this?" He said that was how he used to throw. "That's pretty good, young man. You might want to stick with this." He took that and has been running with it. I'm interested and anxious to see when he gets back. All reports when guys pop their heads in the office and say hello, how are things have been, "Coach, I feel great. My arm feels good. I'm looking forward to getting out there and getting going." I like where their heads are at.

We talk about eliminating distractions all the time because, at the end of the day, it's really about competing within that pitch that's going to help you get that batter out or get through that inning, whatever it is. Whether it's advisors, scouts, parents, girlfriends, we want to see our guys do well, and we love them to death. At the end of the day, kids have to be able to narrow that focus into what am I responsible of taking care of today? As they narrow that focus and get ready each day, if they have support from their network, that's great, but you need that other group of guys that's in the dugout or in the bullpen with them to advance their game. If you look at a guy like Menefee, it wouldn't surprise me if you looked up in a couple of years and see an A.J. Minter. To think that could be Menefee one day is not far-fetched.
Never miss the latest news from TexAgs!
Join our free email list
PRESENTED BY