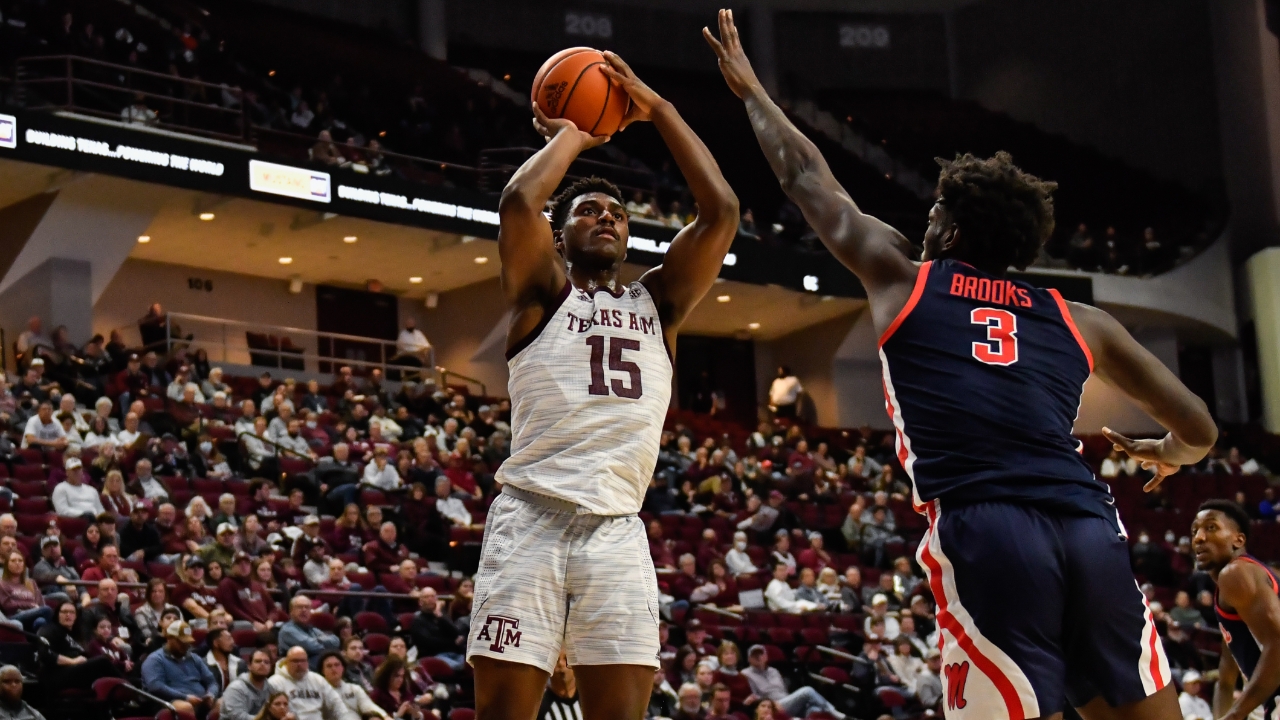 Buzz Williams
Coleman & Radford
Texas A&M Basketball
Coleman's big night leads the Aggies to a 67-51 victory over the Rebels
---
The Aggies went off-script on Tuesday night.
Once again, they built a big lead, but this time, they never relinquished it in a 67-51 Southeastern Conference basketball victory over Ole Miss at Reed Arena.
In previous SEC wins over Georgia and Arkansas, Texas A&M (14-2, 3-0) watched 17-point second-half leads evaporate and had to scratch out hard-fought victories.
The Aggies held a 58-40 lead over Ole Miss with seven-and-a-half minutes to play but never allowed the margin to dip under 15 en route to posting their seventh consecutive win.
"I think it was a team effort of energy," sophomore forward Henry Coleman III said. "The first half, I thought the team lacked it. The second half, I think we turned it on. We just have to do that consistently."
The Aggies in general — and Coleman, in particular — were not bad in the second half.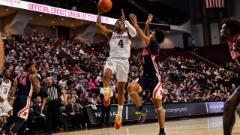 Jamie Maury, TexAgs
Coleman scored 14 of his game-high 18 points in the first half to give A&M a 33-29 edge at halftime.
The Aggies began pulling away early in the second half. Tyrece Radford, who finished with 12 points, hit a trey and a put-back to launch a 14-1 run that boosted A&M to a 53-38 cushion with 13:26 remaining.
Three minutes later, A&M's margin swelled to 18 points when Wade Taylor IV drilled a 3-pointer from the left wing.
Taylor and Quenton Jackson each had nine points. Marcus Williams only scored five but dished out eight assists.
Ole Miss was led by guard Matthew Murrell with 11 points and Daeshun Ruffin with 10. However, Ruffin did not score in the second half.
"We talked at halftime (that) we weren't playing terrible, but in order for us to have any chance for success, we have to be hard-playing, diving-on-the-floor, most-dapped of any team in the country," coach Buzz Williams said. "We were just not awful, but not super excited.
"I thought we started the second half better, but as we started getting closer to the first media timeout, I think we had three of our six turnovers in the second half almost back-to-back.
"I thought from that point forward, from an offensive standpoint, we executed at a much higher rate and didn't turn it over, which helped the lead."
A&M thoroughly dominated the second half. Ole Miss shot just 31.8 percent (7 of 22), committed seven turnovers and managed just 13 rebounds — only two of which were on the offensive end.
Conversely, A&M shot 50 percent (14 of 28), had 16 rebounds and generally dictated play in the second half.
"I think we're still hungry. As a team, we can't dwell on this victory. We've got 24 hours to celebrate this. We won. Then it's the next team."
"We did a good job of guarding the ball and not getting into rotation," Williams said. "On the shot attempt, you could see all five of our guys doing their job on the glass. We weren't turning it over, and then we weren't allowing them second opportunities."
Indeed, the Aggies seemed to execute every aspect of their game plan.
They dominated inside, outscoring Ole Miss 42-24 in the paint. And as usual, the A&M bench outscored their counterpart, 22-9.
A&M even limited Ole Miss to a mere three points on second-chance points, a statistic in which the Aggies have often struggled.
That's impressive, but apparently not good enough. Ole Miss managed nine offensive boards, which Radford said was still too many.
"We could have done better on defensive rebounds," Radford said. "They got way too many offensive rebounds. We could have done better there. We try to get our guards to get more rebounds to help the bigs. I feel like that's the part we could have did better."
Radford isn't satisfied. No one else on the A&M bench is, either.
"I think we're still hungry," Coleman said. "As a team, we can't dwell on this victory. We've got 24 hours to celebrate this. We won. Then it's the next team. I think that's the mindset of this team. The model of this team. Just keep it going day by day."
Never miss the latest news from TexAgs!
Join our free email list