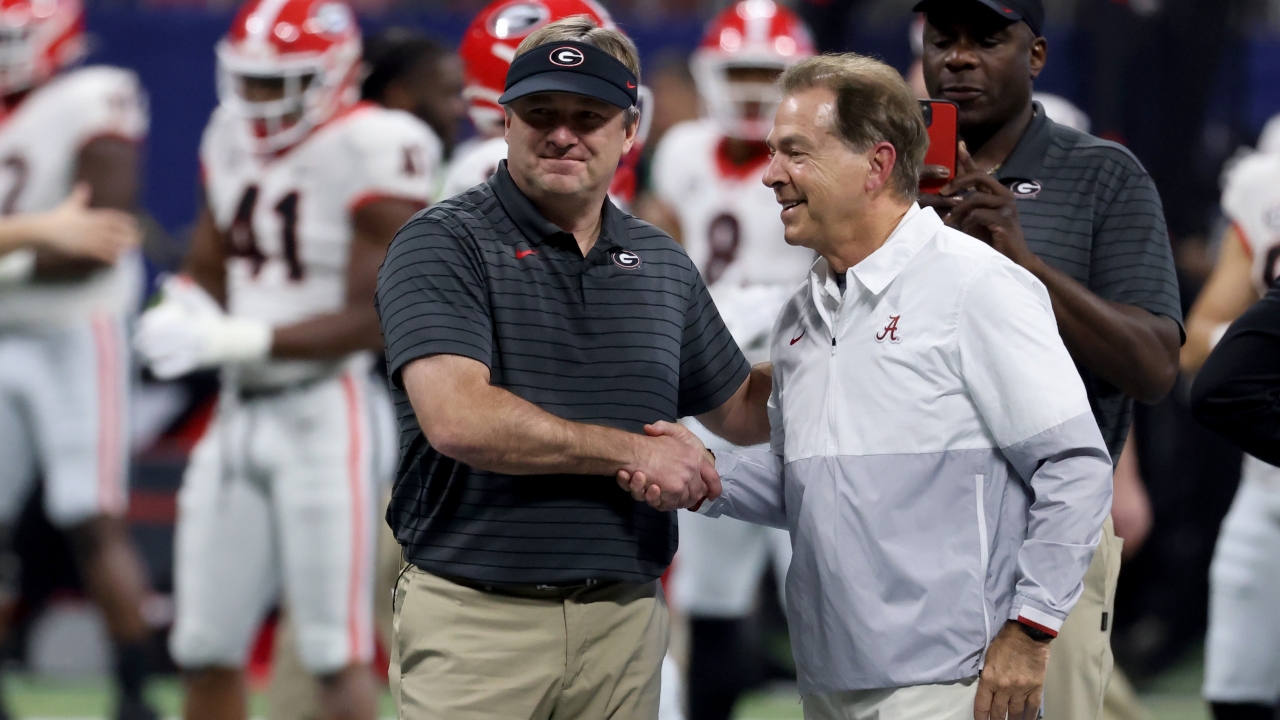 Photo by Jason Getz-USA TODAY Sports
Texas A&M Football
Chris Gordy from SportsTalk790 shares his thoughts on the SEC bowl season
---
Key notes from Chris Gordy interview
The demise of the SEC was greatly exaggerated early in the week. The conference started 0-5, but still had Alabama, Georgia and others to play, and they went and won games.

For anybody that wants to weigh Alabama and Georgia in the semifinals the same as Missouri playing in the Military Bowl, get out of here. The SEC is the only conference that does this and goes to the playoff and the national championship this often. It's incredible.

The SEC Championship Game was a one-game sample size. We should not overreact to that game. What we saw all year was Georgia dominating defensively and playing well enough on offense. Aidan Hutchinson is supposed to go No. 1 in the Draft, and Michigan didn't have a single sack in the game. Georgia dominated Michigan defensively.

I also wanted people to not buy into Alabama after the SEC Championship Game. I am not surprised that Georgia is the favorite for the national championship. Kudos to Alabama for winning the game in Atlanta, but I think we will see a much different game from Georgia this time around. They didn't sack Bryce Young once in the SEC title game, but I think that changes in the title game.

Harold Perkins‍' was an interesting recruitment. There was a report about a week ago that Brian Kelly and LSU never even contacted him. The foundation was already laid, and LSU said they were too late. Perkins to A&M was already a done deal in the minds of LSU staffers.

I will be sending in my credential request to cover spring and summer camps in College Station because I want to see these recruits in person. Texas A&M is losing a lot, but I think they could still be pretty good with all of these young players. It's incredible what Jimbo Fisher is laying out in Aggieland for these next few seasons.

Max Johnson is a tough kid. He was not supposed to play last year. Myles Brennan was hurt, and then TJ Finley was inconsistent. Again, Brennan got hurt this year. In a perfect world, Johnson wouldn't have played these last two years, but he has the experience now. He has been inconsistent at times, but when he's on the money, as you saw late in the A&M game, he's the guy. I think he's a guy that can come in and compete with Haynes King and Conner Weigman‍. I don't think he'll win the job. I think King will ultimately win it, but competition makes every better.

A&M absolutely should have won that LSU game. It's still mindboggling. In the aftermath, it leaves everyone who didn't watch with the "8-4" comments. If you go back and watch those games, this was a much better team than 8-4. I had picked them to win the SEC West.

Texas Tech's win over Mississippi State was surprising because all the talk was about Mike Leach enacting revenge on his former employer. I thought MSU would put on a show. Credit Texas Tech's defense and those are words you don't say very much. To lose like that in a bowl game, those folks in Starkville are not going to be happy with it. I think Leach has done a good job of recruiting there.

I think Ole Miss wins the Sugar Bowl if Matt Corral plays the full game. It would've been close, but Baylor leaned on their running game. They barely got over 100 yards. Once Corral left, you could feel the energy in the Superdome deflate. It's disappointing and sparks the debate on whether or not guys should opt out. If kids want to play, let them play. If they want to opt out, let them opt out. It's what's best for the kid and his future. I don't think there is a right or wrong answer to deciding to play in bowl games.

Somebody has to be bad and lose in the SEC West. Florida and LSU were down this year. They will both get better. Arkansas thrived this year despite having the toughest schedule in the country. They had some monster wins, and beating Penn State at the end of the year is a big win. To finish 9-4 is superb for Sam Pittman, but my question is how does he get better from there? Can he do better than nine wins at Arkansas? Looking across the SEC West, it's just so difficult.

Pittman is always going to stress the tenches, and as long as they're good along the lines, they'll be fine. If Arkansas is going to get better, KJ Jefferson has to improve as a passer. You'll see him ranked highly as a returning quarterback in the SEC, but he has to be better if they're going to improve next season.

I have a buddy who is a big Tennessee fan that wants the Shane Beamer hype to stop. Beamer is great with the media, so they hype him up. Still, that was a great win over North Carolina. What they were able to do with the running game was impressive. I think Spencer Rattler is going to be a gamechanger next year at South Carolina. If they can get that defense just a little bit better, I think the offense will be fine.
Never miss the latest news from TexAgs!
Join our free email list