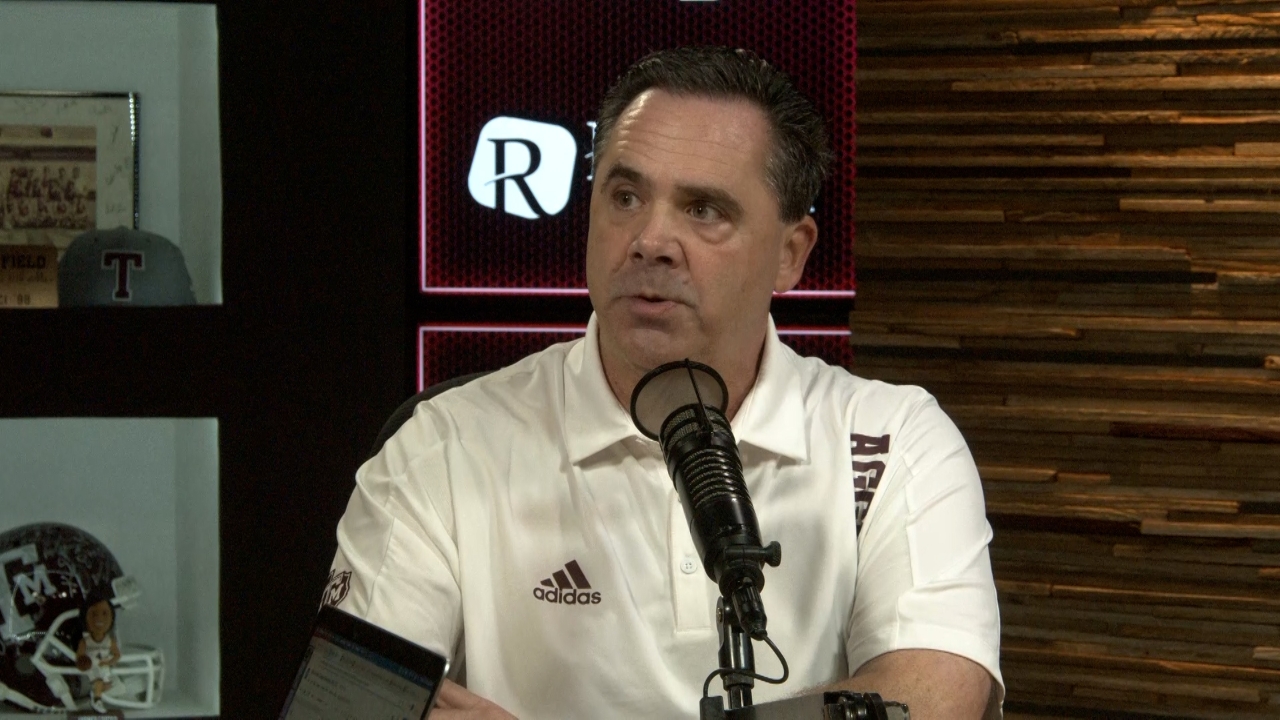 Texas A&M Football
Voice of the Aggies: Talking A&M football, hoops with Andrew Monaco
---
Key notes from Andrew Monaco interview
It doesn't stop. We had some downtime after the Northwestern State basketball game. We got to have some time with the family, and I always enjoy that. We have a basketball game on Wednesday night and some downtime before conference play begins next week because there is no trip to Jacksonville for the bowl game. They're just a week away from being in Athens to start SEC play.

The disappointing part of the Gator Bowl cancellation was that I wanted to see this team one more time for some punctuation on this season, and I was hoping for it to be an exclamation point. The announcement was a downer.

I think every team on this campus has benefitted from the atmosphere at Kyle Field all season long. Alabama was great. Auburn might have been even better. Even in the loss to Mississippi State, the 12th Man tried to will him to victory.

The disappointment was that you didn't get to see Haynes King play. You don't get to see Devon Acahne at running back. There were some opt-outs, but I wanted to see who was next on the defensive line. It would've been nice to see them play together for one more time.

The narrative was that A&M would never get Jimbo Fisher. When they got him, Fisher suddenly became "not that good." A&M will always have to prove to the national media that they belong. The media can't stand when a new team is trying to horn in, and when A&M is No. 1 in recruiting, they try to figure out some outside reason why they're there. If you've been paying attention to what Jimbo Fisher is building, you should've seen this coming. Is there a national bias? I don't know. I can tell you that it's exciting to see it grow.

That first year under Jimbo, I give so much credit to those players for buying into the culture. Then that was a recruiting class that Jimbo kept together too. It's not just Jimbo and the staff getting players. It's now players recruiting other players, and that's the closer. When the players say to come here because we have something special, that's the ultimate sales point.

With the bowl games, it has become ESPN programming, and I don't say that in a bad way. Teams want to get into a bowl so badly because you get extra practices. What if we just gave teams the extra practices at the end of the season? The coaches would get what they want. I don't know how to fix the opt-outs. For them, going to the next level is what they've worked for. It's an investment in themselves. When your teammates are OK with your opt-outs, then I'm OK with it.

The expanded playoff may change all of this. Maybe you won't see as many opt-outs because it's affecting 12 schools. That still doesn't solve the bowl problem. When you get to the CFP rankings, the rest of college football doesn't matter. It becomes about the top four or the top eight. Sure, November is the most exciting time in college football, but you only focus on a small number of schools. Do we shrink the number of bowl games? I don't know, but I do know that money talks. That's programming dollars for ESPN.

There is no reason to rush with coaching hires. Jimbo has said that he doesn't bring coaches here to stay for life. He wants them to move on eventually. We know from Jimbo Fisher's track record that he's always going to hire somebody good to fill those positions. I would have to think there is a lot of interest from the outside in the open assistant coaching positions at Texas A&M.

I watched the Oregon State win a second time. It was impressive to see how fluid the Aggies were on offensive and defense. I liked how the defense became offense for the majority of the 40 minutes. This team also knows they have something special on the defensive end, and the defense triggers the offense. You saw that in the win over Notre Dame. When they knew they had the Irish, all bets were off. You just have to fix the issues to where you don't find yourself down 10 points. The details will matter.

To get the game reps last night, you practice what to do after the made free throw. What defense do you get in? You have to see it on the fly, and Buzz Williams was upset with the win over Northwestern State. They're focusing on the details.

The Aggies were gone for four days for Christmas, and they came back to play Dallas Christian. It was good to get them back on the court and off break last night.

Hassan Diarra is not the same player as he was last year. He's better. Quenton Jackson is more polished. Andre Gordon and Hayden Hefner are different guys. I love Tyrece Radford. Henry Coleman and Marcus Williams are finding their roles. Manny Obaseki and Wade Taylor IV do not look like freshmen. They have composure, and that's exciting. Also, watch the bench. You cannot fake the joy they have for one another.

This team is always going to compete because they compete against one another in practice. That's what is raising their game in actual games. When you raise the stakes with conference play, the standard changes. The goal is getting an NCAA bid, and that starts vs. Georgia.
Never miss the latest news from TexAgs!
Join our free email list