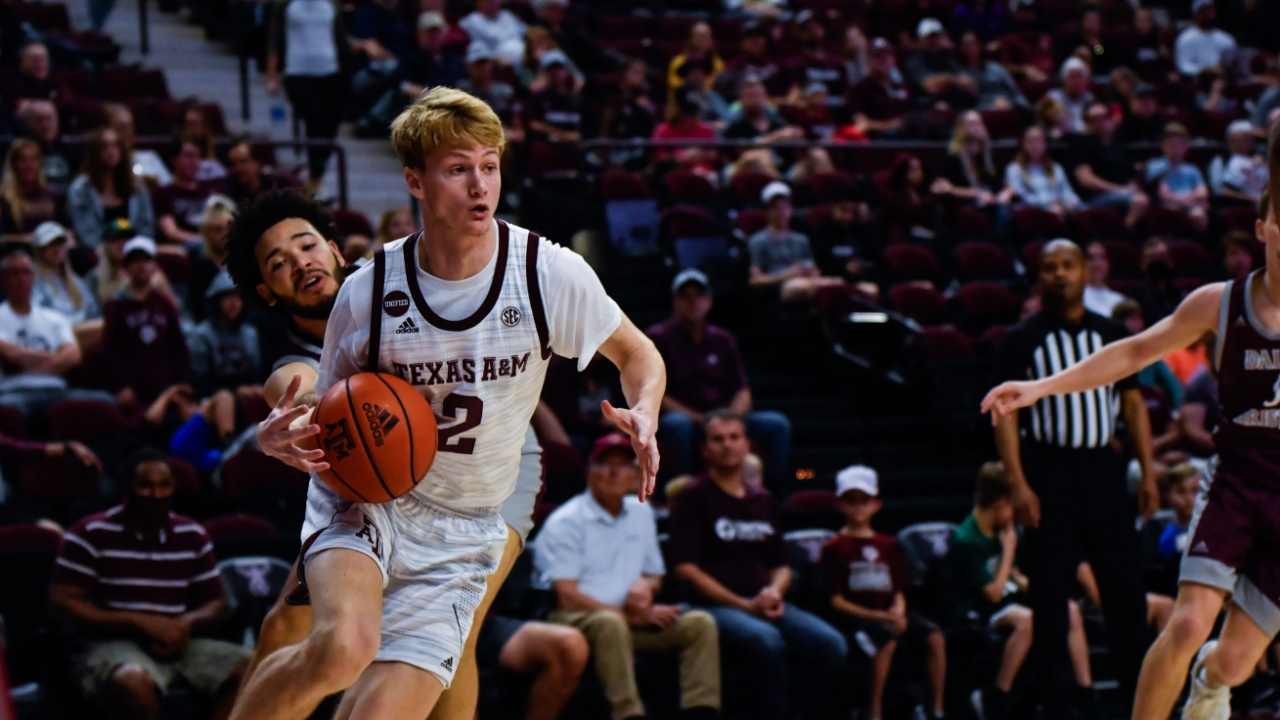 Buzz Williams
Janecek & Hefner
Texas A&M Basketball
Season-high point total propels Texas A&M past Dallas Christian, 102-52
---
Dominance, as expected.
Texas A&M earned its tenth victory of the season on Monday night, defeating Dallas Christian, 102-52, at Reed Arena in College Station. A&M's superior size, speed and overall athleticism overwhelmed the Crusaders, Division II members of the National Christian College Athletics Association.
The win will not impact any official NCAA metrics such as NET or RPI.
Dallas Christian was added to the Aggies' schedule just 10 days ago, on Dec. 17, to give the Maroon & White more "game reps" following the cancellation of a Dec. 14 meeting with Tulane.
"Thankful that all of this worked out from a logistical standpoint," A&M head coach Buzz Williams said. "Losing the Tulane game, we need the game rep, regardless of opponent."
"We got to work on a lot of things that we needed to work on in a game setting. It benefits you more, regardless of the opponent."
The outcome was never in doubt as A&M led by as many as 38 points in the first half, with the advantage swelling to as large as 59.
"We got to work on a lot of things that we needed to work on in a game setting," guard Hayden Hefner said. "It benefits you more, regardless of the opponent."
As expected, A&M dominated in virtually every statistic, including a 45-27 rebounding advantage. The Aggies forced 33 turnovers and grabbed 24 offensive rebounds while only coughing up 12 turnovers and 10 second-chance opportunities to the Crusaders.
"We wanted to focus on limiting turnovers and rebounding and keeping them off the offensive glass," walk-on forward Aaron Janecek said. "I thought we didn't do as good as we would've liked, but we'll keep improving."
Making the most of the extra reps, 14 different Aggies saw action, with each scoring at least two points as Janecek scored the first two points of his collegiate career.
"We have a lot of guys that can play, really everybody," Hefner said. "Any chance you get to go in the game, you have to do the right things, the little details."
Hassan Diarra led all scorers with 16 points as four others reached double-digits. Quenton Jackson contributed 13 points. Aaron Cash and Marcus Williams each scored 11. Hefner poured in 10 of his own.
A&M's 102 points are the most in the Buzz Williams era. It's the first time the Aggies eclipsed the century mark since scoring 113 vs. Savannah State on Dec. 13, 2017. The 50-point victory margin is the fifth-largest in program history.
Through 12 games, the Aggies are now 10-2 with SEC play on the horizon. Marked improvement is obvious over last year's 8-16 squad.
"I do think we took steps in a positive way," Buzz Williams said.
Central Arkansas ventures to College Station on Wednesday for the Aggies' final non-conference game of the 2021-22 slate. Tip-off is set for 7:00 p.m. CT at Reed Arena.
Never miss the latest news from TexAgs!
Join our free email list