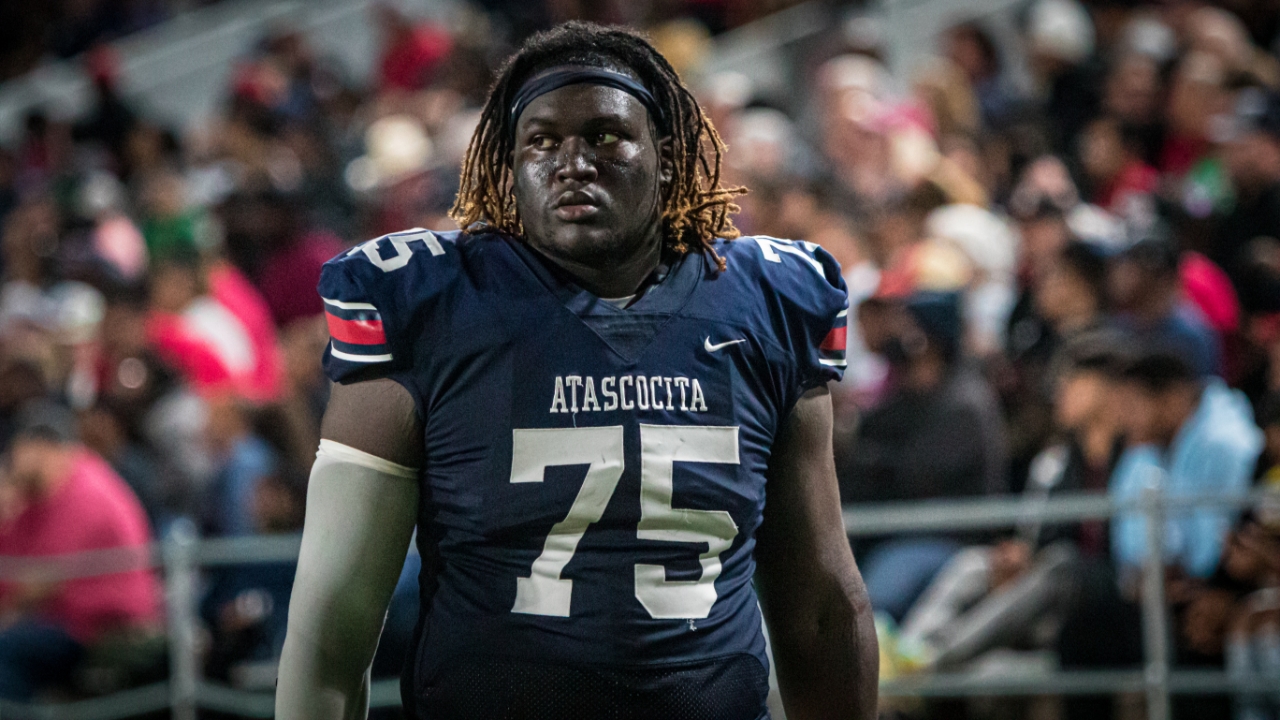 Photo by Justin Schoenemann
Texas A&M Football
Untamed: Atascocita's Kam Dewberry ready to give it his all at Texas A&M
---
Even before Kam Dewberry had signed with Texas A&M, he was getting out his 'NIL' message.
And by 'NIL,' he meant: Nasty Intimidating Lineman.
Dozens of Dewberry's family and friends attended his signing ceremony on Wednesday at Humble's Atascocita High School, clad in black T-shirts with "UNTAMED" emblazoned across the chest and "STAY DANGEROUS" on the back.
The message Dewberry was sending wasn't subtle.
"The 'untamed' thing is a style of play, how you play. Your mentality of everything," the 6-foot-4, 324-pound Dewberry said. "Always stay dangerous. Always be hostile."
Well, maybe not always…
"He just plays untamed… That's his deal he's working with," said D'Andre Wilson, Dewberry's father. "It's just a culture; what he's trying to bring to the game. He wants to come and play real aggressive, real physical. We're going to roll with it.
"He's like my little brother. When he needed anything or needed to talk to me, he can always come to me. He called me to pick my mind."
"He's definitely dangerous, only on the field. Off the field, (he's) a gentle giant. Just like Kenyon Green. That's his big brother. That's the guy he looks up to. Same deal. They're getting a replica of Kenyon Green."
Aggies certainly hope so.
Of course, Green is Texas A&M's two-time All-American offensive lineman.
Green is also an Atascocita alum and Dewberry's mentor.
"He's like my little brother," said Green, who attended the signing ceremony. "When he needed anything or needed to talk to me, he can always come to me. He called me to pick my mind."
Green offered advice but never pushed Dewberry to sign with A&M. It wasn't necessary.
Dewberry's mother, Chelisse Wilson, said Kam always liked A&M. In fact, two months ago, she felt Kam would sign with A&M.
Had she shared that information, it would have eased the angst of a lot of Aggies, who coveted the athletic four-star prospect that's rated among the nation's top-100 prospects regardless of position. He's literally a big part of A&M's class, which is ranked No. 1 in the country.
"He always knew where he wanted to go," Chelisse said. "At the beginning, it was this school and that school, but in his heart, he knew where he wanted to go."
D'Andre wanted him at A&M, too. He played defensive line for an Aggie — Burnis Simon — at Aldine Nimitz High School. He had a lot of teammates there that became Aggies.
"I've been a fan of A&M for the longest," he said. "Most of my high school teammates —Jason Glenn, Dante Hall, Fred Spiller — all played at A&M. I've always been a fan.
"I'm just happy that Kam is going to be able to live out his dream and play some SEC ball and get after it."
Kam wasn't necessarily born to be an SEC lineman. Chelisse said he weighed just seven pounds at birth.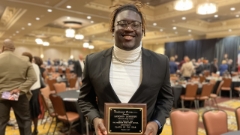 TexAgs
But then he grew. And grew. And kept growing.
"In kindergarten, you could kind of see he was a little taller than the other kids," she said. "Then, in third grade, in fifth grade, you could see this is how it's going to be."
Before long, Kam and D'Andre — who still looks like he could play a few snaps — were mixing it up in the yard. D'Andre was good enough to play at Howard Payne University, but he admits he wasn't good enough to beat Kam.
"I tried to get out there, mess with him a little bit, but that dude's got a little too strong for me now," D'Andre said. "So I don't mess with him anymore."
Few are willing to mess with Dewberry. What's the point? In most cases, it would be futile anyway.
Dewberry is an Under Armour All-American. He's been selected to play in the Polynesian Bowl All-Star Game. He was a finalist for the Houston Touchdown Club's Offensive Player of the Year — quite an accomplishment for a lineman.
"I'm going to give it my all," Dewberry vowed. "You've got a guy that's going to come hard every day, every night. Just give it his all every single day."
And, of course, he'll be untamed and stay dangerous.
Never miss the latest news from TexAgs!
Join our free email list
PRESENTED BY