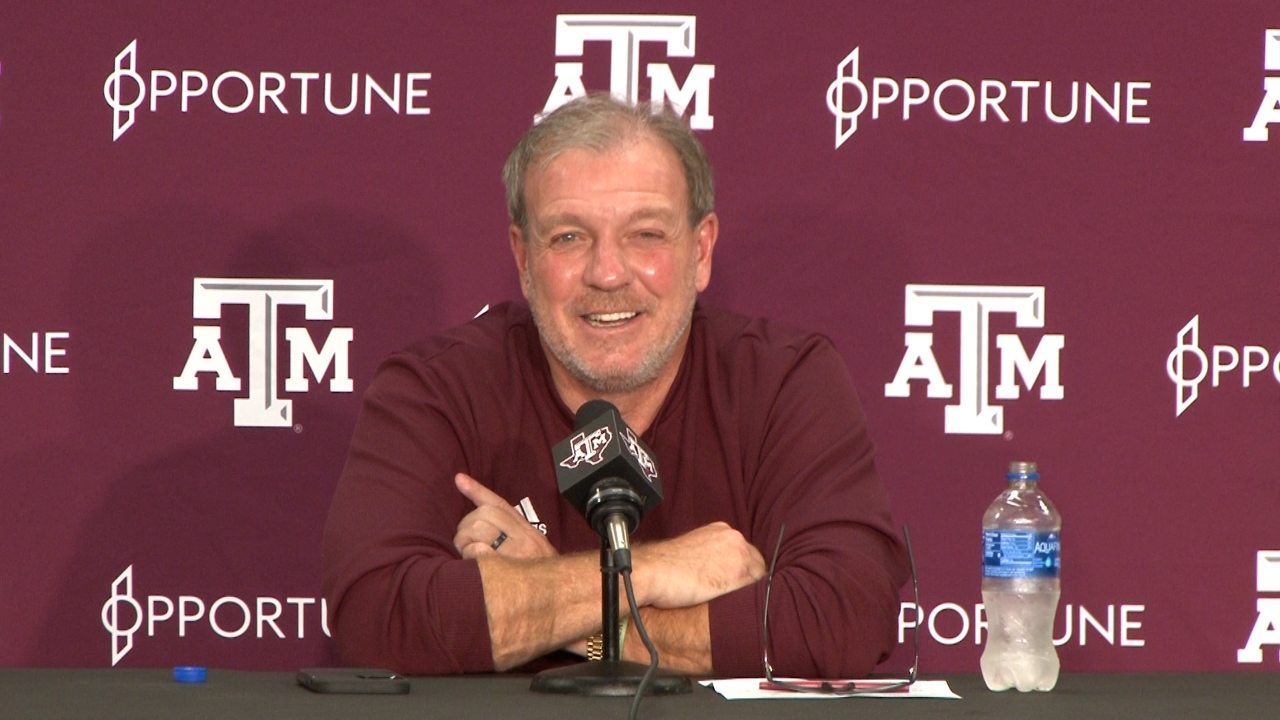 Texas A&M Football
Press Conference: Jimbo Fisher discusses 2022 class on Signing Day
---
Texas A&M currently has 22 signees in the class of 2022 with a few more on the way as the Aggies close in on signing the No. 1 class in the country. Jimbo Fisher spoke to the media on Wednesday afternoon about the current group of signees.
---
The following are live, paraphrased notes from Jimbo Fisher's Wednesday afternoon media availability:
The day is not over. We have quite a few guys we're waiting on. We've hit a lot of needs with some great players. We did a great job in Texas. Our assistant coaches and our recruiting staff led by Marshall Malchow have done a great job of keeping the lines of communication open. Every time the kids come here, they see what A&M can be, what they see of themselves in the future as an athlete and a student. It's a tremendous place to sell.

We have five or six guys left that we can't talk about. We're getting everything across the board. Very happy. Hopefully, we can develop these guys to get to where we need to be. Anxious for the next couple of hours.

NIL has been going on for a long time, but it hasn't been above board. It does affect things because the others don't have the advantages they used to have. You can't promise it. You can only vouch off the players that have it. Telling a kid they're getting a NIL deal is illegal. The transfer portal is a big part of it. It's going to affect your roster inside and out. Whether it's good, bad or indifferent, it's all part of the process now.

Tight ends that can play like receivers create mismatches. We got a lot of athleticism, diversity and ball skills. They're hard matchups.

You have to have three quarterbacks. We have two. Two of them should have been hurt this year, and it'll be interesting to see how we fill this need.

I've known Jake Johnson‍ since he was in the eighth grade. I have tremendous respect for his dad, Brad. Very happy to have his son.

The rest of our staff did a great job even when Mike Elko took a head job. We didn't lose anybody. It shows where we're going and the future.

Little guys on the line get hurt. It's hard to play like that. The thing we didn't give up is athleticism. They're still tremendous athletes. You have to have those guys on both sides of the ball, and if you don't, it'll be a long Saturday.

The people see what we're doing and where we're going. We need to finish games. The players see where we're going. You can live in vision or circumstance. We're living in vision. It's right there, and we have to finish it.

I'm extremely happy for Mike Elko. Tyler Santucci will call the bowl game. I think he's a heck of a young coach. Our players are all doing a great job. We'll make an additional hire in the future.

You have to have guys in your class to be bell cows. Bobby Taylor‍ was a huge part of our class. Players understand you have to have a lot of players to win. Local players started going to get great guys from across the country. Current players have to tell the recruits as well. Those guys did a great job.

The year I won the national title in 2013, I lost six coaches before that. The system doesn't change. The defensive coordinators aren't bringing in new schemes. The system and assistants are staying the same, and the players saw that.

Conner Weigman's physical ability is there. Intelligent competitor. Raises the level of his teammates. He loves to play ball. He's a football junkie. He can run like heck and make every throw. That's my guy. I think he's the best guy out there. Period. He's going to play baseball here.

I love two-sport athletes. You learn how to compete in different ways. Baseball is a game of failure. They don't get frustrated. Track is just one race. Basketball teaches you a lot. I think football encompasses all of them, and playing multiple sports can be very beneficial.

LeVeon Moss‍ is a tough son of a gun. He runs a 10.4 100 meters. He can catch the ball and run over you. He's a tough sucker. I love everything about him.

You have to expand your footprint. You have to go to where the best players are. If you don't build your brand, you'll be left behind. We're in a global world right now, but you have to keep your home base. We'll be in eight or nine states and internationally when this class is done.

Zach Calzada did a tremendous job. Won big games. We wanted him to be here. He competed with injuries. He did it with guys being hurt. He came in and had amazing games. I think he'll have a heck of a career, and I wish him nothing but the best. He hasn't had surgery yet. I think he will have it, but I'm not for sure. He's a competitive, tough son of a gun.

Blake Bost will be our guy for the Gator Bowl. Haynes King has gotten reps in practice.

The Alabama game showed what we're capable of doing. They saw the atmosphere of the 12th Man. This is the best place to play in college football. They see the vision of what we have. They saw what we did the year before with the No. 4 finish. They see us in that realm.

Walter Nolen‍ is the skinniest 335-pound guy I know. All those defensive linemen, when they put their hands in the dirt, they make a difference. You see the push, and when they don't make a play, they take up two or three blockers and push the pocket. They disrupt. Nolen is a tremendous talent and a tremendous player.

Jarred Kerr‍ shows that we want to keep the local kids here. He can ball. He's very bright. He's a natural football player, and I think he'll have a great career here.

The guys we have with Noah Thomas‍ and Chris Marshall‍ are big and athletic. Noah had 21 touchdowns. Chris had 13 and can absolutely go on the basketball court. Hopefully, we'll continue to add to the class.

The opt-outs are here to stay. If you're a high pick, I get it. I think the more you play, the better. Teams have their own opinion. Those guys that opted out have done a tremendous job for us. It's just part of what we're into now, and it's another reason I think the playoff should expand.

I don't remember signing day or a recruiting class being easy. Nothing about football is easy. It's hard work, dedication. It's all-encompassing. This is a competitive world. If you want to get the top players, that's a different animal.

These are hard days, but they're exciting because I see the joy on their faces. It's one of the biggest days for these kids, and sometimes it's the hardest decision they've ever had to make. It's very rewarding. I remember all the kids and the first time I met them. These days are very special.

The guys that put the hand in the dirt change the game. You cannot have enough of them. Competition is what it's about. You want to be deep everywhere. If you don't have competition, somebody will take your job. The best teams have competition. You can't have enough linemen. In the end, they all play.

The Gator Bowl and a Florida bowl are great bowls to be in. I'm excited to see our young guys play. You're in a bowl game. You've done some good things. We need to play well, and I'm very excited.

We'll find out how this signing class plays. We need to play. Hunting dogs are all great with an excellent pedigree, but you have to see them hunt.
Never miss the latest news from TexAgs!
Join our free email list