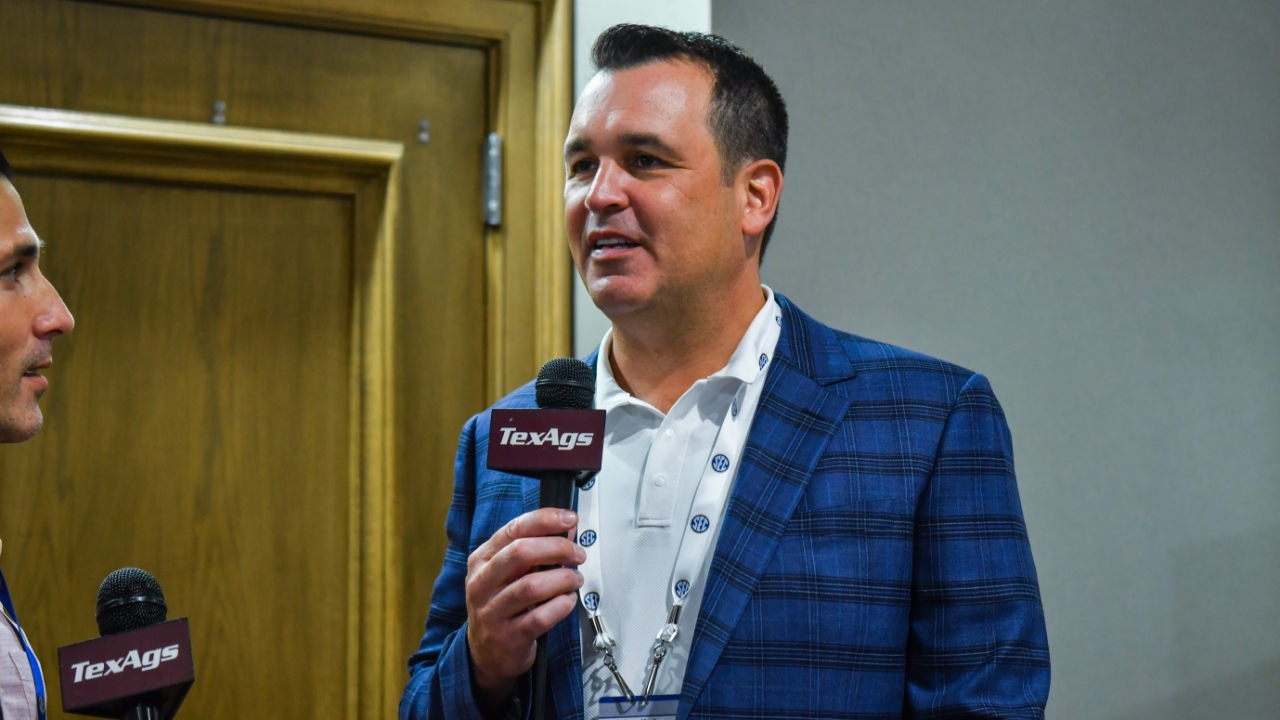 Photo by Jamie Maury, TexAgs
Texas A&M Football
Hart: Duke is a 'great' job for former Texas A&M DC Mike Elko
---
Key notes from Tom Hart interview
I was in Kansas to see the Jayhawks beatdown Missouri and turned that into a big sports weekend as I saw the Chiefs dismantle the Raiders in Kansas City. It seems like we've come off a college football high, but we've jumped right into the college hoops. The NFL has also taken over, so it's not a slow time in the sports calendar.

It was interesting to see Mike Elko go to Duke. He has been great with us since he got to A&M and was always very transparent about opportunities and what he was trying to accomplish at A&M. After his first year, he interviewed for the Temple job and ultimately took himself out of it. With the LSU game this year, they were trying to prepare for a game but also figuring out his future. We weren't even talking specifically about him, but I asked how he balanced it. He told me he focuses on what's in front of him. I didn't know Duke would be an option for him, but I think it's a great job for him. I think he could do a fantastic job there, and I'm excited for him.

The timing of Elko's move is OK for Texas A&M. It didn't put you in a tough spot. I haven't sat down and compiled a list, but Jimbo will get whoever he wants. He's offensive-minded enough, but Jimbo's going to hire a guy that he lets do their job. Jimbo lets the defense do what they want to do, and that's definitely appealing if you're a defensive coordinator. He'll have his pick, and I guess it will have to happen soon with signing day coming up.

Mike Elko is a great recruiter too. Were there kids committed to the idea of playing defense for Mike Elko? The biggest question that kids are thinking — if you're a top recruit — is whether or not a guy can get you to Sunday. Elko could do that, and whoever A&M is going to bring in will be of a similar caliber.

If more of these guys on A&M's defensive line opt out, does Wake Forest Sam Hartman decide that he's OK playing in this game? He needs every opportunity he can get to prepare for the NFL Draft. I'm not sure what Wake's offense would look with his backup. What does he need to prove as he goes to the next level is a big question.

It's disappointing from an A&M perspective to see guys opt out, but it's not a national championship or a national semifinal. They have their own professional goals, and they have to protect themselves and get ready. I can respect that, but I still don't like it.

When Michigan re-did Jim Harbaugh's contract is when this started. He knew he had to change his staff, and that's hard for established coaches to accept. That was the difference. They got so much younger to have a successful year. He's deserving of coach of the year, and that Ohio State game could be a turning point for them. Good for Harbaugh. Coach of the Year, for me, is usually the guy who performed the best with the lowest expectations.

You could be critical of Kirby Smart with his handling of the quarterback situation, but coaches deserve credit for the recruiting classes he has brought in. Kirby Smart has brought in classes that can win at an elite level.

Time will tell, but Auburn has to figure out some answers. National writers consistently list Bryan Harsin as a candidate at other jobs, but he has a job and has a contract. There is so much stuff about his vaccination status and what the state of Alabama is going to do. There is so much smoke there. If he will not be there next year, it would be a major whiff on that hire as they tried to replace Gus Malzahn and take a step up. It was obvious that Bo Nix was not as good of a fit with this new coaching staff. Tank Bigsby leaving is not a good sign at all.
Never miss the latest news from TexAgs!
Join our free email list