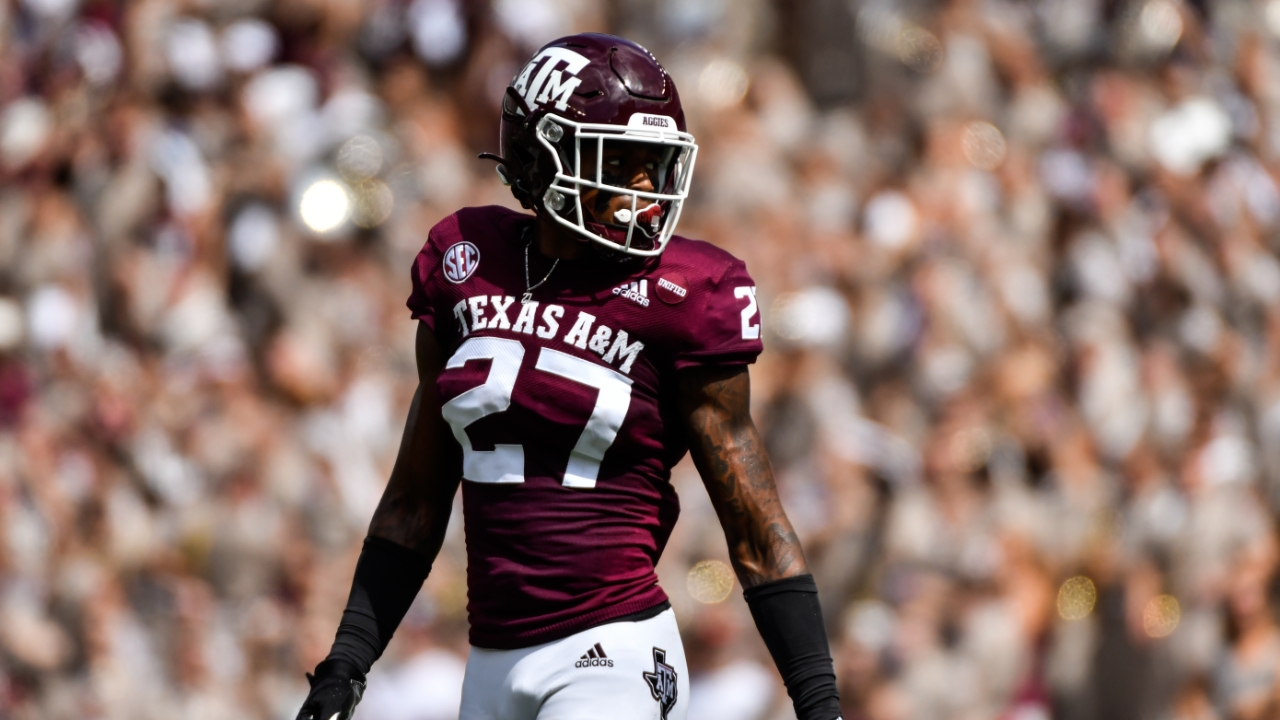 Jimbo Fisher
Jaylon Jones
Antonio Johnson
Jalen Preston
Texas A&M Football
Knock 'Em Out, 27: Aggies hope for more hard hits from Antonio Johnson & Co.
---
Should Texas A&M sophomore defensive back Antonio Johnson need a name for his Name, Image and Likeness brand, perhaps he can borrow from teammate Leon O'Neal.
O'Neal's brand is "Wake 'em up, 9."
Johnson should consider "Knock 'em out, 27."
That would be wholly appropriate following Johnson's jarring sack in a 52-3 victory over Prairie View on Saturday.
Johnson, who wears #27, blitzed from the left side and drilled quarterback Jawon Pass in the chest. The jolt jarred the football loose. Linebacker Aaron Hansford picked up the fumble and ran 17 yards for a touchdown.
"He didn't hit with the crown of his helmet. Stayed focused in the moment to allow the play to be as good as it was. It was a very pretty tackle."
"The thing I was most proud of the hit (is) not only did it cause a fumble and we picked it up and scored, but how (Johnson) tackled the guy," A&M coach Jimbo Fisher said on Monday. "He didn't get careless. He made a clean football tackle. Put his shoulder in there, kept his head up, stepped on the guy's toes, hit on the rise. Did all the things you've got to do.
"He didn't try to headshot the guy. He didn't hit with the crown of his helmet. Stayed focused in the moment to allow the play to be as good as it was. It was a very pretty tackle."
Johnson admired it, too.
"I've had some big hits in my career, but not on a big stage like that," Johnson said.
Johnson was wearing a black hoodie with his name printed across the front. It is part of his apparel line in his NIL arrangement with C.C Creations.
When told the play stirred memories of Quentin Coryatt's legendary strike on TCU receiver Kyle McPherson 30 years ago, Johnson appeared puzzled.
He had no knowledge of "The Hit," as it's known in Texas A&M lore.
When shown a video of Coryatt's hit, Johnson's eyes widened. "Oh … he's DONE," Johnson said.
Later, he asked: "Did (Coryatt) get a penalty?"
Coryatt did not. Neither did Johnson. Nor did he deserve one.
The No. 14 Aggies (8-3, 4-3) hope for more big hits by Johnson when they face LSU (5-6, 2-5) on Saturday night in Baton Rouge.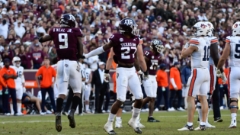 Jamie Maury, TexAgs
LSU is ranked 13th in the SEC in sacks allowed with 32. All but 10 of those sacks were surrendered in the Tigers' six losses.
Alabama and Ole Miss sacked LSU quarterbacks five times. Kentucky got four. Auburn and Arkansas had three apiece. UCLA got two.
Of course, Johnson or anyone else making a big hit must be careful.
These days, any hard collision seems to draw penalty flags. Often players are flagged for targeting, even if they do not make helmet-to-helmet contact or lead with the crown of the helmet.
Johnson admitted he is sometimes hesitant to deliver a big hit for fear of a penalty.
"It goes through my head a lot, against quarterbacks especially and defenseless receivers," he said. "When you're in certain positions, and they come across the middle, you just have to take a good target and make sure your head's not in it. We practice that a lot in practice.
"(Coach Elko) does a good job with us. Our target angle is low, and our head is up."
That's how you knock 'em out … 27.
Notes
• Fisher said receivers Ainias Smith and Caleb Chapman are ready to play against LSU. Both were taken out of the Prairie View game early. Chapman reportedly had some kind of lower leg injury.
Never miss the latest news from TexAgs!
Join our free email list
PRESENTED BY