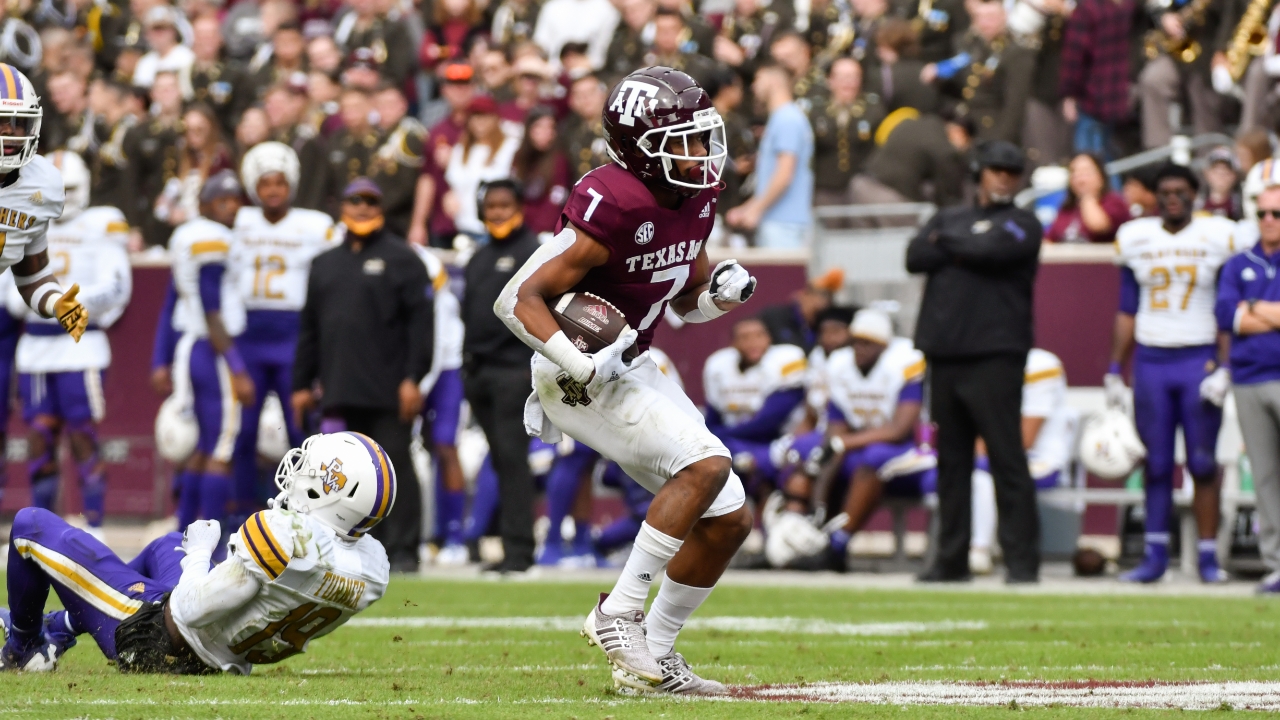 Jimbo Fisher
Leon O'Neal Jr.
Seth Small
Jahmir Johnson
Texas A&M Football
No. 16 Aggies showcase youth in efficiently dominant win over PVAMU, 52-3
---
Prairie View's defense was like a deer in the headlights because of a Moose in the highlights.
Second-year receiver Muhsin "Moose" Muhammad III scored a couple of highlight-reel touchdowns on Saturday to pace No. 16 Texas A&M (8-3) in a 52-3 college football victory over Prairie View.
Muhammad led a Texas A&M youth movement that gave the Kyle Field crowd of 98,251 a look ahead.
Normally, looking ahead is a cardinal sin in sports, but Texas A&M's transgression could be easily forgiven because the Aggies were looking through a telescope.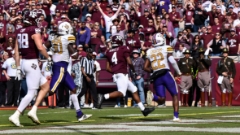 Jamie Maury, TexAgs
There was no evidence the Aggies were looking ahead to next week's SEC clash with LSU. However, the extensive use of Muhammad, Amari Daniels, Yulkeith Brown, LJ Johnson Jr., Deuce Harmon, Jardin Gilbert and others indicated the Aggies were looking well into the future.
And that future looked bright, even if Prairie View was overmatched.
"Any time you go on the field and the numbers on the scoreboard are for real, it matters," Texas A&M coach Jimbo Fisher said. "I don't care who you play. When the numbers on the scoreboard are real, it affects people. (Muhammad) went out there in that environment and played tremendously. He did a great job."
He was not alone.
The Aggies aimed to work out some kinks from last week's disappointing 29-19 loss to Ole Miss. They were not, however, working to prepare for next week's clash.
The only purple-and-gold opponent that concerned the Aggies was Prairie View.
"You live in the moment," said senior safety Leon O'Neal, who was making his final appearance at Kyle Field. "That's kind of what we preached all week. We didn't look ahead like 'LSU, LSU, LSU' and overlook PV.
"That's not how we do things around here. We focused on Prairie View."
A dominant win came into focus almost immediately.
Texas A&M's Jayden Peevy and Adarious Jones posted back-to-back sacks of Prairie View quarterback Jawan Pass to sabotage the Panthers' opening series.
"We didn't look ahead like 'LSU, LSU, LSU' and overlook PV. That's not how we do things around here. We focused on Prairie View."
Following a punt, the Aggies marched for an 11-yard Isaiah Spiller touchdown. Devon Ahcane scored on a 1-yard run on A&M's next series.
Then, Pass fumbled when sacked by Antonio Johnson. Aaron Hansford, another senior in his Kyle Field finale, picked up the football and dashed 17 yards into the endzone.
A Seth Small field goal gave A&M a 24-0 lead early in the second quarter. That kick enabled Small to set an A&M career scoring record with 368 points. He extended to 371 by the game's end.
The 24-point lead moved Fisher to rest some starters and see what their youthful backups could do. Turns out, what they could do was quite substantial.
Muhammad weaved through the Prairie View secondary to turn a short pass on third-and-six into a 33-yard touchdown.
The Aggies' next series started with Brown taking a reverse 45 yards. That set up another 1-yard Achane touchdown run for a 38-0 halftime lead.
A&M did not slow down in the third quarter. Three consecutive carries by Daniels netted 30 yards and put the Aggies at the Prairie View 30-yard line.
From there, quarterback Zach Calzada kept poise under pressure and lofted a perfect pass to Muhammad in the endzone for a 45-0 lead.
"He made an unbelievable throw to Moose," Fisher said of Calzada, who completed 10-of-14 passes for 150 yards. "We blew a protection up front. He gave ground. You saw that arm talent and ability. Moose ran a great route. That ball dropped in, right on the money."
Daniels added an 8-yard touchdown run to complete A&M's scoring. He and Spiller accounted for 140 of A&M'S 270 rushing yards. LJ Johnson Jr. had 60.
"Our guys went out and played well. Did what we're supposed to do, how we're supposed to do it."
Meanwhile, the A&M defense limited Prairie View to 154 yards of total offense. Forty came on one run. The Aggies had four sacks.
"Our guys went out and played well," Fisher said. "Did what we're supposed to do, how we're supposed to do it. Offense, defense, special teams.
"We were very efficient running the ball, throwing the ball in what we had to do. Very proud of the guys for bouncing back."
Well, the Aggies have not completely bounced back from the loss to Ole Miss. Dominating Prairie View is one thing. Winning in Baton Rouge next week is a much more difficult task.
"We're still not done," senior offensive tackle Jahmir Johnson said. "We've got a whole lot of football to play, and we're going to finish it."
Never miss the latest news from TexAgs!
Join our free email list