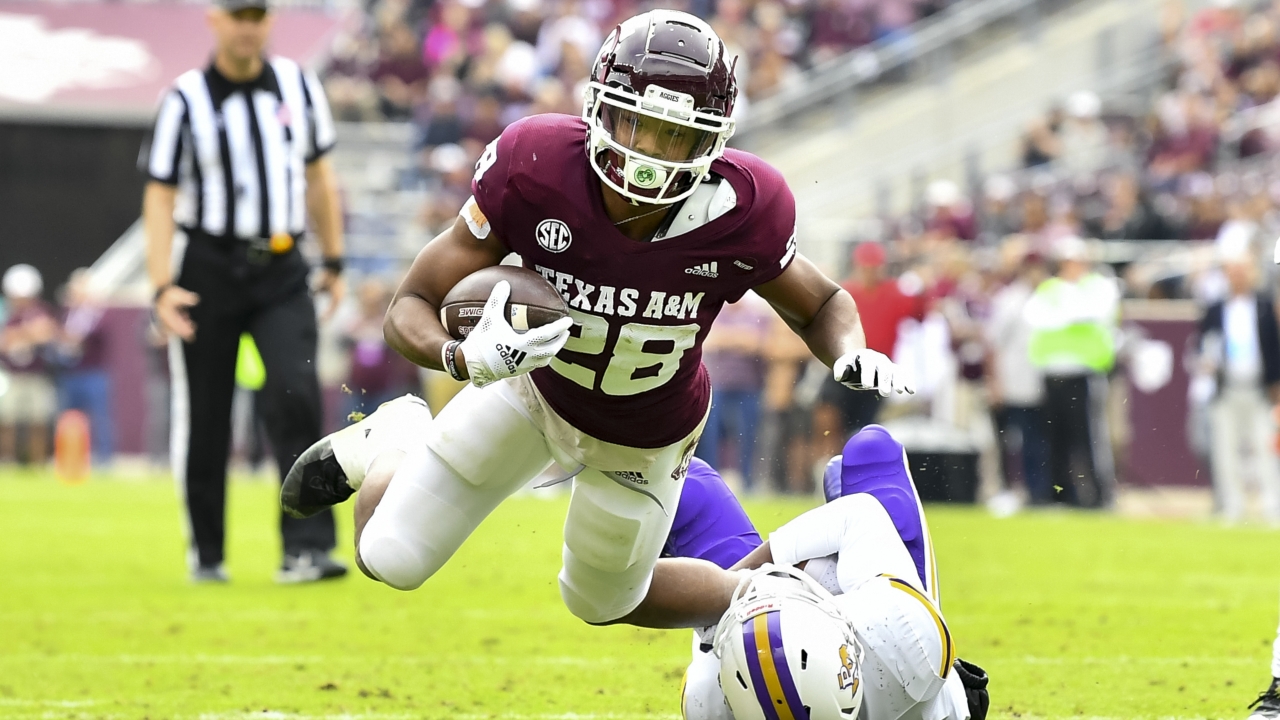 Photo by Maria Lysaker-USA TODAY Sports
Texas A&M Football
Post Game Review: No. 16 Texas A&M 52, Prairie View A&M 3
---
Business handled. On to Baton Rouge.
On Senior Day at Kyle Field, No. 16 Texas A&M handled Praire View A&M with ease, defeating the Panthers, 52-3. The Aggie offense significantly outgained PVAMU, 447-154.
To start the contest, Mike Elko's defense quickly forced the Panthers off the field, highlighted by back-to-back sacks from Jayden Peevy and a combo-job by Edgerrin Cooper and Adarious Jones.
Texas A&M's offense leaned on Isaiah Spiller as the junior carried the ball seven times for 42 yards, and the Aggies deliberately marched 55 yards to the endzone for the game's opening score, an 11-yard run by Spiller.
On their next possession, Prairie View A&M elected to go for it on fourth-and-1 from their own 34, but Aaron Hansford and DeMarvin Leal stuffed Panthers QB Jawon Pass at the line of scrimmage, giving the Maroon & White excellent field position for their second drive of the day. Four plays later, the Aggies were in the endzone again on a 1-yard run by Devon Achane
Disaster struck for the Panthers on their next drive. Facing third-and-10, Pass was destroyed by Antonio Johnson and lost the football. Hansford scooped up the loose ball and returned it 18 yards for the score.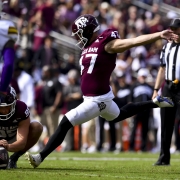 Maria Lysaker-USA TODAY Sports
Rebounding from the defensive score, Prairie View A&M finally moved into Aggie territory, picking up their first two first downs of the game. However, the drive stalled, thanks in part to Leal recording the Aggies' fourth sack of the opening frame. Muhsin Muhammad III fielded the game's second punt at the 17 and returned it 23 yards to the 40 on his first career return.
Zach Calzada put the ball in the air to start the series, connecting with Jalen Preston for 29 yards. On the second play of the second half, Spiller broke free for 24 yards to the PVAMU 7-yard line. On second-and-goal at the 3, miscommunication in the backfield led to a seven-yard loss, and the Aggies ultimately settled for a 27-yard field goal by Seth Small as the kicker set the program record for career points with 368.
Penalties set the Panthers behind the sticks on the ensuing series, and the visitors never recovered. Caleb Darbone's third punt of the game was blocked by Fadil Diggs and only traveled 26 yards to the Texas A&M 36-yard line.
Calzada connected with Muhammad on a shallow crossing route, and the freshman receiver did the rest, taking it 33 yards to the house for his second career touchdown. The Aggie defense then continued its dominant half, forcing another three-and-out.
Yulkeith Brown picked up 45 yards on a reverse to the PVAMU 15-yard line to begin the Aggies' next drive. Achane ultimately found the endzone again on fourth-and-goal from the 1.
To begin the second half, freshman running back Amari Daniels toted the rock three times for 30 yards before Calzada found Muhammad for their second touchdown connection on a perfect 30-yard throw and one-handed catch in the corner of the endzone.
The Panthers ran the ball consistently on their initial drive of the third quarter, running 13 plays before stalling in the red zone. However, Luis Reyes' 25-yard field goal wrecked Texas A&M's shutout.
With 5:16 remaining in the third, the Ags' second-team offense led by Blake Bost entered the game. Solid work from LJ Johnson Jr., including a 13-yard run, moved the Aggies into PVAMU territory. On fourth-and-2 at the 40, Daniels picked up three to keep the drive alive. On the first play of the final stanza, Daniels ran over a defender for a 13-yard gain. Two plays later, the Miami-native was into the endzone for the first time in his career.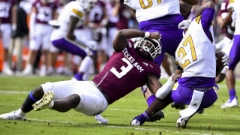 Maria Lysaker-USA TODAY Sports
After another defensive stop, the Aggies leaned on Johnson Jr. as he ran for gains of 11 and 20 yards to move into opposing territory. The true freshman carried it six times before Bost was intercepted by Drake Cheatum in the endzone.
Texas A&M travels to Baton Rouge next Saturday to close the regular season against the LSU Tigers in Death Valley.
RUMBLED: Muhsin Muhammad III had by far the best game of his young career, hauling in eight passes for 70 yards and touchdowns of 33 and 30 yards. You can read more about Moose's performance in Monday's upcoming Overnight Sensation story.
STUMBLED: Not exactly a stumble, but the Fightin' Texas Aggie Band's halftime win wasn't as decisive as usual as the Marching Storm gave the nationally famous Aggies all they could handle.
UNSUNG HERO: In his final game at Kyle Field, senior kicker Seth Small broke the Texas A&M record for career points with a 27-yard field goal early in the second quarter for career points 366, 367 and 368. The record was previously held by All-American and Lou Groza Award winner Randy Bullock, who scored 365 (2008-11).
TURNING POINT: Kickoff. Perhaps even before kickoff. Saturday was expected to be all Aggies, and it was.
KEY STAT: Passing yards. Texas A&M's defense allowed just seven (7) passing yards. Between Jawon Pass and Trazon Connley, Prairie View A&M signal-callers were 2-for-12 passing. The Aggies threw for 168 yards on the day.
Scoring Summary
First-quarter
TAMU: 8:31 - Isaiah Spiller 11-yard touchdown run. Drive: 10 plays, 55 yards. TOP: 4:58. Texas A&M 7, Prairie View A&M 0
TAMU: 5:39 - Devon Acahne 1-yard touchdown run. Drive: 4 plays, 34 yards. TOP: 1:21. Texas A&M 14, Prairie View A&M 0
TAMU: 4:55 - Aaron Hansford 18-yard fumble recovery for a touchdown. Texas A&M 21, Prairie View A&M 0
Second-quarter
TAMU: 13:01 - Seth Small 27-yard field goal. Drive: 7 plays, 50 yards. TOP: 2:13. Texas A&M 24, Prairie View A&M 0
TAMU: 5:22 - Zach Calzada 33-yard touchdown pass to Muhsin Muhammad III. Drive: 7 plays, 64 yards. TOP: 3:26. Texas A&M 31, Prairie View 0
TAMU: 0:06 - Devon Achane 1-yard touchdown run. Drive: 7 plays, 60 yards. TOP: 3:21. Texas A&M 38, Prairie View A&M 0
Third-quarter
TAMU: 12:29 - Zach Calzada 30-yard touchdown pass to Muhsin Muhammad III. Drive: 5 plays, 66 yards. TOP: 2:24. Texas A&M 45, Prairie View A&M 0
PVAMU: 5:46 - Luis Reyes 25-yard field goal. Drive: 13 plays, 67 yards. TOP: 6:43. Texas A&M 45, Prairie View A&M 3
Fourth-quarter
TAMU: 13:47 - Amari Daniels 8-yard touchdown run. Drive: 12 plays, 74 yards. TOP: 6:31. Texas A&M 52, Prairie View 3
Never miss the latest news from TexAgs!
Join our free email list