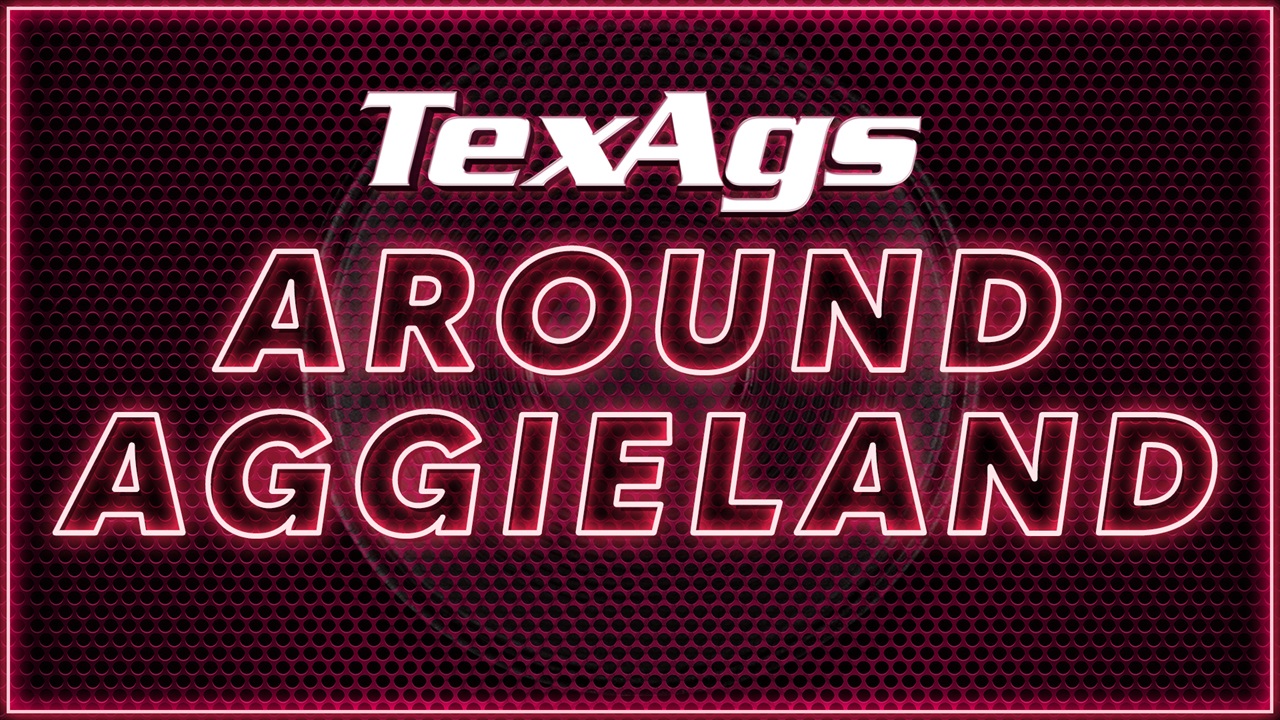 Texas A&M Football
Around Aggieland (11/19)
---
During Friday's edition of TexAgs Radio, the fishbowl's own Richard Zane joined to share updates from the latest in Aggie Athletics as a busy weekend is on tap in College Station with football, volleyball and more all in action.
---
Equestrian (6-1, 3-0 in SEC)
In a top-four bout on Thursday afternoon at the Hildebrand Equine Complex, No. 4 Texas A&M upset No. 2 Auburn, 10-6, to remain undefeated in SEC play. The win extends the Aggies' winning streak to five meets in a row.
Kaitlyn Lovingfoss earned Most Outstanding Performer honors in Fences.
Taylor Masson earned Most Outstanding Performer honors in Reining.
MacKenzie Chapman is now 6-0 on the season in Horsemanship.
The Aggies will not take a couple of months off as the semester comes to a close. The Maroon & White open the spring schedule on Jan. 29 when they host Baylor in Bryan-College Station.
Football (7-3, 4-3 in SEC)
No. 16 Texas A&M hosts Prairie View A&M at Kyle Field on Saturday for their final home game of the 2021 season.
Kickoff is set for 11:00 a.m. CT.
Saturday's game will not be available on cable. The matchup between the Aggies and Panthers will be streamed through SEC Network+ (accessible with your cable provider log-in) or on ESPN+ (a paid subscription service).
A trio of Aggies have been invited to the Reese's Senior Bowl with DL Micheal Clemons, LB Aaron Hansford and S Leon O'Neal Jr. picking up the invitations.
The 2022 Senior Bowl will be held in Mobile, Alabama, beginning on Feb. 5.
On Thursday, running back Isaiah Spiller was named a semifinalist for the 2021 Earl Campbell Tyler Rose Award.
Men's Basketball (4-0, 0-0 in SEC)
On Wednesday afternoon, the Aggies dominated Houston Baptist en route to a 73-39 victory over the Huskies.
Texas A&M opened the second half on a 22-0 run to take a stranglehold on the game.
Aaron Cash had a double-double with 12 points and 10 rebounds.
Tyrece Radford and Quenton Jackson lead the way with 13 points each.
Texas A&M is off this weekend as they travel to Las Vegas to begin the Maui Jim Maui Invitational on Monday afternoon.
Monday: Texas A&M vs. Wisconsin - 1:00 p.m. CT on ESPN2.
Tuesday: Texas A&M vs. Butler/No. 15 Houston - Game time TBA.
Wednesday: Texas A&M vs. TBD
Women's Basketball (4-0, 0-0 in SEC)
No. 24 Texas A&M won both of their games this week as the Aggies defeated DePaul on Monday before taking down Stephen F. Austin on Thursday.
Thursday: No. 24 Texas A&M 82, Stephen F. Austin 75

Wells had 24 points to lead all scorers.
Qadashah Hoppie scored 16 points, Destiny Pitts had 15 and Nixon had 14.
After coaching the Ladyjacks from 1985-1993, Gary Blair hosted a number of former Stephen F. Austin players at Reed Arena as part of his final season celebration.
The Aggies travel to the U.S. Virgin Islands this week to play in the 2021 Paradise Jam.
Thursday: Texas A&M vs. Pitt - 7:00 p.m. CT on ESPN+
Friday: Texas A&M vs. South Dakota - 7:00 p.m. CT on ESPN+
Saturday: Texas A&M vs. Northwestern - 7:00 p.m. CT on ESPN+
Men's Golf
After finishing the fall ranked No. 1 in the PGA TOUR University Velocity Global Ranking, Sam Bennett received an exemption in the 2022 Slync.io Dubai Desert Classic.
The tournament will be played Jan. 27-30, 2022 at the Emirates Golf Club.
Swimming & Diving
Texas A&M wraps up competition in the Art Adamson Invitational on Friday, but through the first two days of action, there have been plenty of positive results.
The men's team posted two victories on day two as Anze Fers Erzen won the 400m IM with a time of 3:44.58 and Ethan Gogulski won the 100m back with a time of 46.14.
The competition wraps up on Friday. Prelims begin at 9:30 a.m. CT with finals beginning at 5:30 p.m. CT.

Day Three of the Art Adamson Invitational will be streamed on SEC Network+.
Volleyball (12-13, 5-10)
Texas A&M fell to Arkansas on Wednesday night at Reed Arena as the Razorbacks swept the Aggies, 3-0.
18-25, 20-25, 20-25
Morgan Christon had a team-high 14 kills.
The Aggies will look to get back in the win column on Sunday afternoon when they face LSU in Baton Rouge.
First serve is set for 1:00 p.m. CT on the SEC Network+.
Softball
Texas A&M has released its nonconference schedule for the 2022 season as the Aggies' schedule in now complete for the upcoming campaign.
The Aggies open the season with the Aggie Classic at Davis Diamond, Feb. 11-13

A&M will host Western Kentucky, Texas A&M-Corpus Christi and Texas-Arlington.
Never miss the latest news from TexAgs!
Join our free email list