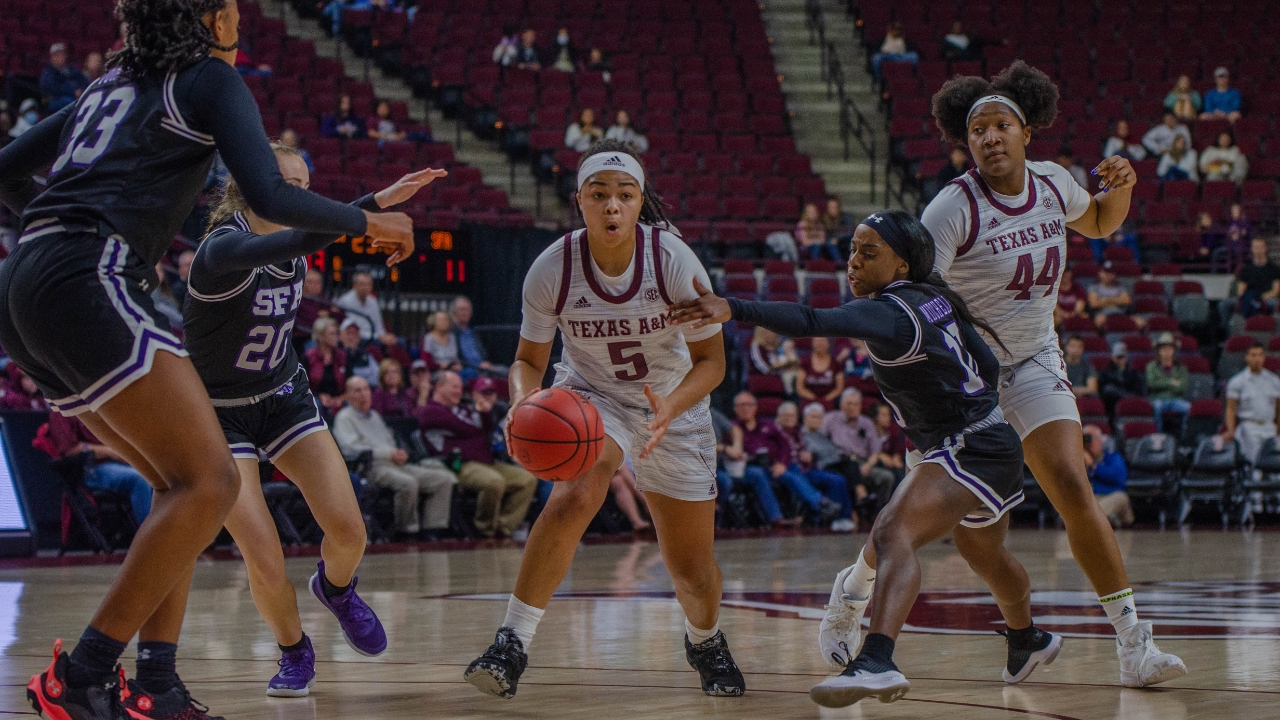 Gary Blair
Wells & Hoppie
Texas A&M Women's Basketball
Ladyjacks comeback falls short as Aggies remain undefeated, 82-75
---
It looked like the No. 24 Aggies finally met their match hosting undefeated Stephen F. Austin on Thursday night.
Which only meant one thing. One team would go home with their first entry into the losing column while the other would maintain their hot streak. Fortunately for the Aggies, a 24 point game from Kayla Wells led A&M to an 82-75 victory over the Ladyjacks to close out the Ags' four-game homestead.
What once was a 20-plus lead for the Aggies after a quiet third quarter from SFA quickly turned into a nail-biting closing stretch with A&M managing to hang on to a single-digit advantage. Poor ball control reflected by 24 turnovers was responsible for spoiling what would have been a fourth straight blowout with a margin over 20 points.
"When they were down we knew that they were going to pick up the pressure. We just didn't pick it up like how we were supposed to," Wells said. "We didn't take care of the ball, down the stretch I feel like a lot of fouling stopped the clock and gave them more time to catch up."
"We just have to do a better job at the end of the stretch, closing out games. This is the beginning of the season, things like this are going to happen but this is what we need to get better at."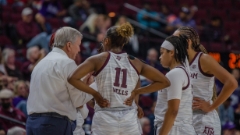 Corinne Moody, TexAgs
On a positive note, the three-ball continued to work wonders for the Aggies with tonight's contest marking the fourth consecutive game with eight or more conversions from downtown. Last season the Aggies only had three games total with eight-plus triples.
"We have a lot of shooters on this team this year, so we're able to find each other and being that we have so many shooters on the floor at once is hard for teams to help off," guard Qadashah Hoppie said. "So when they do help off we are able to find the open man and we know that they can knock it down."
A fast start for both teams ensued in the opening minutes as SFA showed their stature as an NCAA Tournament squad, relentlessly attacking A&M inside.
Despite Jordan Nixon being double covered and SFA pressing the Aggies from full-court early on, A&M managed to hold on to a healthy 20-11 advantage after one quarter. A&M head coach Gary Blair would eventually counter with a press of his own in the second, but would routinely experiment with a man and zone counter.
The occasional three-pointer from Hoppie would reignite A&M's offensive momentum in the second quarter after facing a tough inside stance from the Ladyjacks. Hoppie would come up big for the Aggies, tallying 13 points on 3-3 from beyond the arc in the first half.
The Aggies would take advantage of facing a bully ball defense and eventually go 26-30 at the line (86.7%) but would miss some key opportunities to cushion their lead after falling victim to SFA's pressure.
"Refs had a tough game to call. Sometimes when you're being trapped you have to learn how to pivot through and make the jump pass which we did early and frequently as well," Blair said. "We got to simulate this more with our men's practice team and let them go flat-out on us instead of playing us a little soft, don't get anybody hurt. I guarantee you we will play against pressure tomorrow and try to get ready for the Virgin Islands."
"Everybody in the country probably watched that game tonight to see how we didn't handle pressure. That's on us, that's on me."
"Everybody in the country probably watched that game tonight to see how we didn't handle pressure. That's on us, that's on me."
Heading into the fourth it appeared as if the Aggies were set to waltz to another easy victory leading 67-49 with Destiny Pitts at the helm of the second unit, eventually finishing the game with 15.
But SFA wasn't quite ready to succumb to a blowout. The Ladyjacks amped up their press and managed to outscore the Aggies 26-15 to put themselves right back into the game.
The lead was at six with 56 seconds remaining and the pressure was on the Aggies to pull away.
A couple of missteps by the Ladyjacks cost them the comeback, as the Aggies were able to overcome a late push from SFA in the final stretch to slip by with another win.
"Press on the half-court wasn't that bad, it was the pressure on top of the three-point line that gave us a lot of problems," Blair said. "That's what we'll work on and I'll coach better."
Up next the Aggies are headed to the Virgin Islands to compete in the three-game Paradise Jam Tournament starting next Thursday night against Pittsburgh.
Never miss the latest news from TexAgs!
Join our free email list