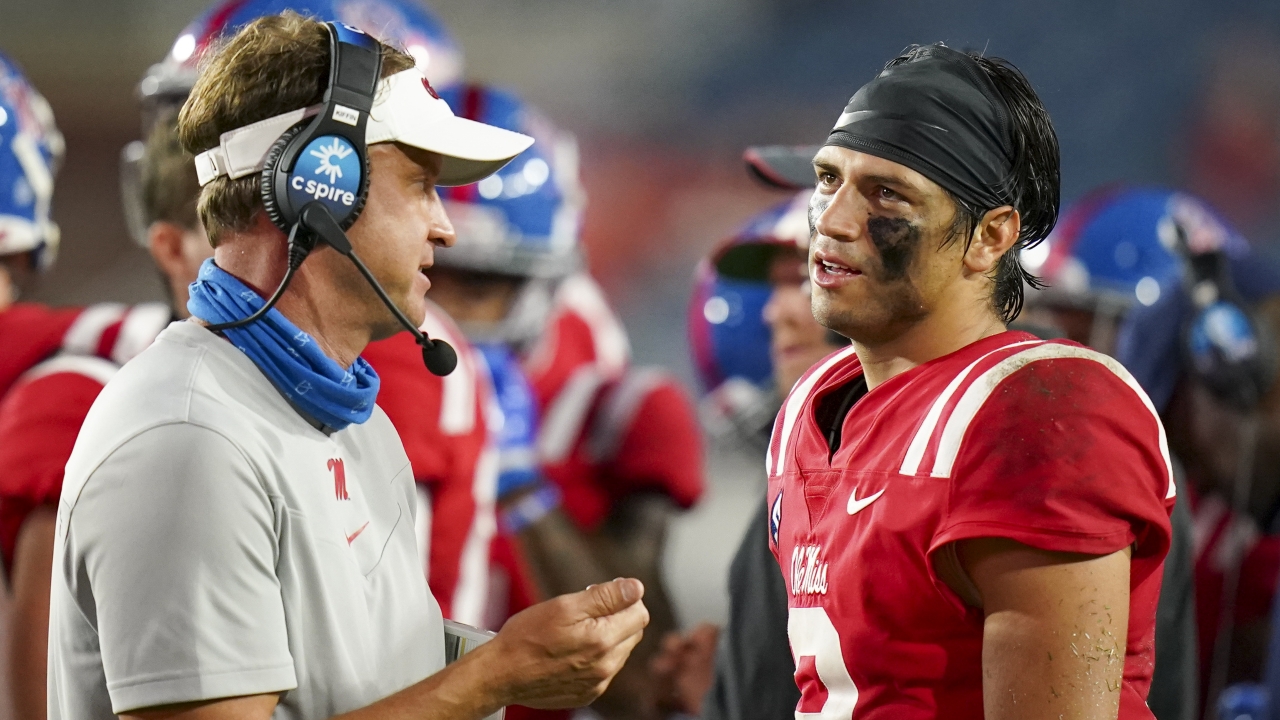 Photo by Marvin Gentry-USA TODAY Sports
Texas A&M Football
Landry: Ole Miss' 'eclectic' offense provides different challenge for A&M
---
Key notes from Chris Landry interview
Texas A&M has gotten a lot better. I preach this all the time: From a coaching standpoint, I stress that you never stay the same. You either get better, or you get worse. This team has gotten better. They had to figure out some issues on the offensive line from a personnel standpoint. They're running the ball and have gotten better. They still have some issues in the passing game. Defensively, they've gotten better and better.

I thought the quick-release pass game of Mississippi State got A&M's defense out of sorts a little bit. Since that time, they have played better than anybody in the country defensively outside of Georgia. They shut down Auburn's run game. The front is doing a good job. The blitz pressure was fantastic last week, changing their launch points and confusing Bo Nix. The key is to finish strong, and it's a different test each week.

This week, it should be more on the offense. You have to run the football, which I think you can against Ole Miss' defense. You have to control the football and score in the red zone. Defensively, it's more of a challenge. Matt Corral will run to run. He can take a third-and-6 when you have everything covered and make the conversion. You have to make sure you're not in a lot of man coverage with blitz pressure where you can get caught out of your seams.

Experience and reps have helped the Aggies. I chuckle when people say one guy is not good enough. Nobody stays the same. No matter what business you're in, you'll get better with more and more reps. They're practicing better and getting more and more reps. It's a step-by-step process. Every practice, every meeting and every situation gets you better. You build off of that. You see teams get better in November, especially ones that stay healthier. It's common sense that you should be better in November than you are in September.

A&M has moved the pocket a little bit more. They have improved the offensive linemen and helped them by adjusting the scheme. You can make some changes to the scheme in-season, and it has helped them. They just need to be a little more proficient.

A&M's offense moved the football against Auburn, but then they also had some three-and-outs. There were some loose ends that if they are tied together, it's not 20-3. A&M probably would've won that by ten or more points.

One thing you are always looking for in evaluating receivers is the hands and the ability to hand catch. You watch the hand positioning. A lot of times, they'll let balls come into your body too much. When you do that and the ball hits your hands, it'll either go through your hands, or the ball will hit your body. You need better hand positioning, and they also just need to secure the football. They're thinking about making a play, but you first have to make a play by catching the football. When you make a move upfield, you move your head, and it changes the position of your hands.

I don't know that I've seen two tougher guys than Zach Calzada and Matt Corral. Both of these guys are really tough. Corral will play effectively even though he's hurt.

A lot of what Ole Miss does is that they scheme guys open. It will be interesting to see what Mike Elko does with his pressure package. Ole Miss will try to beat A&M will tempo. You have to be patient with your coverage and very disciplined. They will face the run and RPO stuff all the time. One jab step is enough to get a receiver behind you. Limiting the explosive plays is a must. It will be a different challenge. It's a more eclectic offense that utilizes tempo and RPOs. They also like to run the football because they can take defenders out of the box to defend the pass. You must be sound with your gap control. Everything must be accounted for, or else they'll gash you.

I don't like how Alabama matches up against Georgia. The Bulldogs have been consistent. Will the moment or pressure get to Georgia? I don't know. When I look at the rankings after Georgia, I see a lot of good but not much consistency. Alabama is up and down. Last week, there was a lot of ugly. If Alabama plays like they did against LSU, I don't know if they can get by Arkansas and Auburn. They have played poorly. There is not a lot of experienced leadership on this team, and there are some gaps.
Never miss the latest news from TexAgs!
Join our free email list